IAF flight reaches Delhi from Kabul with 168 passengers
India resumes evacuation flights out of Kabul, brings out 80 Indians
The third round of relocation took place amid reports that 150 people had been captured by the Taliban near Hamid Karzai International Airport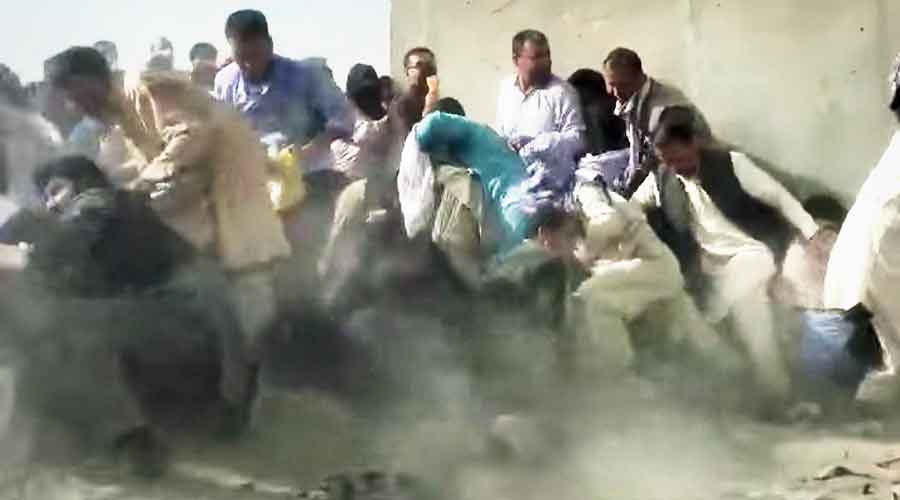 A social media video clip obtained by Reuters shows a crowd outside Kabul airport scattering after Afghan special forces opened fire to disperse them on August 18.
The Telegraph
---
New Delhi
|
Published 22.08.21, 02:08 AM
|
---
India on Saturday resumed evacuation flights out of Kabul and brought out 80 Indians who were flown to Dushanbe, Tajikistan.
Another 150 Indians were at the Hamid Karzai International Airport in Kabul by evening, awaiting evacuation.
168 people including 107 Indians from Kabul reached Delhi in a military transport aircraft of the IAF. There were two Afghan senators and 24 Afghan sikhs among the evacuees. Another group of 87 Indians and two Nepalese nationals who were flown in an Indian Air Force (IAF) aircraft to the Tajikistan capital of Dushanbe from Kabul on Saturday, arrived in Delhi on Sunday morning. They were brought back in a special Air India flight from Dushanbe. Separately, a group of 135 Indians, who were earlier evacuated from Kabul to Doha in the last few days by the US and NATO aircraft, also returned to India.
- PTI, NDTV
This third round of evacuation took place amid reports by Afghan media that 150 people, mostly Indians, had been captured by the Taliban near Kabul airport.
It took about a couple of hours for government sources in New Delhi to confirm that all the Indians headed for the airport were safe and accounted for.
Taliban spokesperson Suhail Shaheen told ABP News that the reports of his group kidnapping Indians were incorrect.
"This is not true that they were taken into custody. Actually they were helped to the airport like diplomats or citizens of any country," he said.
Kabul Now, a news website, reported that a group of unarmed Taliban had approached the Indians as they headed to the airport in minivans around 1am to catch an evacuation flight.
They were reportedly beaten and taken to a compound close to the airport. The passengers — who were told they would be taken into the airport from another gate — were interrogated and their documents verified, the media said.
While the report could not be independently verified, it's well established that the Taliban control the approach to the airport and that all those who have made it into the airport had to negotiate with the group's soldiers manning the barricades.
This was how the Indians who had got into the first two evacuation flights earlier this week had managed to enter the airport.
Even the US, which still controls Kabul airport, has made it clear in security advisories that the American government cannot ensure safe passage to the airport to its own citizens.
In a fresh advisory on Saturday, the US embassy in Kabul said: "Because of potential security threats outside the gates at the Kabul airport, we are advising US citizens to avoid travelling to the airport and to avoid airport gates at this time unless you receive individual instructions from a US government representative to do so."
The 80 Indians evacuated on Saturday arrived in Dushanbe on an Indian Air Force C-130 flight. Asked why they were not flown straight to India, sources cited operational issues and said some of them might reach Delhi on Sunday.
Asked how the remaining 150 Indians who had made it to Kabul airport would be brought back, sources said this was yet to be worked out and that India was waiting for slots at Kabul airport for its flights.
By resuming evacuation, India has signalled it has recalibrated its assessment of, and response to, the situation in Afghanistan.
After the second evacuation flight — which brought back Indian diplomats and staff, including security personnel and their dogs attached to the Kabul embassy — the external affairs ministry had said: "Government of India is committed to the safe return of all Indian nationals and will institute flight arrangements once Kabul airport is open for commercial operations."
However, with the situation in Afghanistan worsening amid reports of the Taliban returning to their true form, the government appears to have decided not to wait for the resumption of commercial operations to bring back the remaining Indians. There is no official count of the Indians stranded in Afghanistan, but some estimates put the number around 500.