India reminds China of dispute cushion
China has said the move to carve out Ladakh as a separate Union Territory is 'unacceptable'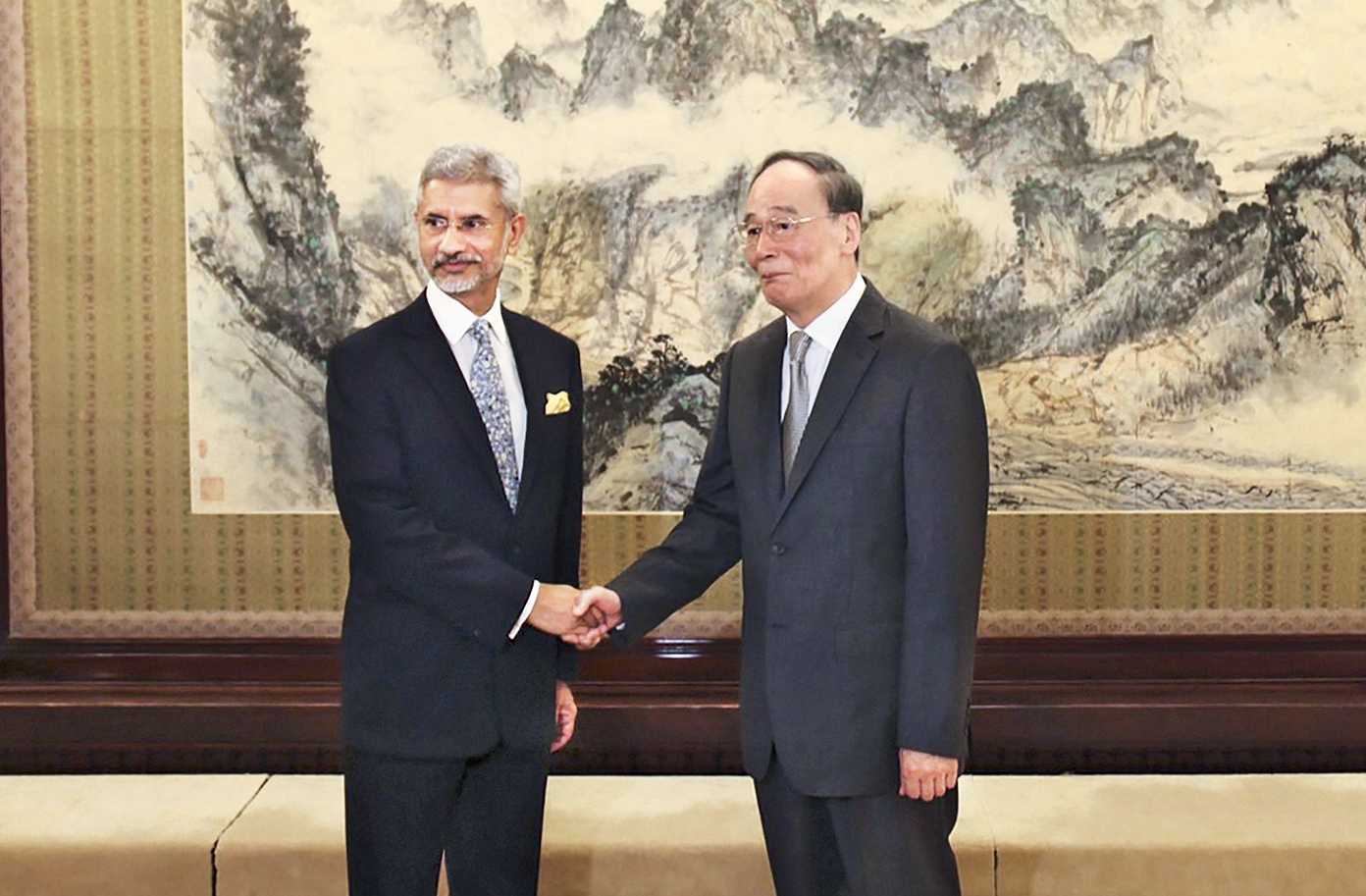 Jaishankar shakes hands with China's Vice-President Wang Qishan in Beijing on Monday.
(PTI)
---
New Delhi
|
Published 12.08.19, 10:11 PM
|
---
Foreign minister S. Jaishankar on Monday reminded China of its Astana agreement with India to not let disagreements become disputes after his Chinese counterpart Wang Yi had brought up "recent tensions between India and Pakistan" when the two met in Beijing.
China thinks the recent tension — over Delhi's decisions regarding Jammu and Kashmir — should be resolved according to UN Security Council resolutions and "bilateral agreement".
The two ministers voiced their differing formulations during Jaishankar's three-day visit to Beijing, where he had a series of engagements as well as discussions to prepare for the second informal engagement between Prime Minister Narendra Modi and Chinese President Xi Jinping in India later this year.
That would be a continuation of the process set in motion in Wuhan last year.
Pakistan's foreign minister Shah Mehmood Qureshi had made an unscheduled visit to Beijing last week in the wake of India's decision to change Jammu and Kashmir's constitutional arrangement and also redraw its map.
China has said the move to carve out Ladakh as a separate Union Territory is "unacceptable".
"The future of the India-China relationship will obviously depend on mutual sensitivity to each other's core concerns," Jaishankar said, flagging the utility of the informal summit at Wuhan in improving the overall bilateral relationship.
"It is natural, both as neighbours and large developing economies, that there would be issues in our ties. Properly managing differences is therefore vital. As our leaders agreed in Astana, differences should not become disputes. That is how India-China relations can remain a factor of stability in an uncertain world," Jaishankar said while reading out his media statement.
Modi and Xi had interacted in Astana, the capital of Kazakhstan, in June 2017 on the sidelines of the Shanghai Cooperation Organisation Summit that saw India and Pakistan join the bloc.
At the interaction, the two had agreed that "where we (India and China) have differences it was important that differences should not become disputes and that in fact if they were handled well, they may even be opportunities".
Jaishankar reminded the Chinese of this resolve in Astana while addressing the fourth India-China Media Forum in Beijing.
"Bilateral trade has increased but so too has our deficit, which is a matter of some concern," Jaishankar said, speaking on the state of the relationship post-Wuhan which eased tensions between the two countries after the Doklam face-off.
"We appreciate the steps taken in the last few months by the Chinese side to enhance imports from India. These efforts could expand to include measures to enable greater access for our pharmaceutical and IT products and services in the domestic Chinese market."
The minister addressed the forum after two meetings with Wang; one restricted with just a few officials and the second, delegation-level talks.
Before this meeting, the Chinese foreign minister had said: "China and India are two big nations, we also have important responsibilities for upholding the regional peace and stability. When it comes to the recent tensions between India and Pakistan and the possible ramifications, we follow these developments very closely. We hope that India would also play a constructive role for regional peace and stability."
In his statement, Wang said there were differences between the two countries and neither side shied away from them, adding that India-Pakistan tensions were discussed and China had made its position clear, including on those matters that Beijing feels impinges on its sovereignty.
India, in turn, pointed out that New Delhi had acted with "restraint in (the) face of provocative Pakistani rhetoric and actions".
According to a readout put out by the ministry of external affairs on the discussions, Jaishankar told the Chinese that changes vis-à-vis Jammu and Kashmir were an internal matter with no implication for "either the external boundaries of India or the Line of Actual Control with China".
Further, it was pointed out that India was not raising any additional territorial claims, and so the Chinese concerns were misplaced.