India is in a Covid-19 sandstorm, says Bhramar Mukherjee
The country has an advantage that many people have two vaccines plus a past infection: Expert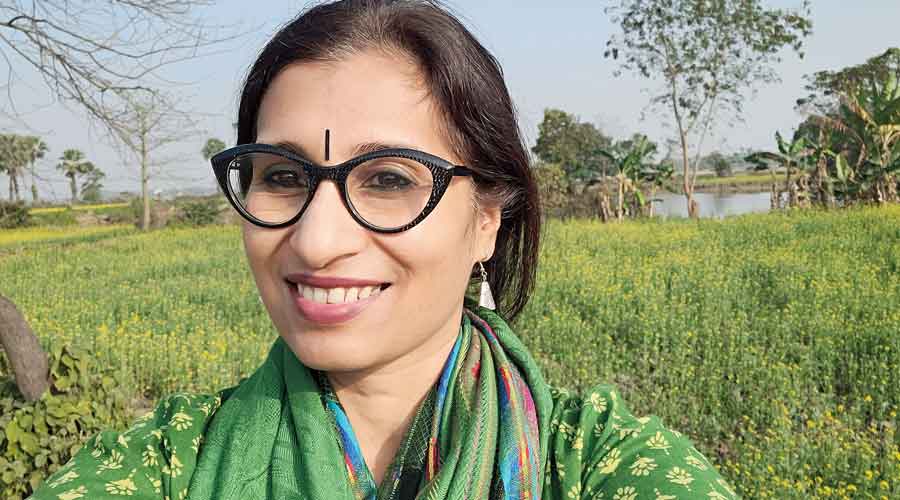 Bhramar Mukherjee at her parents' farmhouse in Ruppur, Birbhum.
The Telegraph
---
New Delhi
|
Published 07.01.22, 03:51 AM
|
---
Bhramar Mukherjee, a professor of biostatistics at the University of Michigan who has been tracking India's Covid-19 epidemic for nearly two years, is now visiting her parents' farmhouse in Ruppur near Santiniketan in Birbhum.
"This is our escape and solace in the epidemic," she said. In this interview, Mukherjee tells The Telegraph what she expects during the omicron-driven wave, how data gaps have compromised India's capacity to respond to Covid-19 and that the country is already in a "sandstorm".
Q: What are your expectations from the omicron-driven wave in India?
Mukherjee: Our models predict a very high number of infections in India…. This is assuming 50 per cent people with at least one vaccine or a past infection can get re-infected by omicron. But fatalities are expected to be 30 to 50 per cent of the second wave if we use severity estimates from South Africa.
India has an advantage that many people have two vaccines plus a past infection. Our estimate is nearly 40 per cent. This implies that even without boosters, this subgroup may do well in terms of disease outcome if they get reinfected. The vaccines should keep them out of hospitals. But these expectations are based on several assumptions, which may or may not hold up in India.
But severity and mortality estimates for India are difficult to extrapolate because we don't have accurate hospitalisation data or even mortality data. As we see in the US, excess mortality is induced by not just the virulence of omicron or delta but the chaotic collapse of health care and essential services.
With different levels of immunity backdrop across geography and populations, each country is somewhat different but case counts are all that we have right now for India at a national level.
Q: You've tweeted that the "omicron is mild" narrative has influenced human behaviour and led to unrestrained transmission in the US. How do you view that narrative and current transmission levels in India?
Mukherjee: I find the public health messaging around omicron to be as bad and confusing as it can get. Even if it is mild, unrestrained transmission leads to sheer volume that could overwhelm the system, not just health care but workforce in every sector. A small fraction of an uber-large number is still a large number. And it is not mild for everyone. We are undervaluing the life of the vulnerable here.
India and other countries have made the mistake of waiting to act only until they see growth. If we adhere to sustained public health measures early enough, we can avoid lockdowns.
The public health measures include vaccination, mask mandates and avoiding large gatherings. It is not easy after two years to adhere to such measures but we have to have a dial-up and dial-down way of escalating and de-escalating life. That is the sad reality. We should have clearly communicated this from early December.
The communication around boosting, vaccinating the young, all could have emerged weeks earlier. Even days are critical in saving lives when we are riding a steep exponential curve. The timing of public health action matters more than strength or duration.
Q: How strong is the evidence for mild omicron infections? Or is the mild narrative somewhat irrelevant for countries with large populations such as India because, as you say, a tiny fraction of an uber-large number is a large number?
Mukherjee: We're seeing vaccines still holding up in terms of what they were intended to do: prevent hospitalisations and deaths. That is the silver lining. But there are two parts of the risk: your chance of severity if you get it and then whether you get it or not. We seem to be focusing on the first one and forgetting that the chance of getting it is very very high. Your risk is driven by both quantities.
Rates matter but absolute numbers matter when it comes to human lives and hospital resources. Also, we are letting the virus mutate and somewhere out there is another variant brewing which will require a fresh cycle of public health measures.
Q: In a tweet, you have referred to "data denial, data opacity and data paucity". This appears relevant to India where some experts have expressed concern about lack of data on Covid-19 hospitalisation and hospitalisation outcomes. Do you think this is due to inefficient data capture or intentional data denial or a mix of both?
Mukherjee: Both. We were in denial in 2020, claiming there is no community transmission even when data were unmistakably looking at us. This is a prime example of data denial.
Data paucity is probably the most harmful aspect where we haven't even seen national data on how the two vaccines are holding up, on breakthrough infection, or on waning immunity rates. Experts need this data for decisions on boosters and whether to mix and match vaccines for boosters.
We don't have data on proportions of the population that needed hospital care or intensive care unit support or age and sex disaggregated mortality data during the first and second waves. I understand individual data on patients cannot be released but the public has a right to have the summary data.
Some states have done exceptional jobs though, Delhi, Maharashtra and Kerala being such examples. Transparency in data and communication can evoke public trust, which is critical to battle the pandemic.
Q: Do you think the lack of data in India has compromised the country's ability to respond to the Covid-19 pandemic?
Mukherjee: Absolutely. It is not just for India. One seventh of the world's population is in India and the science community needs to know post-vaccination data from India. We need an integrated public health data system where the testing, vaccination, sequencing and clinical data can be linked and analysed nimbly to provide real-time guidance to policymakers.
Most papers characterising properties of the delta variant came from the UK, largely because of their data and analytic infrastructure. Clear data-driven messaging also helps support policies and provide credence to policymakers.
For example, are night curfews or flight reductions really effective public health measures? We have two years of data now, we should be able to tease apart the most effective interventions for India instead of disrupting public life with unproven sham interventions.
But I must compliment India on the vaccination drive, the CoWIN database (India's digital platform to support the vaccination campaign) itself, and the four surveys to estimate Covid-19 prevalence.
Q: India's health experts say the country's third wave started between 10 to 15 days ago. Do you believe there is still time for India to take actions to mitigate impacts?
Mukherjee: If I were a policymaker, I would have strengthened messaging, introduced boosting and issued mask mandates as soon as omicron had been identified in early December. We know we cannot keep this virus away through travel bans. Life and leadership is now a seesaw balancing act. It is important to chart a middle course between "Covid-19 is nothing" and "this is a cataclysmic end of the world".
I choose prudence over panic and advise a data-driven path of caution. For now, we're in a sandstorm. We will have to bury our heads and hope it passes quickly without much human casualties.