India inaugurates drone-based vaccine delivery service
Union health minister Mansukh Mandaviya launched the first flight, an aerial distance of about 15km from Bishnupur hospital to Karang island in Loktak lake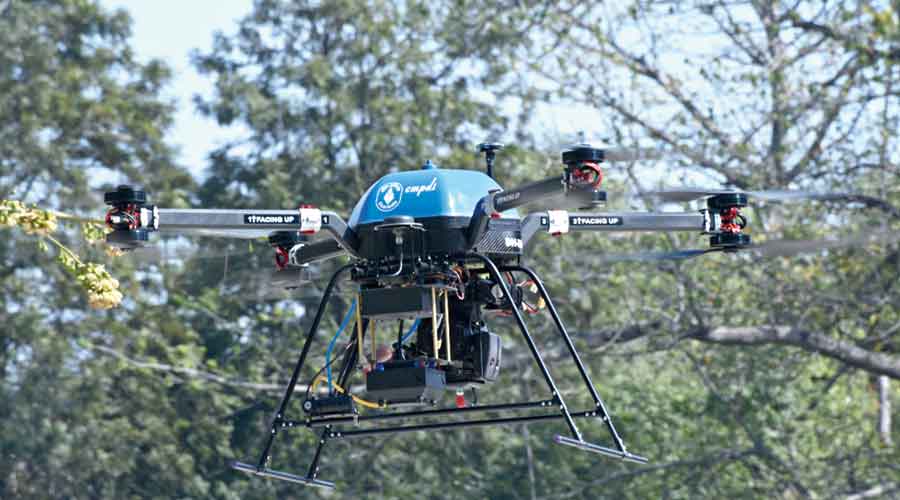 ---
New Delhi
|
Published 05.10.21, 02:34 AM
|
---
India on Monday inaugurated a drone-based vaccine delivery service, using a robotic flying machine to ferry Covid-19 vaccines to a health centre in Manipur and adopting a technology already commercialised for medical supplies in other countries.
Union health minister Mansukh Mandaviya launched the drone service's first flight, an aerial distance of about 15km from Bishnupur district hospital to Karang island in Loktak lake, where 10 people received the first dose and eight received the second dose.
"This is for the first time a make-in-India drone has been used in South Asia to transport Covid-19 vaccines," Mandaviya said. "We can use drones to deliver life-saving medicines, collect blood samples. This technology may prove a game-changer in addressing challenges in healthcare delivery, particularly health supplies in difficult areas."
The drone service, intended to deliver Covid-19 vaccines to remote areas and hard-to-reach terrain, is currently approved for implementation in Manipur, Nagaland and the Andaman and Nicobar Islands, the health ministry said.
The flight on Monday follows an initial study conducted by the Indian Council of Medical Research and the Indian Institute of Technology, Kanpur, to test the capacity of drones to ferry and deliver vaccines to sites in Manipur, Nagaland and the Andaman and Nicobar Islands.
India's Directorate General of Civil Aviation, the regulatory authority for aircraft, and other authorities granted permission to fly the vaccine delivery drones beyond the visual line of sight on the basis of the results of the ICMR-IIT studies, the health ministry said.
The Union civil aviation ministry in August this year had notified a set of "liberalised drone rules" to facilitate growth of the drone industry that has potential applications in agriculture, infrastructure, surveillance, emergency response, transportation and law enforcement.
Drones, or unmanned aerial vehicles, initially adopted for the military or aerospace sectors, have expanded worldwide over the years into commercial domains. The global drone market in terms of revenue was worth $18.2 billion in 2020 and is projected to reach $40 billion by 2027.
At least 18 countries have deployed drones for the delivery and transportation purposes during the Covid-19 pandemic, a Unicef report has said. Some of them have adopted regular drone deliveries. Rwanda, Ghana and Malawi have used drones for regular medical supplies since the start of the pandemic, the report said.
"All three countries already had drone operations prior to the Covid-19 pandemic, therefore, drone operations were adapted in all three countries in order to respond to the increased demand of the medical commodities and Covid-19 supplies," it said.
Earlier this year, Ghana's government used a US firm Zipline to deliver Covid-19 vaccines via drones.