'Uninformed' but won't inform
External affairs ministry stays mum on on the differences in the statements issued by the two foreign offices of India and China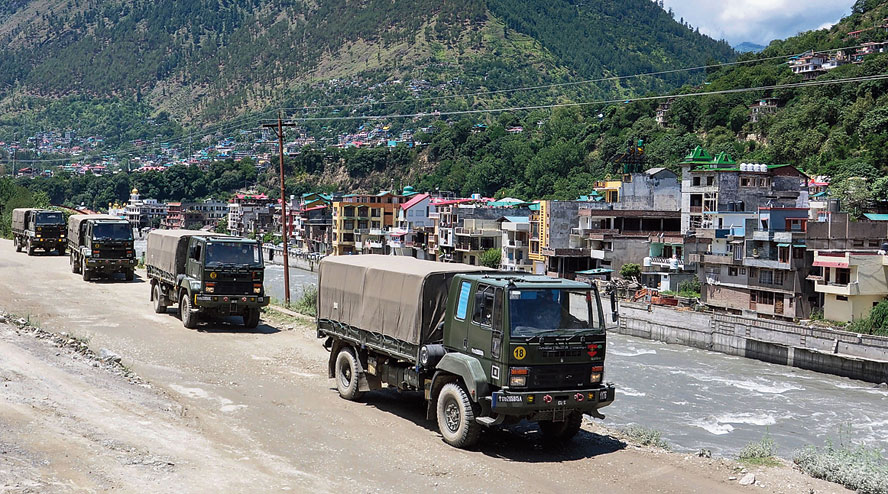 Army trucks move towards Ladakh on Thursday.
PTI Photo
---
New Delhi
|
Published 10.07.20, 02:14 AM
|
---
The external affairs ministry on Thursday refused to be drawn into commenting on the details of the plan for disengagement and de-escalation at the China border but insisted that some "inaccurate and uninformed comments" had been made about the process.
There have been reports of Chinese troops partially disengaging from the India-claimed portion of the Line of Actual Control in the Galwan Valley by creating a "buffer zone" within Indian territory. The purported move is being viewed with scepticism and apprehension by some security officials and military veterans who have wondered whether China is citing disengagement to push India away from the LAC. The Opposition Congress too has stepped up heat on the government over the issue.
Responding to questions at the weekly briefing on the de-escalation agreement with China, which included queries on the buffer zone, external affairs ministry spokesman Anurag Srivastava said: "We have also noted that there have been some inaccurate and uninformed comments about the disengagement process and its implications."
He did not comment on the differences in the statements issued by the two foreign offices after Sunday's conversation between the Special Representatives of India and China on the boundary question except on the point regarding sovereignty over Galwan. The Chinese statement had mentioned Galwan, but in less belligerent terms since the face-off began, while India made no mention of it in its official readout on the conversation.
On Thursday, Srivastava iterated that the recent Chinese claims on the Galwan Valley area were exaggerated and untenable; and that the LAC must be strictly respected and observed as this was the basis for peace and tranquillity in the border areas.
Earlier in the day in Beijing, Chinese foreign ministry spokesman Zhao Lijian had said: "Following the consensus reached at the commander-level talks, the Chinese and India border troops have been taking effective measures to disengage at the Galwan Valley and other areas in the western sector. The spokesperson added that the overall situation at the border is stable and ameliorating.
US secretary of state Mike Pompeo had said on Wednesday that he had discussed the India-China face-off with external affairs minister S. Jaishankar "a number of times". Srivastava, however, did not go into the specifics.