'I will not hesitate to say we are facing a challenge'
Rajnath's 'inner areas' leaves PM Modi defenceless
Speaking in Parliament on Monday, Modi had again failed to name China or even Ladakh and merely called upon the members to express solidarity with the soldiers guarding the borders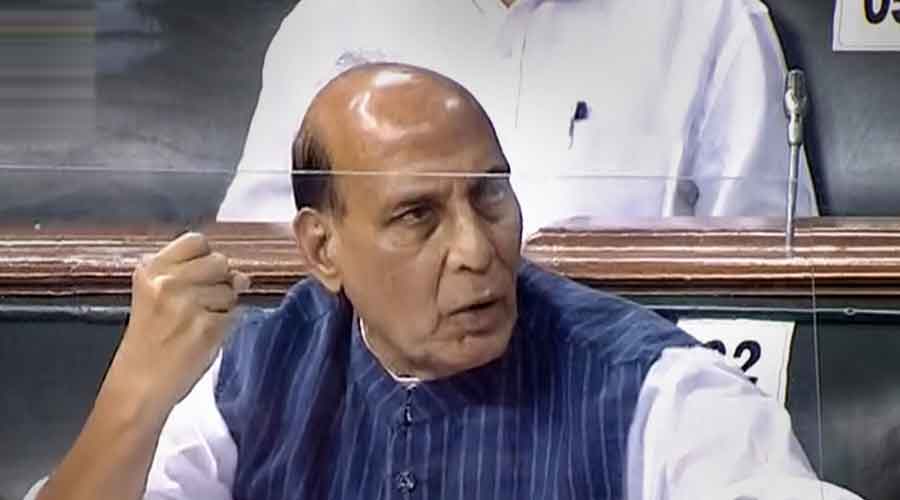 ---
---
Defence minister Rajnath Singh told the Lok Sabha on Tuesday that China has mobilised a large number of troops and ammunition along the Line of Actual Control and in "inner areas" and acknowledged that India is facing a challenge in Ladakh, his admission drawing attention to the Prime Minister's all-is-well line in June and his inexplicable silence since.
"Abhi ki stithi ke anusar, Chinese side ne LAC aur andruni chhetron me badi sankhya me sainik tukdiyan aur gola-barud mobilise kiya hua hai," Rajnath told Parliament. He said there were "several friction points" in eastern Ladakh and named some — Gogra, Kongka La and the north and south bank of Pangong Lake.
"I will not hesitate to share with this august House that we are facing a challenge in Ladakh," he added.
The defence minister's statement is in sharp contrast to the Prime Minister's statement at the all-party meeting on June 19, four days after 20 Indian soldiers were killed by the Chinese at the Galwan Valley in eastern Ladakh. "Neither has anyone intruded into our frontier there, neither is any intruder there, nor is any of our posts occupied by someone else," Narendra Modi had said.
The Prime Minister has been diffident about acknowledging the border tension, the worst in 45 years, or even naming China. Speaking in Parliament on Monday, Modi had again failed to name China or even Ladakh and merely called upon the members to express solidarity with the soldiers guarding the borders.
Rajnath repeated that appeal on Tuesday: "I urge the House to pass a resolution in support of our armed forces who have been defending our motherland at great heights and in inclement weather."
He did not clarify whether "inner areas" (andruni chhetron) meant inside the LAC on the Indian side. Speaker Om Birla did not allow any questions. The minister's refusal to take questions prompted the Congress to stage a walkout in protest.
Rajnath's statement stood out for what he left unsaid:
⚫ He did not mention restoration of status quo ante along the LAC. While he spoke of complete disengagement and restoration of peace, there was no word on restoration of the pre-April status quo that India has been demanding since May.
⚫ Rajnath did not disclose how much India-claimed territory had been occupied by the Chinese in Ladakh. According to an estimate by the security establishment, China's PLA is occupying nearly 1,000sqkm.
⚫ He did not clarify the Prime Minister's "no-intrusion" claim.
⚫ Rajnath did not explain what exactly had happened on June 15 night, when 20 Indian soldiers were killed.
⚫ He did not say why India did not demand restoration of status quo ante during the talks between the foreign ministers in Moscow last week. The absence of the phrase has raised concerns that India might be trying to wriggle out of the dispute with a give and take.
⚫ The statement skipped any mention of the firing on September 7, the first time in 45 years, near a strategic mountain pass in eastern Ladakh.
Rajnath accused China of trying to "unilaterally change the status quo" at the LAC in violation of past agreements and said Indian forces were fully prepared for "any eventuality" and determined to safeguard the country's territorial integrity. Counter-mobilisation of forces has been made to protect India's security interests, he said.
Skipping any reference to reports of serious incursions by the Chinese army in the last few years, he instead talked indirectly about Aksai Chin and Pakistan-occupied Kashmir being taken over by China.
"As the House is aware, China continues to be in illegal occupation of approximately 38,000sqkm in the Union Territory of Ladakh," he said, adding that in 1963 Pakistan had illegally ceded 5,180sqkm of Indian territory in PoK to China. He also talked about China claiming large parts of Arunachal Pradesh.
Briefing the House on his meeting with his Chinese counterpart in Moscow on September 4, Rajnath said: "I conveyed in clear terms our concerns related to the actions of the Chinese side…. I also made it clear that even as we wanted to peacefully resolve the issue... there should be no doubt about our determination to protect India's sovereignty and territorial integrity."