India-China: 12th round of military talks end without 'breakthrough'
This comes amid growing concern in the security establishment about the Chinese army's foot-dragging on disengagement from the remaining friction points in Ladakh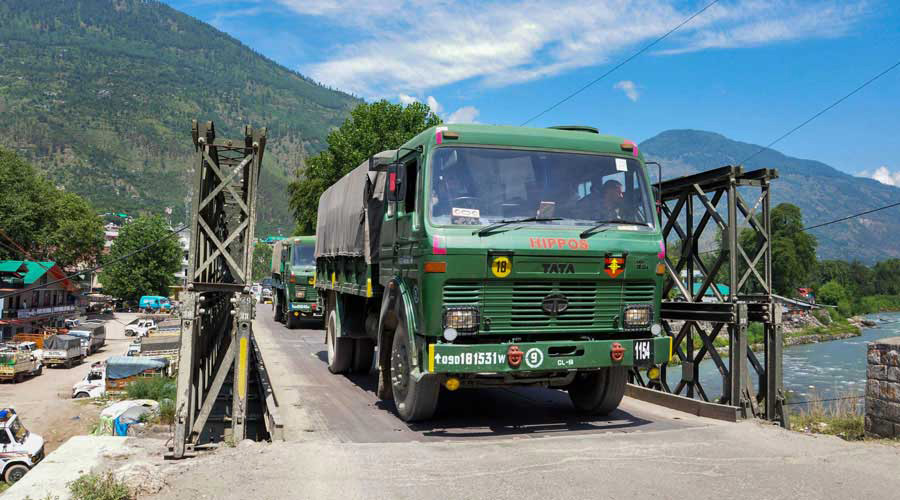 India and China have been locked in a border standoff at multiple friction points in Ladakh since May last year, with the Chinese estimated to have taken over nearly 1,000sqkm of India-claimed territory
File picture
---
New Delhi
|
Published 02.08.21, 02:21 AM
|
---
The 12th round of military talks between India and China ended without any "breakthrough" on Saturday amid growing concern in the security establishment about the Chinese army's foot-dragging on disengagement from the remaining friction points in Ladakh.
Neither India's army nor its government had by late evening issued a statement.
India and China have been locked in a border standoff at multiple friction points in Ladakh since May last year, with the Chinese estimated to have taken over nearly 1,000sqkm of India-claimed territory.
Sources said that at Saturday's meeting, India had pressed for disengagement from the remaining friction points – Hot Springs, Gogra and the Depsang Plains – but the Chinese army again set preconditions.
There have been "partial" disengagements from the Galwan Valley and the Pangong Lake, with the Chinese stepping back a few kilometres while still remaining within India-claimed lines, and India retreating by the same distance -- thus ceding more territory.
"The talks were held in a very cordial atmosphere where both sides put forward their stands. The Chinese reiterated their claim that the occupied zones in the Depsang Plains, Hot Springs and Gogra belonged to them and demanded that Indian troops move further back," a defence ministry official said.
He said the Chinese wanted buffer zones to be created at the remaining friction points similar to those within India-claimed territory on the Pangong Lake's north and south banks and in the Galwan Valley.
The Chinese army is said to be entrenched 18km inside India-claimed lines on the strategically crucial Depsang Plains. It has cut off the Indian army's access to five traditional patrolling points — PPs 10, 11, 11A, 12 and 13 — since the border standoff began.
China had in July last year agreed to disengage from Hot Springs and Gogra but has gone back on its word.