2,500 villagers seek rehabilitation in camps
The demonstrators have vowed to continue living and protesting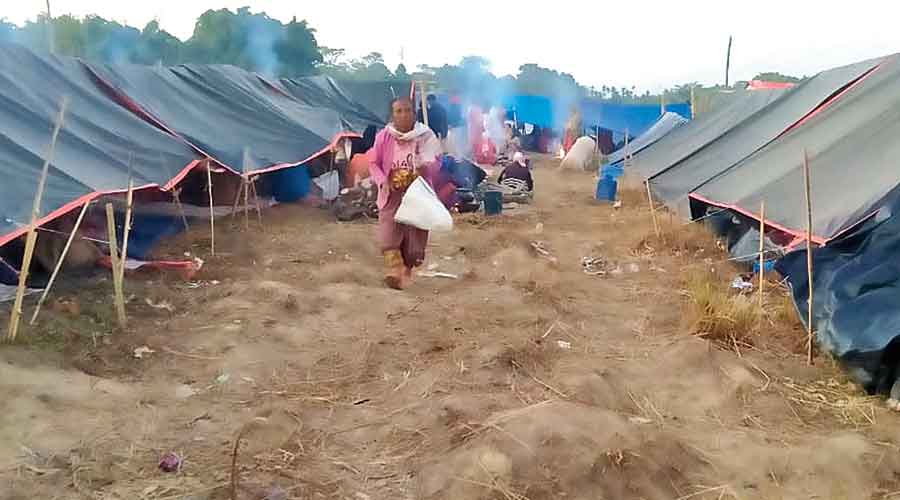 Villagers at the makeshift camps near the Tinsukia DC office
Telegraph picture
---
Guwahati
|
Published 01.01.21, 02:21 AM
|
---
About 2,500 people from two forest villages in upper Assam will be spending their New Year in makeshift camps near the Tinsukia DC's office seeking permanent and proper rehabilitation.
Men, women and children are from Laika village in Tinsukia district and Dodhia village in Dibrugarh district, about 6km apart, have been living in these tarpaulin camps at Lezaihola Borguri near Tinsukia DC office, about 22km away from their homes, for the past ten days and have vowed to continue living and protesting this way till they are rehabilitated. This has been their stand a day after chief minister Sarbananda Sonowal met representatives of the villagers falling under the Dibru-Saikhowa National Park (DSNP) and directing the state forest department to "permanently rehabilitate" the affected families by January 31.    
"We welcome the chief minister's initiative but it has not been able to reassure our people. In the past two, we were given written assurances but nothing happened. We have been demanding rehabilitation for the past 21 years. That is why even in this cold (9° Celsius) and away from home we will continue to protest peacefully till we are properly and permanently rehabilitated," Minturaj Morang, 38, told The Telegraph from the protest site, about 490km east of Guwahati. Morang is one of the affected and chief convener of the Laika-Dodhia Rehabilitation Committee. He had also represented the affected in the talks with Sonowal on Wednesday.
About 10,000 people from 1,480 families have been affected. They were settled in these two  villages dominated by the Mising community after the massive 1950 earthquake. But problem started when the forest reserves under which the two villages fall was declared Dibru-Saikhowa National Park in 1999.
With access getting restricted and development coming to a standstill, they started seeking rehabilitation elsewhere through peaceful protests and representations.
They were assured rehabilitation within eight months in July, 2017 by then forest minister Pramila Rani Brahma but nothing materialised. This year, too, their rehabilitation at Owguri under Digboi forest division fell through following reservation by a senior forest official on December 3 because the exercise will lead to the cutting of 8,000 trees, compelling the villagers to stage the indefinite protest on December 21 but they shifted to near the DC on December 22.   
"We cannot build anything permanent because we are inside a national park. Government schemes have stopped because of strict rules. The forest department should have rehabilitated us before declaring Dibru-Saikhowa a national park. Under the circumstances we have no option but to continue our protest so that the government fulfils its promise. We have fought all these years, with flood, with erosion and government indifference. We will struggle for a few more days," he said. He also made it clear that their protest may appear similar to the farmers' protest on the border of Delhi but it has not been inspired by it. "It was spontaneous, it was about our survival. We have been demanding rehabilitation for 21 years now," Morung said. 
The 2,500-odd villagers have been divided into 16 groups so that it is easier to maintain smaller groups with food and accommodation. "Today the DC, SP, the local MLA visited us and inspected the camps for the first time. We also had a meeting with the DC and sought his help to maintain the camp because our people are going nowhere till our rehabilitation issue is settled," Morung said.
Besides setting a January 31 deadline to settle the villagers, Sonowal on Wednesday also formed a ten-member committee to look into the issue. He also asked the forest department to conduct a survey within a week so that rehabilitation process can be started promptly. The rehabilitation package would include drinking water, electricity, immediate medical support. The area of rehabilitation should not be flood-prone and erosion-prone, an official  statement said.