Iltija Mufti's dare to Amit Shah: Walk in Kashmir
She rubbished the govt's claims of normalcy and argued that the economy was in the doldrums and described envoy visits as 'curated'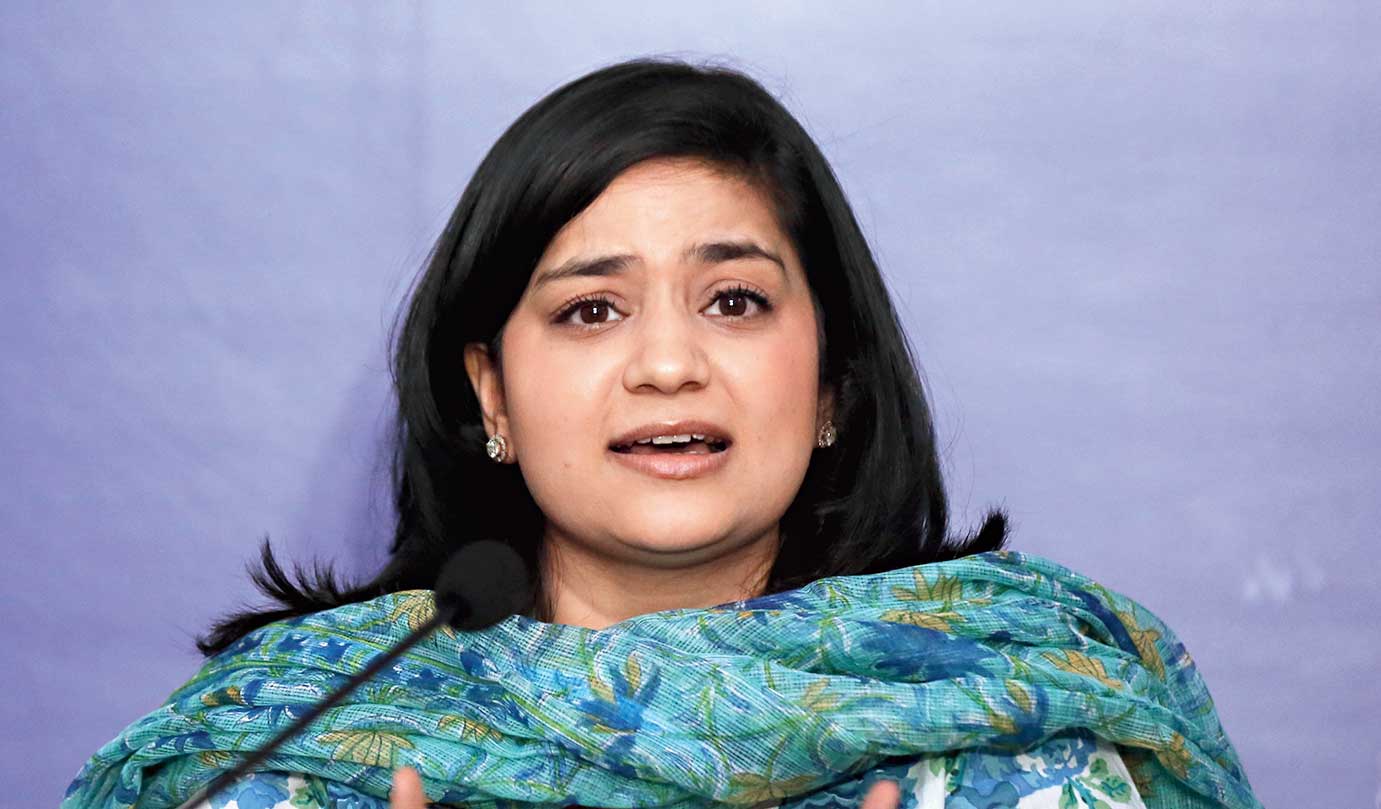 Iltija in New Delhi on Tuesday.
Picture by Prem Singh
---
New Delhi
|
Published 18.02.20, 08:55 PM
|
---
Iltija Mufti, the voice of former Jammu and Kashmir chief minister Mehbooba Mufti since the PDP leader's incarceration on August 5, on Tuesday sought to puncture the government's claim that normality had returned to the Valley by asking Union home minister Amit Shah to try and walk around Kashmir freely.
"I will do salaam to Amit Shah if he roams around freely in Kashmir," Iltija, Mehbooba's daughter, said while interacting with members of the Indian Women's Press Corps in the national capital in what was her first formal media conference after the 32-year-old became a regular commentator on the Kashmir situation following her mother's incarceration.
Asked if she was ready to formally enter politics given how vocal she was on issues, Iltija was quick to set speculation at rest by insisting that politics was much more than just giving interviews.
"Grassroots connect is needed," she said and added that she was too frank in her views for politics. However, later in the interaction, Iltija maintained that her words today should not be used against her in case she did take the plunge.
Upset with Jammu and Kashmir police filing FIRs against people using virtual private networks (VPNs) to sidestep the continuing restrictions on the Internet, Iltija said she too would tap this route.
Disappointed with the Opposition for not speaking up for their detained colleagues in Kashmir, Iltija, however, said it was understandable, given how the ruling dispensation at the Centre branded everyone anti-national for picking up the cudgels for Kashmiris.
"I don't blame them because they are all fighting for survival except, now, the AAP which also played soft Hindutva. But they need to remember, if it is us today, it's your turn next," Iltija said.
Rubbishing the government's claims of normality and arguing that the economy was in the doldrums, she described the visits of envoys to the Valley as "curated" and said: "My grandfather (former chief minister Mufti Mohammad Sayeed) was Indian by conviction. This is not the country I grew up in. I am a proud Indian, we are now becoming a Hindu Pakistan."
Iltija was candid enough to concede that the existing political leadership of Kashmir was discredited but was quick to add that this should not be celebrated as they were the buffer between conflicting forces. "Yes, people are angry with Mehbooba Mufti and Omar Abdullah, but they are angrier with Amit Shah," she said.
On whether she would approach the Supreme Court to challenge her mother's detention like former chief minister Omar's sister Sarah Pilot has, Iltija was non-committal, insisting that she did not want to reveal her legal strategy and also admitting that her faith in the institution had been shaken.
Asked again if she had lost faith in the Supreme Court, Iltija cited several cases — the Ayodhya dispute, the imprisonment of former IPS officer Sanjiv Bhat and the release of sexual harassment accused Chinmayananda to say: "My faith is shaken but what other option do we have?"