'Detained' before grave visit
Shows they are nervous, says Iltija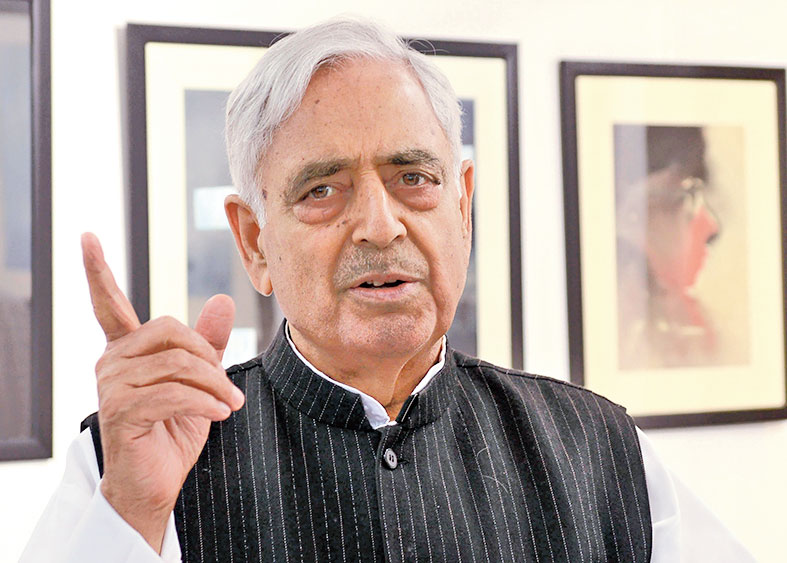 Mufti Mohammad Sayeed
Sourced by Telegraph
---
Srinagar
|
Published 02.01.20, 09:11 PM
|
---
Jailed former chief minister Mehbooba Mufti's daughter Iltija has alleged that she has been detained at her home in Srinagar's Gupkar to prevent her from visiting her grandfather Mufti Mohammad Sayeed's grave ahead of his death anniversary.
A police sources said Iltija was not allowed to move out of her home on Thursday. A top police officer denied the detention.
Iltija told The Telegraph over phone that her "detention" betrayed the government's nervousness in dealing with dissent in Kashmir even though it had been claiming for months that the situation was normal. "It shows they are nervous and are not ready to face the consequences," Iltija said.
Iltija's mother, former chief minister Mehbooba, is among top leaders of the Valley who have been under detention since the August 5 scrapping of Jammu and Kashmir's special status.
Former chief minister Sayeed's death anniversary falls on January 7. Iltija, who has mostly lived outside the Valley in the past few months, arrived in Srinagar last week to oversee preparations for the anniversary. Sayeed is buried in his hometown, Bijbehara in Anantnag district.
In the absence of her mother, Iltija has emerged as one of the most prominent faces opposing the cancellation of the erstwhile state's special status and the subsequent clampdown. She has been handling Mehbooba's social media accounts and is active on the platforms.
"I am detained in my own house. They are neither allowing me to move out nor allowing anybody to come in," Iltija, 32, said. "All I wanted was to visit Mufti sahab's grave but they didn't allow me to do so. It is my grandfather's grave and it is so personal to me."
Additional director-general of police Muneer Khan said Iltija's claim was not true.
"She is protected by the SSG (Special Security Group, which gives cover to VVIPs in Jammu and Kashmir). If an SSG protectee has to visit any place, we have to get a clearance (from the police of the area the person is going to)," Khan said.
"She all of a sudden informed us today that she wanted to visit Bijbehara. We did not get the clearance and that is the reason she was not allowed to move," the officer added.
Iltija asked why the police should have a problem with her visiting Bijbehara when they claim the situation was normal.
"He (Khan) is lying. He has asked my staff, my driver and my PSO (personal security officer) not to come to my residence today and that if I have to move out of my house even for five minutes, I should seek permission," Iltija said.
She said she had earlier been allowed to visit her jailed mother. "It is very disturbing (to be away from her mother) and I want her back home now. They are not doing me a favour by allowing me to meet her," she said.
People's Democratic Party sources said they had moved an application before the administration seeking permission to allow prayers at the grave of Sayeed, the PDP founder, on his death anniversary.
Iltija said they would move court if permission was not granted.
The authorities had last year not allowed the family of National Conference founder Sheikh Mohammed Abdullah to visit his grave on his birth anniversary on December 5, barring daughter Surraya Abdullah.
Sheikh's son Farooq Abdullah and grandson Omar Abdullah are in jail. Sheikh's elder daughter Khalifa Shah and her family are allegedly under house arrest, although the authorities have denied it.