How to pluck Election Commission thorn in Modi's side
Bank assignment beckons hounded future poll boss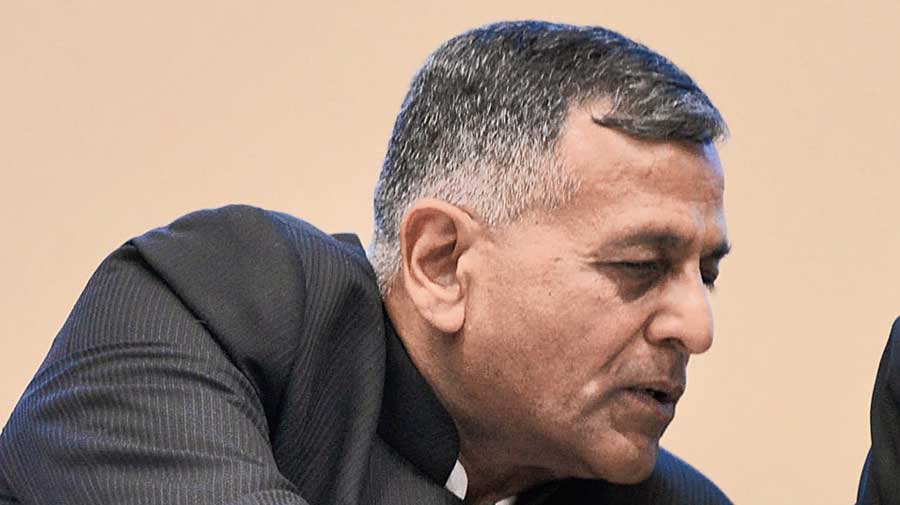 Ashok Lavasa
File picture
---
New Delhi
|
Published 16.07.20, 03:18 AM
|
---
The election commissioner who repeatedly dissented against clean chits to Narendra Modi and Amit Shah for their controversial Lok Sabha campaign speeches last year and who was in line to become the next chief election commissioner is now set to leave the Election Commission.
On Wednesday, election commissioner Ashok Lavasa was named by the Asian Development Bank as its vice-president, to be based in Manila.
A statement by the bank said: "The Asian Development Bank (ADB) has appointed Ashok Lavasa as Vice-President for Private Sector Operations and Public-Private Partnerships. He will succeed Diwakar Gupta, whose term will end on 31 August."
International public institutions usually do not declare an appointment unless it is accepted.
Lavasa, who was in line to take over as chief election commissioner when Sunil Arora demits office in April next year, did not respond to calls and a message asking if he was resigning from the poll panel. The Election Commission spokesperson declined to comment.
Sources said that while applicants need to apply for the post, their application is accepted only if supported by the respective government.
Lavasa is said to have handed 11 dissent notes against the Election Commission's decisions to clear Modi's and Shah's controversial speeches, including those in which the Prime Minister sought votes in the name of the armed forces or was accused of making communal jibes. He recused himself from model code of conduct meetings after the Election Commission refused to record his dissent in its replies to the complaints.
Since September last year, months after the general election, Lavasa's wife, son and sister have faced income tax and Enforcement Directorate investigations.
On his exit, Sushil Chandra is expected to take over as the chief election commissioner in April and conduct the Assembly elections in Uttar Pradesh, Bengal, Uttarakhand, Punjab, Manipur and Goa. Chandra is a former chairman of the Central Board of Direct Taxes, who was given two extensions in the post by the Modi government.
Last year, the Congress had asked if the Uttar Pradesh government "had withdrawn a probe" against realtor Arvind Goel because he was the brother-in-law of Chandra.
After the income tax and Enforcement Directorate moved against Lavasa's family, whistleblower bureaucrat Kannan Gopinathan had tweeted: "An election commissioner who had shown interest in finding out the vulnerabilities in the EVM-VVPAT process is targeted by the government. We will keep quiet now too. And let them tarnish his image & discredit him.
"If we don't support him now, let's not crib later that why is the election commission so subservient. This is a time our institutions, or whatever is left of them, need support from us citizens.
"Also, let us remember that it was this Government which found him to be honest, capable and integral enough to be Finance Secretary and later Election Commissioner. But his exertion of independence as EC is irking the Government. Worried about him becoming CEC!"
In a column in The Indian Express on New Year's Day that made no mention of the inquiries against his family, Lavasa wrote: "It is naïve to expect those that have been opposed by the honest to meekly accept the ascendance of the meek. They strike back and the price for the honest could be in the form of lonely suffering, even noticeable isolation.
"The honest could be shunned by friends and foe alike. It is an interesting interplay between those who dread the fearlessness of the honest and those that fear the generally dreaded."
A Haryana cadre officer, Lavasa had led the Union ministries of finance, environment, forests and climate change, as well as civil aviation.
Former chief election commissioner Nagendra Singh was the only election commissioner to resign, when he was made judge at the International Court of Justice at The Hague in 1973.