Hint of hidden Covid infection
High positivity rates suggest that the epidemic has spread faster than testing: Experts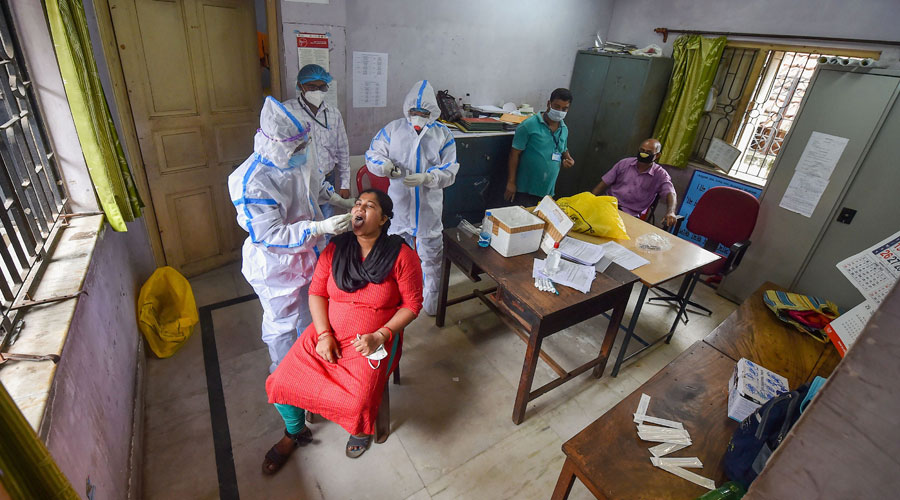 Health workers collect swab sample for Covid-19 test from a woman who was engaged in door-to-door surveillance to detect coronavirus cases at a health centre in Calcutta on Tuesday.
PTI
---
New Delhi
|
Published 17.07.20, 01:45 AM
|
---
The relatively high proportion of people who test positive among those screened for the new coronavirus in multiple states, including Bengal, might point to large reservoirs of hidden and uncounted infections, public health experts and virologists have said.
India has ramped up diagnostic capacity for screening for coronavirus disease and, three weeks ago, expanded testing criteria to include all people with influenza-like illness (ILI) symptoms everywhere. But the experts said high positivity rates suggest that the epidemic has spread faster than testing.
The average test positive rates — the proportion of people who test positive among those screened — over the past seven days are 22 per cent in Maharashtra, 12 per cent in Tamil Nadu, 11 per cent in Delhi, 9 per cent in Gujarat, 7 per cent in Bengal, and less than 4 per cent in Kerala, Punjab and Rajasthan, among other states.
Experts say the relatively high positive rates in some states could be explained either through restricted testing under which only the most likely suspects are screened for Covid-19 or through large epidemics under which a sizeable fraction of those tested are positive.
Health officials have pointed out that the country's diagnostic capacity for Covid-19 screening has increased from less than 100 samples daily in early March to over 320,000 samples daily in July. But experts say the high positivity rates indicate the need for more tests.
"One measure of adequate testing is that we need to test 20 people to find one positive case — or a 5 per cent positive rate," said Shahid Jameel, a senior virologist and head of the Wellcome Trust-DBT India Alliance, an India-UK research partnership. "In Delhi, we're getting one positive case after 10 tests, in Maharashtra, one after five tests."
The Union health ministry on Thursday recorded a fresh single-day high of 32,695 new Covid-19 cases, raising the total number of lab-confirmed cases to 968,876 of whom 331,146 patients are under medical supervision, 612,815 patients have recovered, and 24,915 have died.
But Jameel and other researchers suspect the actual count of infections is much larger. They cited the nationwide survey in May that had found previous exposure to Covid-19 in 0.73 per cent of people sampled in 60 districts and 12 cities, implying that a large number of infections have remained undocumented.
"When the rise in testing is accompanied by a rise in cases detected, it means the more you test, the more cases you find," Jameel said. "This means there are infections still to be detected. When increased testing is not accompanied by an increase in daily cases, it's an indication that the outbreak is under control."
Bengal screened 11,388 people for Covid-19 on Wednesday and found 1,690 positive cases on Thursday, a 14.8 per cent positive rate.
"Multiple factors might influence the positivity rate — the key question is: is everyone who needs to be tested being tested?" said Ooomen John, a public health specialist at The George Institute for Global Health, New Delhi.
While the Indian Council of Medical Research recommended on June 23 that all patients with ILI symptoms everywhere should be tested for Covid-19, John and others say it is unclear how efficiently this strategy is being implemented nationwide.
Over 80 per cent of Covid-19 patients have only mild symptoms. that might not prompt them to seek medical care. "The absence of active and aggressive testing of all patients with ILI could facilitate the silent transmission of the virus," John said.
Anant Bhan, a bioethics specialist, and an adjunct professor at the Centre for Bioethics at the Yenepoya Medical College, Mangalore, said apprehensions among some people about "what would happen to me if I test positive" might be holding back some people from seeking diagnosis.
While the health ministry has for weeks urged the public to seek early diagnosis without any fear and cautioned against any stigma against those found positive, anecdotal accounts of poor experiences of some patients in government hospitals could cause people to delay or avoid tests when needed.
"Rapid testing, isolation, contact tracing, effective health communication as well as community partnerships are standard public health responses to help contain the spread. But we've seen instances where instead of public health responses, we're seeing attempts to control an outbreak through policing. This doesn't help generate public trust," Bhan said.
But not all believe positive rates are suitable measures of adequate testing. "A more appropriate measure would be the proportion of ILI patients who are found Covid-19 positive or the proportion of contacts found positive," said T. Sundararaman, a community medicine specialist.