Dare to Indian conglomerate to sue in US
Hindenburg stands by its report, Adani Group says evaluating 'remedial, punitive action'
Indian conglomerate's head of legal department on Thursday called the report by the US research group 'maliciously mischievous, unresearched'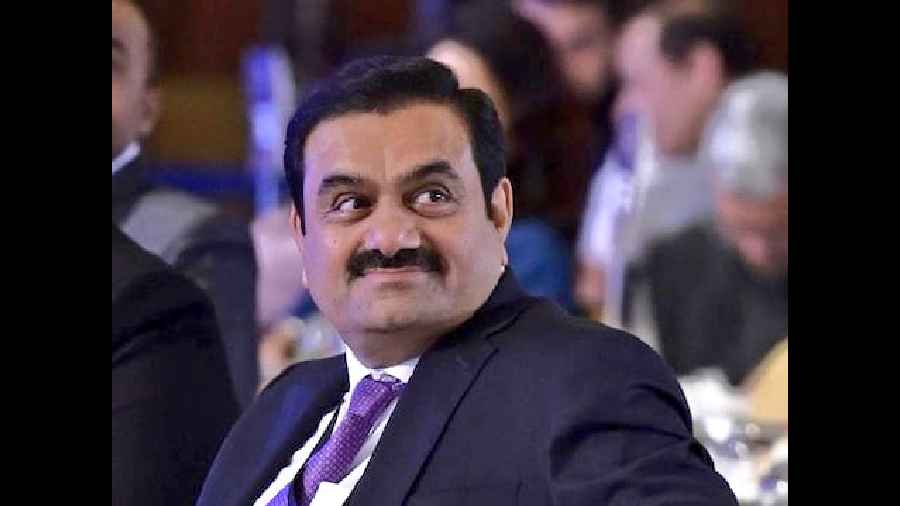 ---
Bangalore
|
Published 27.01.23, 03:46 AM
|
---
Hindenburg Research, the US-based short-seller that has accused the Adani Group of improper use of offshore tax havens, said on Thursday it fully stands by its report and would welcome legal action, the statement coming after the conglomerate led by Gautam Adani said it was evaluating "remedial and punitive action".
"If Adani is serious, it should also file suit in the US, where we operate. We have a long list of documents we would demand in a legal discovery process," Hindenburg said in a statement that it posted on Twitter as "Our reaction to Adani".
The Adani Group head of legal, Jatin Jalundhwala, had in a statement to the Indian exchanges earlier on Thursday called the report by the US research group "maliciously mischievous, (and) unresearched".
"We are evaluating the relevant provisions under US and Indian laws for remedial and punitive action against Hindenburg Research," the statement added.
Shares in seven listed group companies of Adani lost $10.73 billion in market capitalisation in India on Wednesday after Hindenburg released the report, which also said it held short positions in the conglomerate through its US-traded bonds and non-Indian-traded derivative instruments. Adani's US bonds also fell.
"The maliciously mischievous, unresearched report published by Hindenburg Research on January 24, 2023, has adversely affected the Adani Group, our shareholders and investors. The volatility in Indian stock markets created by the report is of great concern and has led to unwanted anguish for Indian citizens," Jalundhwala said.
Hindenburg responded with its own statement, which it posted on Twitter. "We fully stand by our report and believe any legal action taken against us would be meritless," it said.
Founded by Nathan Anderson in 2017, Hindenburg says it looks for "man-made disasters" in companies, such as accounting irregularities and mismanagement.
The January 24 report questioned how the group led by Gautam Adani, the world's fourth richest person according to Forbes, has used offshore entities in offshore tax havens such as Mauritius and the Caribbean Islands.
It also said key listed Adani companies had "substantial debt" which has put the entire group on a "precarious financial footing". It added that the group has "engaged in a brazen stock manipulation and accounting fraud scheme over the course of decades".
On Thursday, Hindenburg said: "In the 36 hours since we released the report, Adani hasn't addressed a single substantive issue we raised. At the conclusion of our report, we asked 88 straightforward questions that we believe give the company a chance to be transparent. Thus far, Adani has answered none of these questions.
"Instead, as expected, Adani has resorted to bluster and threats. In a statement to media today, Adani referred to our 106-page, 32,000-word report, with over 720 citations and prepared over the course of 2 years, as 'unresearched'.
"Regarding the company's threats of legal action, to be clear, we would welcome it," the research group said.
Written with Reuters and PTI reports