Hijab-clad students denied entry to classroom in Udupi PU college
Social activists have accused the Government Pre-University College in Karnataka town of denying them the constitutional right to follow their religious practices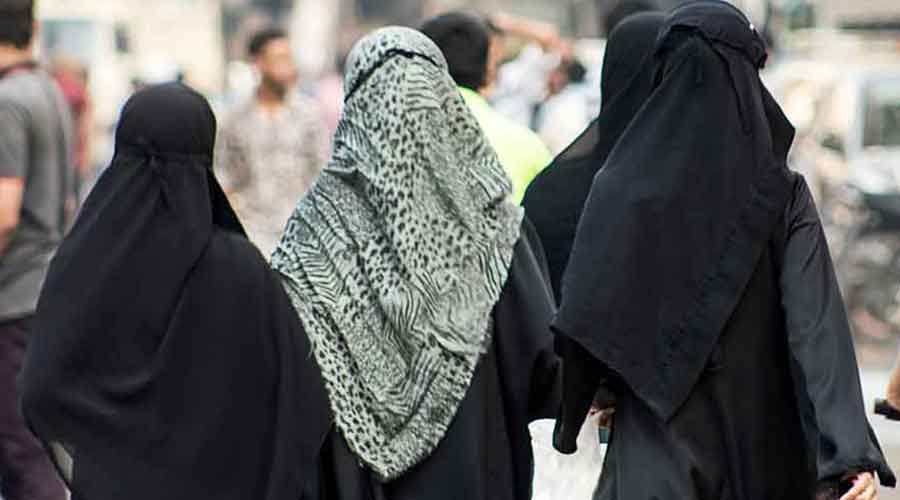 The controversy came to light on Friday when a social worker, Ansar Ahmed, took it to the media.
File photo
---
Bangalore
|
Published 02.01.22, 01:40 AM
|
---
A pre-university college in Udupi refused to let six Muslim girls enter their classrooms this week after they arrived wearing the hijab, a veil covering the head.
Social activists have accused the Government Pre-University College in the coastal Karnataka town of denying the students the constitutional right to follow their religious practices.
Denied entry to classrooms for four consecutive days, the six Class XI and XII students spent the college hours loitering on the campus.
College authorities met the students' parents on Saturday but refused to relent, saying the college dress code didn't allow the hijab and underlining that the other Muslim girl students didn't wear the veil.
The controversy came to light on Friday when a social worker, Ansar Ahmed, took it to the media.
Ahmed, Udupi district president of the Karnataka Rakshana Vedike, a voluntary organisation that works to protect the Kannada language and culture, told The Telegraph that the college had earlier too barred some other hijab-clad students from their classes.
"But then the pandemic struck, the classes moved online and the issue died down," he said.
Ahmed added: "I don't hold a brief for any religion. I intervened in this matter since it's an issue of individual rights. No law says that students cannot wear the hijab."
The girls have offered to wear their black dupatta — part of the uniform along with a churidar and kameez — as the hijab, a suggestion Ahmed has endorsed.
But college principal Rudre Gowda is insistent that every student wear the prescribed uniform the same way.
"The parents left after we decided not to allow any changes to the uniform. Since the hijab was not allowed earlier, it won't be allowed now," Gowda told reporters after Saturday's meeting with the parents.
Officials from the education department, Udupi municipality and the police department participated in the meeting, held at the school.
On Friday, Gowda had told reporters: "Only six of some 60 Muslim girls (students) are insisting on wearing the hijab. But the college doesn't have a rule permitting that kind of religious dress."
Udupi deputy commissioner Kurma Rao said he had instructed the deputy director of the pre-university department to conduct an inquiry and file a report.
The Campus Front, the student wing of the Popular Front of India — a Muslim organisation — on Saturday threatened a protest at the college. Policemen have been posted on the campus.
The controversy comes at a time BJP-ruled Karnataka has witnessed repeated attacks on churches and Christian prayer halls amid the enactment of a contentious law against "fraudulent" conversions that prescribes up to 10 years in prison.