Medha Patkar alleges Hathras plot
The social activist claimed that the supporters of the four men arrested have resolved to ensure that the victim's family is driven out of the village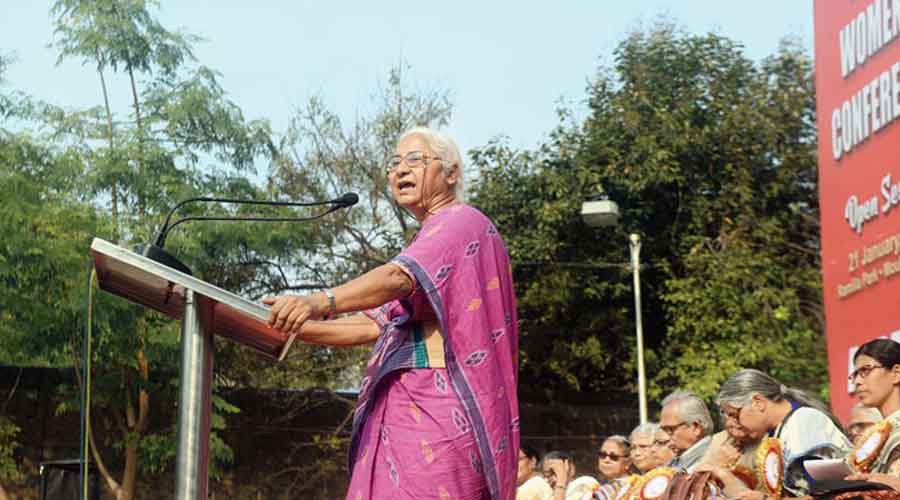 Social activist Medha Patkar
File picture
---
Lucknow
|
Published 21.10.20, 01:26 AM
|
---
Social activist Medha Patkar has alleged that supporters of the four men arrested for the Hathras gang rape and murder of a Dalit teen have resolved to sell their land to pay for the legal expenses of the accused and ensure that the victim's family is driven out of the village.
"We came to know earlier today that the supporters of the gang-rape accused have decided to sell four bighas of land to fight the case of the four accused youths and also drag the victim's family out of the village soon," Patkar told an online media conference at Nandurbar in Maharashtra on Tuesday.
She also released the report of a fact-finding team from the National Alliance of People's Movements (NAPM) that visited Hathras. The report refers to the girl as Dasya, or slave.
The father of the victim later told reporters in his village that caste brethren of the accused persons — Sandeep Singh, Lavkush Kumar Singh, Ramu Singh and Ravi Kumar Singh — had declared that they would also spend the money raised to force the Dalit girl's family out of the area.
"I have heard they have said they will throw us out of the village when the police security is withdrawn by the government. We know they will do whatever they have been saying. We have requested the central and Uttar Pradesh governments to make arrangements for us in Delhi so that we can live safely there," the father said.
Ramu's father Rakesh Singh said his son was not involved in the September 14 crime. "My son was at home when the incident took place. His name has been dragged into the case unnecessarily. We will try for the release of our children. However, the allegation of the girl's family that we want to force them out of the village is baseless," Rakesh said.
The report by the fact-finding team, titled "Brutal gang rape, assault, and murder of a 19-year-old Dalit girl by upper caste Thakur men", describes what has happened since the crime on September 14.
Besides Patkar, the eight other members of the fact-finding team that visited Hathras on October 9 and met the victim's family and relatives, are Mani Mala, activist and writer; Sandeep Pandey, leader of the Socialist Party (India); Ehtesham Hashmi, a Supreme Court advocate; Faisal Khan, an NAPM activist; Joe Athialy and Amit Kumar of the Delhi Solidarity Group; Hansraj of the Narmada Bachao Andolan, and Anand Athialy, a student.