Haseeb Drabu quits PDP
He had earlier echoed BJP's stand and said that Kashmir was a social and not a political issue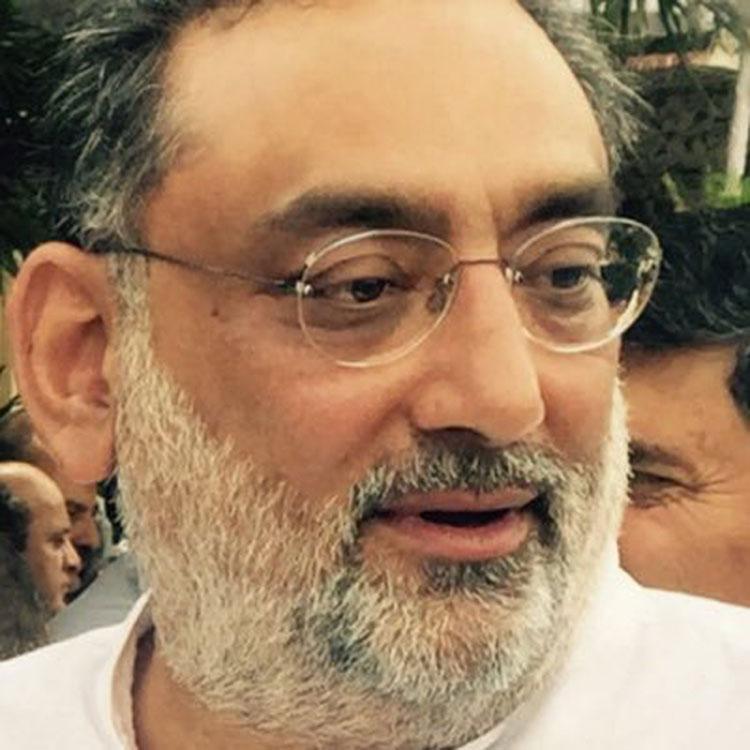 Former Jammu and Kashmir minister Haseeb Drabu
Source: Twitter
---
Published 07.12.18, 07:12 AM
|
---
Veteran Haseeb Drabu left the People's Democratic Party on Thursday, announcing his resignation on Twitter nine months after Mehbooba Mufti had sacked him as finance minister over a purported remark seen as echoing the BJP's stand on Kashmir.
Mehbooba has been struggling to retain her flock since losing her government in June after the BJP withdrew its support. Several seniors have deserted her but Drabu is the first to do so after governor Satya Pal Malik dissolved the Assembly last month.
Drabu and the BJP's Ram Madhav were seen as the architects of the alliance between the two parties in 2015. "Bidding Adieu to PDP. Another phase of life over," Drabu tweeted.
In a letter to Mehbooba, the former MLA from Rajpura gave no reason for quitting the party but showered praises on her father and former chief minister Mufti Mohammad Sayeed.
"As I do so (resign), I do want to remember Mufti sahib who sought me out and got me into politics. Working with him made me realise that politics is not the 'last refuge of scoundrels'," he wrote.
"Occasionally, people with intellectual integrity, personal honesty and moral courage can also be found here. I was exceptionally lucky to have worked with him."
Drabu defended Sayeed for aligning with the BJP. "I just hope that when history judges Mufti sahib and his decision to ally with the BJP, it does so in context and with the complexity it deserves," he said.
It's not clear whether Drabu will continue in politics or, if he does, which formation he would join.
The former finance minister did not take calls from The Telegraph but a close friend said he had been "almost detached" from politics since his March sacking.
But he added: "In most cases, people who join politics live as politicians all their lives. He might do the same."
PDP chief spokesperson Rafi Ahmad Mir said he had learnt from social media that Drabu had quit the party. "He had resigned once before too. We will see in what context he has done it," Mir said.
Drabu had fallen out with Mehbooba sometime ago and was perceived to be cosying up to the BJP. He would flaunt his relations with the BJP brass. His remarks in March brought matters to a head.
He was quoted as saying at an event in Delhi that Kashmir was a social and not a political issue. The PDP owes its existence to its soft separatist agenda and fights for self-rule (or greater autonomy) for the state.
"It's not a political issue as far as I can see. I think we have been barking up the wrong tree… by talking about the politics of it, that the political situation has never improved. We seriously need to look at it in terms of how it is a society that is in search for itself," he reportedly said.
Separatists and the Opposition National Conference called it a sell-out. Drabu tried to control the damage by releasing a statement that he claimed have read out at the event. It did not contain the controversial remarks.
But that did little to calm tempers. Many in his party were already gunning for his head.
In his letter to Mehbooba, Drabu reminded her that he had resigned from the cabinet, Assembly and party nearly two years ago but his resignations had not been accepted then. He added that he had been "disengaged from party affairs for quite some time now".
He also reminded Mehbooba that he had chosen not to be a dissident during the PDP's recent crisis.
"I didn't precipitate the matter because I believe it is ethically and morally wrong to leave the party under whose aegis one has contested and won the seat in the legislative assembly. Now that it is over, I am hereby resigning from the J&K PDP," he wrote.
Drabu hit out at the governor for prematurely dissolving the Assembly.
"I don't agree with the timing and manner in which it was done. It doesn't credit either the democratic system or its custodian participants with any glory whatsoever," he said.
Sayeed had picked Drabu, a former journalist, to head the Jammu and Kashmir Bank. In 2014, he contested and won on a PDP ticket from south Kashmir's Rajpura constituency. Before joining pro-India politics, he was perceived to be sympathetic to the azadi cause.