Haryana government disregards Supreme Court order on OBC quota
A senior lawyer said the latest notification — which also flouts a 1992 apex court ruling — had exposed the BJP-ruled state administration to contempt charges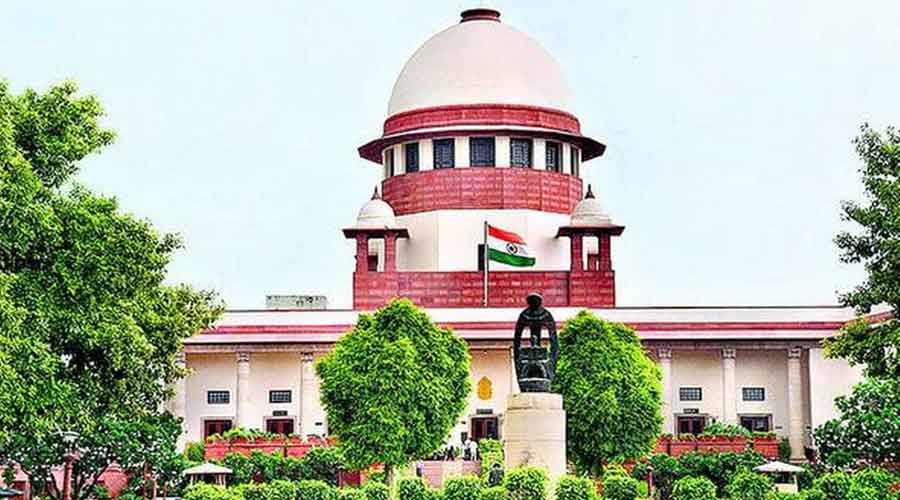 Supreme Court.
File photo
---
New Delhi
|
Published 22.11.21, 01:44 AM
|
---
The Haryana government has included salary and agricultural earnings in calculations of whether an Other Backward Classes candidate belongs to the creamy layer, the notification coming just three months after the Supreme Court struck down a similar order.
A senior lawyer said the latest notification — which also flouts a 1992 apex court ruling — had exposed the BJP-ruled state administration to contempt charges.
Opposition politicians accused the BJP-RSS of trying to sabotage the reservation regime.
The Supreme Court, while denying OBC reservation benefits to a "creamy layer" in a 1992 verdict, had said income from salary and agriculture cannot be considered for creamy layer identification.
Subsequently, the Centre issued an order in 1993 reiterating the point while, as prompted by the court, including in the creamy layer also those holding constitutional or Class A posts, and those promoted to Class A posts before turning 40.
This meant that while calculating parental income for creamy layer identification, earnings such as those from landholding and business alone were considered.
However, the Haryana government issued a notification in 2018 saying "income from all sources" would be considered while determining who belonged to the creamy layer, implying salary and agricultural earnings would be considered too.
This was challenged in the apex court, which in August this year struck the order down saying income could not be the sole criterion — a reference to the notification's silence on the status of posts that the OBC candidates' parents might hold.
The court order did not specifically mention the illegality of considering salary and agricultural income to identify the creamy layer, but referred to the 1993 government order.
The Haryana government's November 17 notification mentions the parental posts that make an OBC candidate ineligible for reservation while reiterating that "income from all sources shall be clubbed to arrive at the gross annual income".
Shashank Ratnoo, a Supreme Court lawyer and expert on reservation issues, said the Haryana government's latest order was "open to contempt petitions".
"(Virtually) the same notification uprooted by the Supreme Court has been restored now. Inclusion of salary under the annual income is against the specific direction of the apex court in Indra Sawhney vs Union of India, 1992," Ratnoo said.
Haryana state Congress chief Kumari Selja accused the BJP and the RSS of conspiring to end reservations, saying their "anti-reservation mentality" had been exposed repeatedly over the years.
The Haryana government had earlier issued a notification in 2016 that introduced what was virtually a two-grade creamy layer, saying priority would be given in reservation to OBCs with annual parental earnings below Rs 3 lakh before considering those in the Rs 3-6 lakh bracket. The creamy layer income cut-off in Haryana is Rs 6 lakh.
This notification too was challenged in the apex court along with the 2018 order, and was struck down.