Gurgaon: Imams offer cut in open-air spaces for prayers
Jumma namaz is now offered at around 20 public spaces in Gurgaon, but have faced disruptions despite police deployment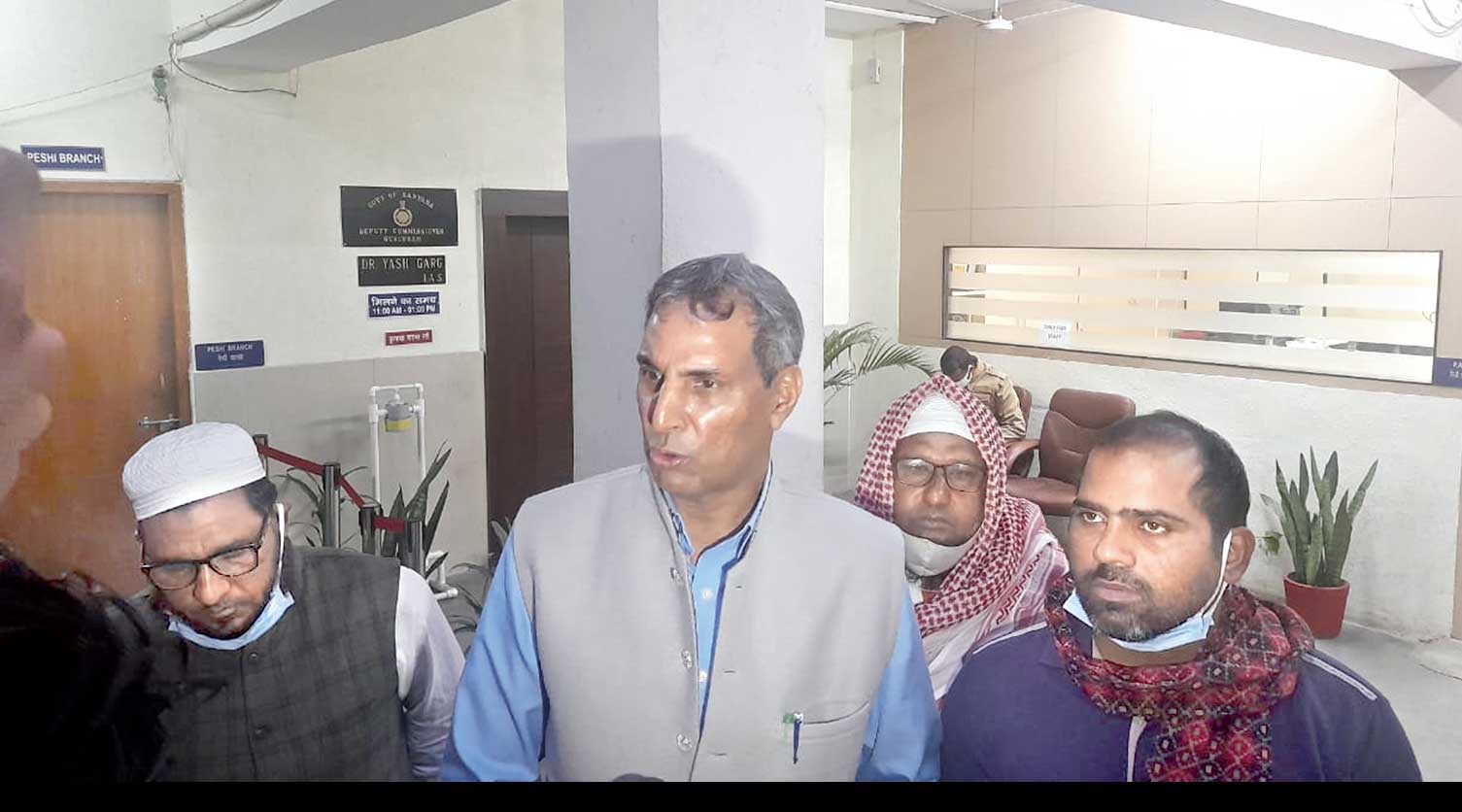 Khurshid Rajaka, a national convener of the RSS-backed Muslim Rashtriya Manch, after Monday's meeting in Gurgaon
The Telegraph Picture
---
New Delhi
|
Published 08.12.21, 02:56 AM
|
---
Some imams have offered a steep cut in the number of open-air spaces for prayers in Gurgaon. Other Muslim groups have opposed the offer that was made by the imams when they met a top official in the presence of Rashtriya Swayamsevak Sangh (RSS) supporters.
The imams had met Gurgaon deputy commissioner Yash Garg on Monday evening with the offer to bring down the number of prayer spaces.
Last month, the district administration had withdrawn consent to eight of the 37 sites where Friday prayers were offered by Muslims in places where mosques are not available. The 37 sites, which include three Muslim institutions, had been earmarked by the administration in 2018 after protests by Hindutva groups. Prior to this, Friday and Id prayers were offered at 106 open spaces in addition to mosques, almost all of which are in older parts of the city.
Jumma namaz, or Friday prayers, is now offered at around 20 public spaces in Gurgaon, but have faced disruptions despite police deployment.
In their memorandum to the deputy commissioner, the Gurugram Imam Sangthan has now volunteered to further curtail this number to 12 Muslim institutions and six public grounds. Friday prayers will be offered at the listed places by imams of the Sangthan until encroached waqf properties are handed over to them, they said.
They said in their memorandum that they wanted to "stop the politics of Muslim leaders over namaz".
There are 14 other Muslim institutions in Gurgaon where Friday prayers take place but only two of these are in the new city where most workplaces are located. 
The police have been protecting open-air Jumma namaz, which has faced attempts at disruption by Hindutva groups and residents' welfare associations since September 17.
These groups have been using loudspeakers and playing Hindu devotional songs while the namaz takes place.
Last Friday, Hindutva activists overwhelmed a thin police cordon for a namaz outside a police station and intimidated worshippers before being detained.
The Gurgaon Muslim Council, whose co-founder Altaf Ahmad has been a party to talks with the administration, gave a memorandum to the deputy commissioner, rejecting the proposal of the Gurugram Imam Sangthan.
The council said in the memo: "Will lakhs of Muslims travel long distances on a working day every week for Jumma namaz and converge on a few sites and create chaos?
Sir, this proposal is not just fraudulent, but also impractical and (will) create severe problems for Muslim community citizens as well others citizens of Gurugram."
It added: "Therefore, we reject any and all such agreements done behind closed doors, in a suspicious manner, by a handful of discredited members of Muslim community.
Through your good office, we request the Hon'ble Chief Minister to constitute a truly representative Aman Committee, and resolve this matter in a mutually consultative way. Sir, we will continue to offer Jumma namaz at all the 37 sites agreed upon in 2018, and demand that the district administration ensure that law and order is maintained."
Garg did not respond to a call and a message from this newspaper.
After the meeting between the Gurugram Imam Sangthan and the deputy commissioner, Khurshid Rajaka, a member of the Haryana Waqf Board and a national convener of the RSS-backed Muslim Rashtriya Manch (MRM), said Muslims would pay the government for the use of the land.
"Namaz was never stopped here, only the manner in which it was being conducted was objected to…. What is most important for the MRM is Gurugram's law and order, security, and brotherhood."
Leaders of the Sanyukt Hindu Sangharsh Samiti (SHSS), helming the protests against the open-air prayers by Muslims, were also present at the meeting.
In a statement, they said the Sanghtan and the MRM would "deal with any Namazi who creates a problem".
SHSS president Mahavir Bhardwaj told reporters: "This issue has been going on in Gurugram since 2018. Today this issue and this movement which the SHSS carried out against namaz in public places have come to a pause."