Gujarat: CM change bares challenges for 'Modi-Shah BJP'
Bhupendra Patel was the only one to take oath, underlining that the saffron camp's high command was still in the process of finalising the new council of ministers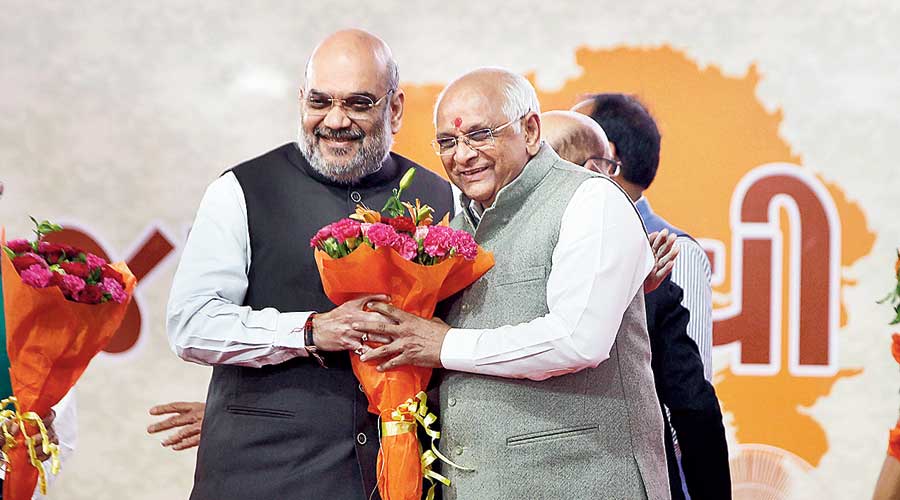 ---
New Delhi
|
Published 14.09.21, 01:44 AM
|
---
Bhupendra Patel, the low-profile leader believed to have been handpicked by Prime Minister Narendra Modi, took oath as chief minister of Gujarat on Monday, highlighting in the process the challenges for the "Modi-Shah BJP".
Patel was the only one to take oath, underlining that the BJP high command was still in the process of finalising the new council of ministers to strike a balance in the state party unit and send out the right message among the voters ahead of next year's polls.
The change of leadership in Gujarat has once again underlined that Brand Modi may not be enough to turn the electoral tide, even on Modi's home turf, and diversions were needed to counter governance failures, party sources said.
Old-timers said though Modi continued to be popular nationally, he had lost most of his power to influence state elections and the recent change of chief ministers was the result of this realisation.
Apart from governance issues, internal bickering in many state party units has been intensifying despite the complete dominance of Modi and Shah, the sources said.
"Bhupendra Patel is not a dynamic leader. If Vijay Rupani was Amit Shah's yes-man, he is Modi's yes-man," one old-time party leader, now sidelined, said. "He (Bhupendra) has only been picked to hoodwink the Patels to win the elections and ensure the infighting in the state unit is kept under check," the leader added.
This leader argued that had Modi genuinely wanted a strong Patel leader, he would have picked outgoing deputy chief minister Nitin Patel or some other known Patel face.
"If Nitin Patel had been elevated, it would have angered the other prominent Patel leaders," another leader said.
Appearing upset, Nitin Patel said at an event in his constituency on Sunday that he would "not be ousted" as long as he received the love of the people, indicating that the internal problems for the BJP in Gujarat were far from over.
Despite Modi pulling off a bigger win in the 2019 general election, the BJP has lost a string of state elections, starting from Rajasthan, Madhya Pradesh and Chhattisgarh in 2018 to Jharkhand in 2019, Delhi in 2020 and Bengal in 2021. In all these elections, Modi had canvassed tirelessly.
In Haryana, the BJP managed to retain power in 2019 only through a post-poll tie-up with regional party JJP.
"In Jharkhand, the leadership stubbornly refused to change the chief minister despite unfavourable reports from the ground. Same happened in Haryana," one party leader said. "Taking lessons from these states, prompt action has been taken in other states based on feedback," the leader added.
Seeking to show that all was well in Gujarat, home minister Amit Shah on Monday participated in the swearing-in of the new chief minister whose elevation has been seen as a snub to his dominance in the state's affairs. Outgoing chief minister Vijay Rupani was known to be his choice.
Shah tweeted pictures with the new chief minister and said he was sure Patel would serve the state's "poor, farmers and marginalised sections" and take forward Gujarat's growth story.
Modi, besides congratulating the new chief minister, also had good words for Rupani, commending him for undertaking "people-friendly measures" and working "tirelessly for all sections of the society".
Party leaders in Delhi said this was aimed at assuaging the hurt to Shah's lobby in Gujarat.