Guess who came to dinner with Lalu Prasad
Ansari ke meat mein jitna phaida hai utna phaida poore aspatal ke dawai mein nahin: Lalu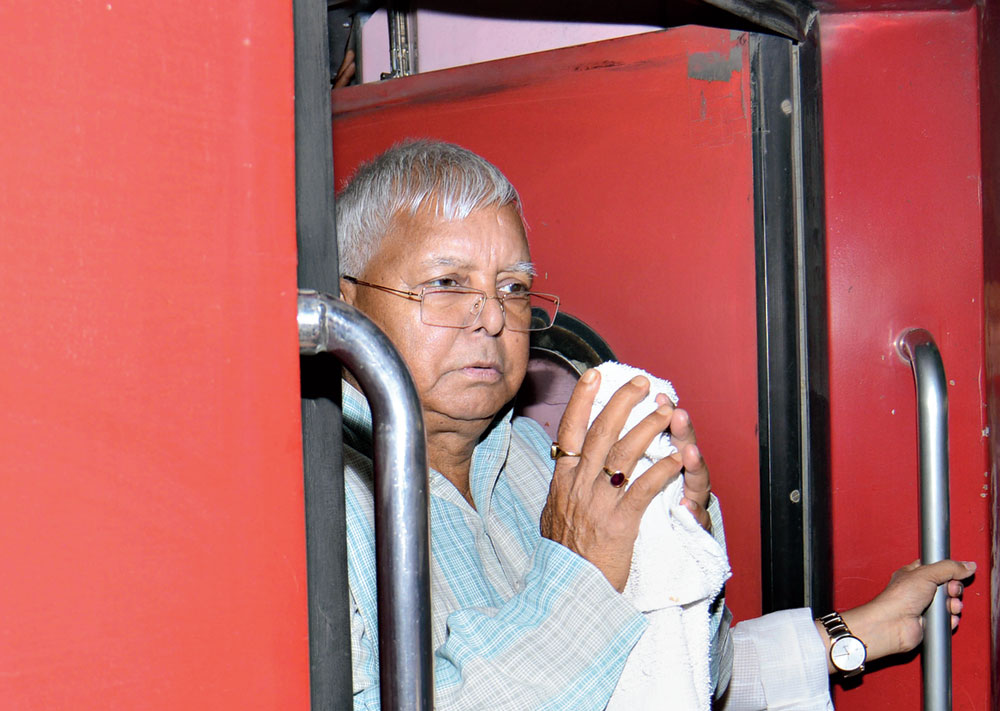 Lalu Prasad arriving in New Delhi for treatment at AIIMS
Telegraph file picture
---
Published 08.05.19, 12:44 AM
|
---
The writer is co-author of Gopalganj to Raisina — My Political Journey, Lalu Prasad's autobiography
It was the day of Bakrid. I landed at Mumbai airport on August 21, 2018, to meet Lalu Prasad, who was then hospitalised at the Asian Heart Institute located in the suburban Bandra Kurla Complex. Though by then I had submitted the manuscript of what eventually was published as Gopalganj to Raisina — My Political Journey on April 6, 2019, I wished to discuss with the Rashtriya Janata Dal chief some of its contents to be sure about accuracy.
I took an autorickshaw from the airport, asking the driver to take me to Asian Heart Institute. "Do you know Lalu Prasadji? He lives at that hospital," the auto driver said.
Pleasantly surprised, I said: "Yes! I am going to meet him."
The autorickshaw driver, a Muslim from somewhere in eastern Uttar Pradesh, immediately steered his vehicle to one side of the road and stopped.
"Can you help me meet Laluji? If you help me meet him I will pray to the Almighty for you," he said in Hindi.
I was a bit perplexed. I didn't know if I would be able to get the driver to meet Lalu. And to be honest, getting the driver to meet Lalu was not my priority. But to get out of the situation I suggested that the driver give me his cell phone number and name, and promised him that I would try.
The driver pressed on, trying to convince me about his desire: "If I get the chance to meet Amitabh Bachchan and Laluji at the same time, I will meet Laluji."
He also wrote his name — Ansari — and phone number on a piece of paper and gave it to me, which I pocketed casually. He dropped me off at the hospital's gate, requesting: "Laluji se mujhe milwa dena babu. Allah meherban hoga (Please help me meet Lalu, God will bless you)."
I forgot about his request the moment I entered the hospital premises. A Lalu aide who was waiting for me at the lobby took me to his room on the fourth floor. My commissioning editor from Rupa, Rudra Sharma, too joined me a little later.
Lalu was not in the best of health. He had had heart surgery, and his blood pressure and sugar levels were fluctuating. Doctors and nurses were attending to him, guiding him about what to eat and what to avoid. Lalu was supine on his bed but was talking to us very warmly. Rudra and I stayed in his room for over two hours and discussed with him about the manuscript at length.
In between, the doctors and nurses kept on checking his blood pressure, sugar, etc. Some of them were clicking selfies with the ailing leader. Lalu also got a call from one of his grandkids in Haryana and spoke for two to three minutes, talking as one would do with a child.
The nurses and doctors treated Lalu as a lovable elder and he too spoke to them as if they were his family members. He was in pain but everyone around him was laughing and smiling at his words and disposition.
"You should get married," Lalu told one of the nurses. "Don't delay your marriage. You should take care of your ageing parents and other elders in the family."
The nurse smiled.
Around 6pm, when I was preparing to leave, I remembered the auto driver's request and casually told Lalu.
Some senior leaders from Bihar and Maharashtra were waiting outside for us to leave so that they could meet Lalu. But as soon as he heard about the driver's wish, Lalu became restless. "Have you kept his phone number? Please give it to me," he commanded.
I fished out the paper from my pocket and gave it to Lalu.
He instantly ordered Bhola Yadav, his party MLA who was accompanying him, to call up the driver.
Bhola connected the phone and handed it over to Lalu.
"Aap ka naam kya hai? Aap jaldi hum se milne aa jao. Dhai sau gramme kachcha kaleji bhi lete aana. Aaj Bakrid ka din hai. Kurbani wala kaleji lana (What is your name? Come fast to meet me. Today is Bakrid. Bring 250g of raw liver of a sacrificed goat," Lalu told Ansari.
After disconnecting the phone, Lalu asked Bhola to ask the leaders outside to call on him some days later. He told Bhola to go downstairs and bring the driver in. After half an hour, the driver came in, the meat wrapped in a white handkerchief. He was weeping uncontrollably.
"Don't cry. Just go with Laxman (another aide of Lalu) and cook the liver with mustard oil, garlic, green chilli, pepper and salt. We will eat the meat together from the same plate," Lalu told Ansari.
Laxman escorted Ansari to a special kitchen next to the room, which the hospital administration might have arranged for Lalu. Laxman and Ansari brought the cooked liver on a plate. Lalu sat up on his bed and asked Ansari to share the meat.
"Hoojur! Aap ke plate mein kaise khaoon! Main garib aadmi hoon, autorickshaw chalata hoon. Aap se mil liya, mujhe sab kuchh mil gaya (My lord, how can I share food from your plate! I am a poor man; I drive an autorickshaw. I have got everything just by meeting you)," Ansari said, hands folded.
Lalu admonished him lovingly: "Chupchap aakar saath mein khao nahin toh do thappad maroonga (Just eat, else I will slap you twice)".
Ansari joined in meekly, eating with Lalu from the same plate as we watched.
A nurse came in yelling: "Why are you eating meat? The doctor has strictly asked you not to eat red meat!"
Lalu smiled: "Doctor sahib bhole hain. Unko pata nahin hai ke Ansari ke meat mein jitna phaida hai utna phaida poore aspatal ke dawai mein nahin. Yeh kurbani ka meat hai (The doctor is naive. He doesn't know that Ansari's meat has more benefits than all the medicines in his hospital. It is sacrificial meat)."
He turned to us, and said: "I have got immense love from the poor people. What more do I need? I don't think of death and ailment. Life is in the hands of God."
Then he told the auto driver: "Ansari ab jaao. Koi taqlif hoga toh batana, phir milna (Ansari, go now. If you run into any trouble, come to me again)."
Overwhelmed, Ansari left weeping. "Yah Allah! Laluji ko aabad rakh (O God! Keep Laluji healthy)," he said as he left.
After the auto driver left, Lalu told us: "It is 8pm. I could not have shared the meat with you as there was not enough for four/five people. Now you should go to your hotel and have good drinks and good food. Bihar mein toh sharab bandi hai (There is prohibition in Bihar)."