Grief pours for Mulayam after namesake dies
The former chief minister is said to be ailing for some time because of complications arising out of a urinary tract infection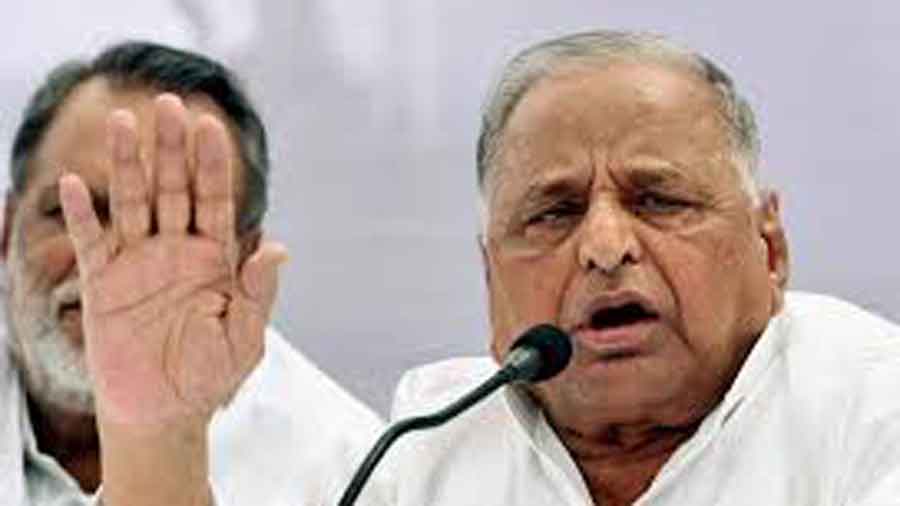 ---
Lucknow
|
Published 07.10.20, 12:56 AM
|
---
Tweets from the Samajwadi Party's official handle announcing the death of a namesake of Mulayam Singh Yadav without properly clarifying the identity fuelled rumours that the Uttar Pradesh stalwart and former chief minister had passed away, triggering a blizzard of condolence messages and even a Wikipedia update.
On Monday afternoon, after many hours of confusion, former chief minister Mulayam's daughter-in-law cleared the air by saying that the leader was alive and healthy. "By the grace of god, our affectionate Netaji, Mulayam Singh Yadav, is healthy," Aparna tweeted at 1.10pm.
Mulayam, 80, is said to be ailing for some time because of complications arising out of a urinary tract infection. He is reported to be at home.
Around 9pm on Sunday, the official Twitter handle of the Samajwadi Party had tweeted: "Veteran Samajwadi Party leader and Member of Legislative Council Mulayam Singh Yadav has passed away. Mulayam, 92, breathed his last at his native village in Uttar Pradesh's Auraiya district around 9pm on Saturday. His last rites were performed on Sunday."
The social media handlers of the party, however, appeared oblivious to the
potential of such a message being misunderstood, given that the leader who had died shared his name with the Samajwadi Party founder and three-time chief minister. Also, rumours had already been rife after a private individual had uploaded a similar message thin on specifics on Sunday.
Soon after the Samajwadi Party's, social media users and former chief minister Mulayam's supporters began paying tribute to him on Twitter and Facebook. Wikipedia, where users can update information, for a brief period mentioned the veteran leader's death day as October 3, 2020.
However, the social media accounts of the Samajwadi Party made no attempt to clear the air.
Another message posted on the party's official Twitter handle at 3.53pm on Monday read: "Senior Samajwadi leader of Auraiya and former MLC Sri Mulayam Singh Yadav has died. Condolence to the bereaved family. May God give peace to the departed soul and strength to the family."
Yet another message, at 5.19pm, said: "Samajwadi party chief Akhilesh Yadav has offered his condolences on the demise of Mulayam Singh Yadav, who breathed his last in his ancestral village."
Akhilesh is the son of Samajwadi founder Mulayam, who had also been the country's defence minister in the United Front government from 1996 to 1998.
Incidentally, the Mulayam who passed away had been close to former chief minister Mulayam, the Mainpuri MP who traces his roots to Etawah. The Samajwadi messages also erred in its mention of the deceased Mulayam's constitutional designation — he was a former MLC.