Gowda call to Modi for unity in Covid fight
The former PM asked for better coordination between state govts by deploying a minister each to communicate with each other to seek and offer help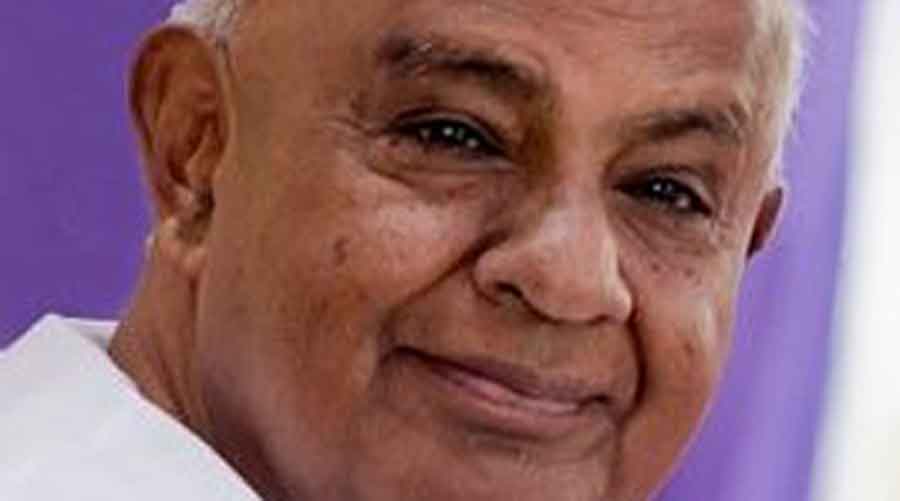 Former Prime Minister H.D. Deve Gowda
(twitter.com/H_D_Devegowda)
---
Bangalore
|
Published 27.04.21, 01:34 AM
|
---
Former Prime Minister H.D. Deve Gowda has urged Narendra Modi to rope in members of the Opposition in the fight against Covid-19 as one nation.
"The virus does not understand political partisanship. This is a national crisis, and we should fight it as one nation," Gowda said in a letter he released on Twitter on Monday.
The former Prime Minister called for better coordination between state governments by deploying a minister each to communicate with each other to seek and offer help.
"One minister in each state can be put in charge to both seek help from other states as well as offer help. This, too, is cooperative federalism," Gowda said.
He sought a ban on all large public gatherings for six months and curbs on election victory celebrations on May 2.
Gowda sought the postponement of all bypolls by six months.
"I learnt that dedicated Covid hospitals and health centres in both private and public sectors across the nation came down by six per cent between December 2020 and April 2021. In reality this should have increased in anticipation of the second wave. Going forward, such decisions to shut down should be taken only after due deliberation," Gowda stated.
The Janata Dal Secular leader called for immediate decentralisation of Covid management and opening war rooms in district headquarters and suggested they should not be disbanded as soon as the coronavirus curve begins to slide and maintain them until the pandemic abates around the world.
"The focus currently has been on big cities. But there is a greater danger lurking in non-urban districts and taluk centres. Village clusters also need urgent attention," he urged, adding the ministry of rural development and panchayati raj should coordinate such efforts.
In highlighting the confusion on the vaccination front, Gowda urged Prime Minister Modi to ensure science gets the primordial place in pandemic management.
"Science has to be placed above every belief we may have and faith we follow," he said, apparently alluding to propaganda about unscientific solutions such as cow urine.
"It has to be told that vaccines are the only best thing we have to protect not just our own lives but those of others too," he said, citing the cynicism about vaccines.