RTI reply shows government's mercy for Modi's 'Guruji'
Maharashtra dropped six cases against Sambhaji Bhide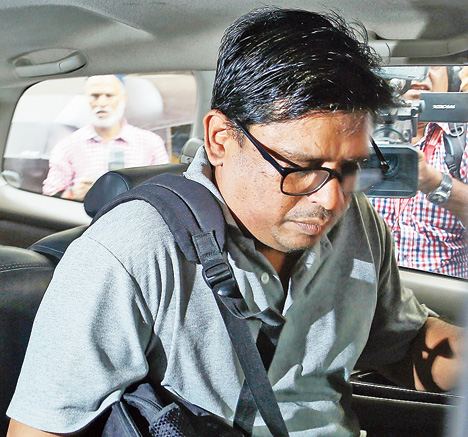 Arun Ferreira, one of the activists arrested in connection with the Bhima-Koregaon violence, who has not got court relief.
Telegraph file photo
---
Mumbai
|
Published 01.10.18, 11:06 PM
|
---
The BJP-led Maharashtra government withdrew six cases against the initial prime accused in the Bhima-Koregaon violence, a man Prime Minister Narendra Modi calls "Guruji", a year before arresting 10 Left-leaning activists in the same case, an RTI reply has revealed.
Sangh parivar affiliate Sambhaji Bhide's name was on the FIR lodged after the January 1 caste violence in Bhima Koregaon, while only one among the 10 activists figured on it.
Police sources said the cases against Bhide were withdrawn in June last year following a decision by a state cabinet sub-committee.
Modi had visited Bhide's Sangli home to seek his blessings before launching his 2014 poll campaign and told a public meeting: "I did not come to Sangli on my own, but I was given orders by Bhide Guruji to visit your city and here I am."
A Pune-based lawyer asked: "Is it possible for the police to act against a person whose feet the Prime Minister touches?"
Bhide, octogenarian founder of the Shri Shiv Pratishthan, was an RSS pracharak in the sugar belt of Satara-Sangli-Kolhapur before he charted his own course.
"He has been absolved of all cases from 2008," said Vishvas Nangre Patil, special inspector-general of police (Kolhapur range).
Shakeel Ahmed Sheikh, a Mumbai-based RTI activist, said he had moved the RTI plea on March 4 asking how many cases against political leaders had been withdrawn since 2008. He said he received the reply on Saturday after two appeals.
Cases have been withdrawn also against several lawmakers, mostly from the ruling BJP-Shiv Sena but a few from the Congress and the Nationalist Congress Party too.
Some of the cases against Bhide date back to 2008, when his supporters ransacked theatres screening Ashutosh Gowariker's Jodhaa Akbar, alleging historical inaccuracies. A few months later, Bhide brought Sangli to a standstill after a Ganesh pandal was denied permission to depict Afzal Khan's assassination by Shivaji.
Six months after the government withdrew the cases, Bhide's name surfaced in connection with the caste violence at Bhima Koregaon a day after a congregation commemorated the bicentenary of a Dalit victory over the Peshwa's army. One person died in the violence.
Bhide and Milind Ekbote, former BJP councillor and founder of the Hindu Ekta Manch, were named in the FIR. Ekbote is out on bail but Bhide was never arrested.
"There is no evidence of his (Bhide's) involvement. We have evidence against Ekbote and a chargesheet will be filed soon," Pune (rural) superintendent of police Sandeep Patil said.
In June this year, the Pune police arrested five rights activists in connection with the case and apprehended five more in August, raiding locations across the country. They have been slapped with charges of Maoist links and involvement in plots to assassinate Modi and topple the government.