Govt acts over maternity break 'misuse'
With employers unhappy, ministry considering riders worked into amendment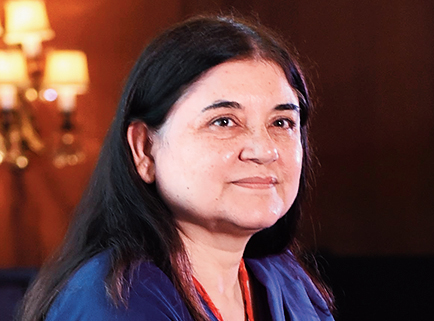 Maneka Gandhi, the Union minister for women and child development.
The Telegraph file picture
---
New Delhi
|
Published 07.12.18, 11:08 PM
|
---
Instances of misuse of enhanced maternity leave have emerged as a reason behind the Centre's plans to partially compensate the private sector for offering the benefits.
Earlier this month, the women and child development ministry announced that the Centre would give employers the salaries for seven of the 26 weeks of maternity leave for women earning less than Rs 15,000 a month. The announcement followed complaints that many companies were reluctant to hire women after the new rules were introduced.
Minister Maneka Gandhi is learnt to have highlighted cases of misuse of the provisions while appealing to finance minister Arun Jaitley for budgetary provisions to share the load of the enhanced maternity benefits with private sector employers.
Jaitley is said to have referred the matter to the labour ministry. Since the enhanced maternity benefits had provided for increasing fully paid leave from 12 weeks to 26 weeks for the first two children from April 1, 2017, the labour ministry came up with the plan to bankroll seven of the additional 14 weeks.
The WCD ministry is faced with cases where women have gone on maternity leave within a month of joining a new organisation, triggering resentment about the provision and also apprehension among policy-makers that this would become counter-productive to women's empowerment.
Now that the cases of misuse are coming to light, the WCD ministry is wondering whether riders ought to have been worked into the amendment though Maneka is understood to have been against this on the premise that it would be too "intrusive" as a woman has the right to decide when she wants to start a family.
A rider would have meant mentioning in the law a minimum number of years of employment with an organisation before a woman can avail herself of the maternity benefits.
Likewise, there is an apprehension that the #MeToo campaign is resulting in a number of frivolous complaints even within government ministries and departments. Sources said about 50 per cent of the complaints received by government internal complaints committees were essentially of women alleging sexual harassment on being transferred.
The first meeting of the group of ministers set up in October in the wake of India's #MeToo moment will be held on Monday. At the meeting the WCD ministry is expected to make a renewed push for granting constitutional status to the National Commission for Women (NCW).
The ministry is of the view that if the NCW is given the same status as that of the National Human Rights Commission and the National Commission for SC/STs with an investigative wing and judicial powers, there is no need for another mechanism to deal with cases of sexual harassment at the workplace.