A leader's religion is service and people's welfare: Priyanka Gandhi
The Congress general secretary on Saturday asserted that governments that do not help citizens in distress are 'irreligious'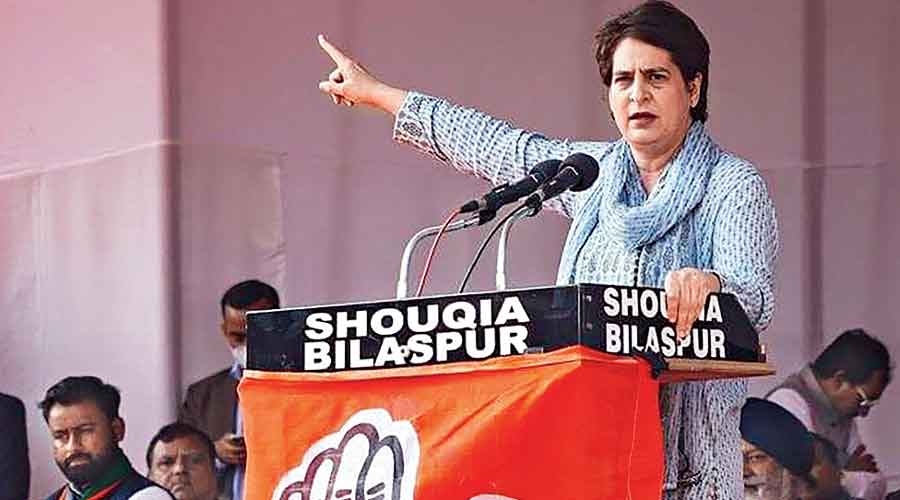 Priyanka Gandhi.
PTI Photo
---
New Delhi
|
Published 13.02.22, 01:48 AM
|
---
Priyanka Gandhi Vadra on Saturday asserted that governments that do not help citizens in distress are "irreligious", confronting Prime Minister Narendra Modi for criticising the Congress for its service during the humanitarian crisis caused by the abrupt lockdown in 2020.
"A leader's religion is service and people's welfare. There are parties that only think of their own success. Our religion is to help people in distress. The Modi government left the people at God's mercy during corona. That's not our politics; those who don't help you in distress are irreligious," Priyanka told an election rally in Uttarakhand.
The Congress general secretary added: "When you were walking barefoot, where were these people who are giving sermons today? When you were hungry, why didn't they help? They are now asking us why we arranged for buses and trains. Ask them why they didn't help. You know the answer. Kick them out. Defeat them."
In Parliament, the Prime Minister had accused the Congress of committing a "sin", alleging that the party had spread the coronavirus to other parts of India by helping migrant labourers leave Mumbai for their home states during the lockdown.
While it was the Modi government that ran special trains to ferry migrant workers home, the BJP had taken strong objection to Sonia Gandhi announcing that the Congress would bear the expenses for their travel.
Migrant workers had been left without work or sustenance after Modi announced the lockdown at four hours' notice without making any arrangements for them. Millions had to undertake long and arduous journeys home, often on foot, with many dying on the way.
Priyanka on Saturday contended that people did not have to depend on politicians to understand their plight. "You know your truth. You know your struggles, your problems. You are grappling with high prices; you buy petrol and gas cylinders. Farmers know what they are faced with; why the farm laws were brought in. Youths know the unemployment situation. They know that vacancies are not being filled. No section of society has seen an improvement to their lives."
Encouraging people to ask questions, she said: "Those who lecture on caste and religion and whip up passions should be asked why they are not talking about jobs. What has the double-engine government done for the people? Why are they raising irrelevant issues? You are wise. Don't be blind. Wake up. Question the parties that are obsessed with power."
Raising issues similar to those Rahul Gandhi talks about, Priyanka said: "Diversionary ploys are used to take attention away from the real issues. Ask the leaders who make lofty promises why farmers' agriculture produce doesn't fetch fair prices. Ask those who are distributing bindis and bangles today why jobs were not created. Ask what they have done to improve the lives of the poor. You know who the national assets are being sold to. Everything is being given to two industrialists — Adani and Ambani."
She drew attention to the promises made by the Congress in Uttarakhand, including the Nyay-like scheme of giving Rs 40,000 to the poorest families every year. The other promises include gas cylinders for less than Rs 500 each, 40 per cent reservation for women in police jobs, four lakh jobs for the youth, and the creation of an ex-servicemen welfare board.