Government will decide on Iranian oil after polls: Sushma Swaraj
India, Iran's top oil client after China, has by all indications suspended imports of Iranian oil from this month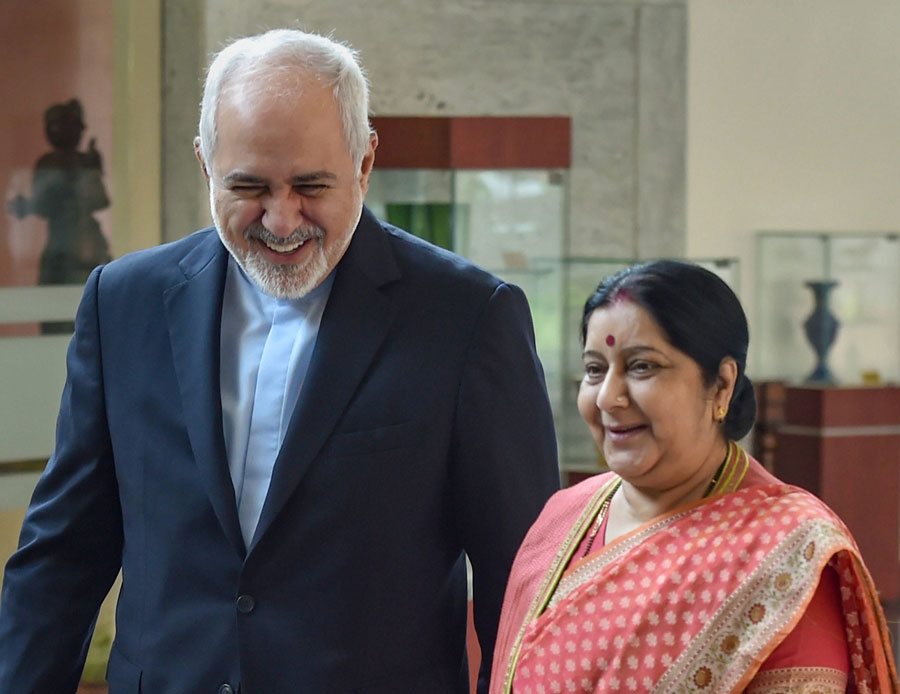 Sushma Swaraj with her Iranian counterpart Javad Zarif in New Delhi on Tuesday.
(PTI)
---
New Delhi
|
Published 14.05.19, 11:30 PM
|
---
India is learnt to have told Tehran on Tuesday that only the new government, expected to be in place before the month ends, can take any decision on buying oil from Iran in the wake of Washington's move to end the temporary sanctions waiver.
Foreign minister Sushma Swaraj is said to have conveyed this to her Iranian counterpart Javad Zarif at their bilateral meeting in the capital.
There was no official word on what transpired at the meeting but sources said that "on the purchase of oil from Iran", the minister had "reiterated the position that a decision will be taken after the elections, keeping in mind our commercial considerations, energy security and economic interests".
India, Iran's top oil client after China, has by all indications suspended imports of Iranian oil from this month, though there has been no official word. That was after Washington announced in April that there would be no extension of the temporary exemption it had granted India and seven other countries, which had allowed them to import some Iranian oil from November when the sanctions had kicked in.
Washington wants to block Iran's oil exports after President Donald Trump pulled out of the 2015 Joint Comprehensive Plan of Action (JCPOA) between Iran and the P5+1 countries — the US, Russia, UK, France, China and Germany — in May 2018 to curb Tehran's nuclear programme.
With the US linking its help in getting Jaish-e-Mohammed founder Masood Azhar designated as a global terrorist by the UN 1267 Sanctions Committee to India ending oil purchases from Iran, the Modi government has little room to negotiate at this point.
The sources said Zarif's visit was his own initiative to brief India on the Iranian approach to recent developments in the region, including the JCPOA accord, and to review bilateral cooperation. "This was part of their consultation with other countries in the region, including Russia, China, Turkmenistan and Iraq, over the last few days," said a source.
At Tuesday's bilateral meeting, India iterated its position on the JCPOA. New Delhi has always maintained that all signatories should remain invested in the deal despite the renewed pressure from the US.
"India would like all parties to the agreement to continue to fulfil their commitments and all parties should engage constructively and resolve all issues peacefully and through dialogue," New Delhi is understood to have communicated.
Zarif recalled the steps announced by Iranian President Hassan Rouhani, including the decisions linked to the export of enriched material and heavy water. He is also said to have mentioned that a 60-day timeline had been given to the EU-3 — UK, France and Germany — and other parties to the JCPOA to restore the oil and banking channels.
Apart from oil imports, the two sides reviewed progress on the Chabahar port, recent developments in the Gulf of Oman where four commercial ships were targets of a "sabotage attack" on Sunday, and the situation in Afghanistan.