US to remove Iran oil waiver for India
The rupee and stock prices fell on the fear that an adverse US decision on Iran oil sanction was imminent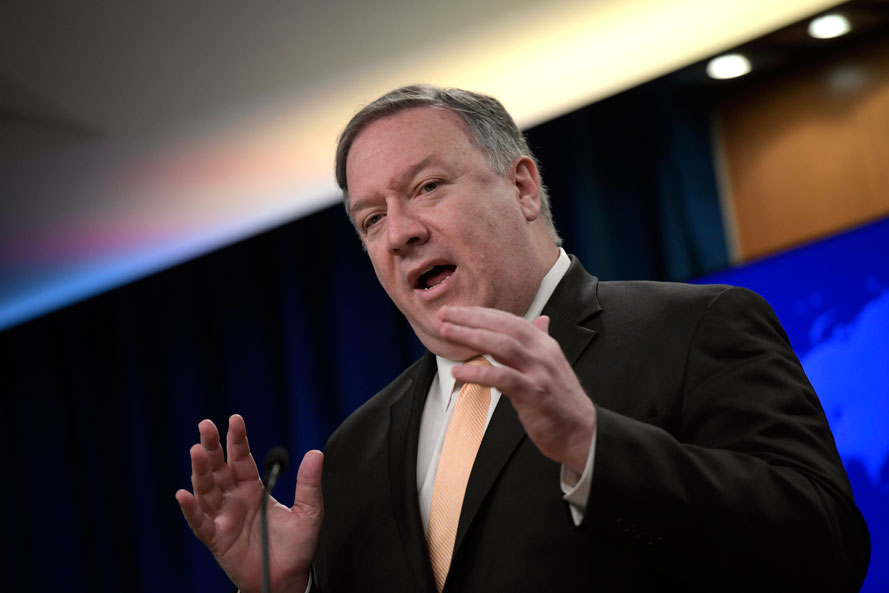 Secretary of State Mike Pompeo speaks during a news conference on Monday, April 22, 2019, at the Department of State in Washington.
(AP)
---
New Delhi
|
Published 23.04.19, 01:17 AM
|
---
The US said on Monday it would eliminate from May 2 all waivers granted last November to eight countries, including India, that allowed them to continue to buy crude oil from Iran without running the risk of facing American sanctions.
The 180-day waiver granted to India, China, Italy, Greece, Japan, South Korea, Taiwan and Turkey will not be renewed, US secretary of state Mike Pompeo announced at a White House news briefing.
"Today, I am announcing that we will no longer grant any exemptions," Pompeo said at the briefing. "We are going to zero. We're going to zero across the board."
The announcement snuffed out any hope India and China — the biggest importers of Iranian crude oil — had of winning an extension of the waiver.
The rupee and stock prices fell on the fear that an adverse US decision on Iran oil sanction was imminent. The official US announcement was made after trading closed in India.
"The United States, Saudi Arabia, and the United Arab Emirates, three of the world's great energy producers, along with our friends and allies, are committed to ensuring that global oil markets remain adequately supplied. We have agreed to take timely action to assure that global demand is met as all Iranian oil is removed from the market," the White House said in a statement.
India, which imported 258,000 barrels a day of Iranian crude oil in March, will now be forced to find alternative sources of supply. India had trimmed its reliance on Iranian crude since the sanctions were imposed last November but will have to grapple with a surge in its oil import bill, which would stoke the fires of inflation at home.
Official sources in India said the country had options to raise crude oil purchases over and above contracted levels from Saudi Arabia, the UAE, Kuwait and Mexico.
"Saudi Arabia and others in OPEC will more than make up the oil flow difference in our now full sanctions on Iranian oil," President Donald Trump tweeted.
Brent crude, the international benchmark, rose 2.6 per cent to $73.87 a barrel after spiking up to $74.31 in early trades, which was the highest level seen since early November.
The US had reimposed sanctions on Iran oil exports after President Trump unilaterally pulled out of a 2015 nuclear accord between Iran and six world powers last May.
Iran, however, has remained defiant. The semi-official Tasnim news agency quoted unnamed Iranian officials as saying that the US would never be able to bring Iran's oil exports to zero.
Iran has threatened to disrupt oil shipments through the Strait of Hormuz, a major oil shipment channel in the Gulf, if the United States tries to strangle Tehran's economy by halting its oil exports.