Government to blame for Delhi riot: Congress
The committee also stressed on Amit Shah's resignation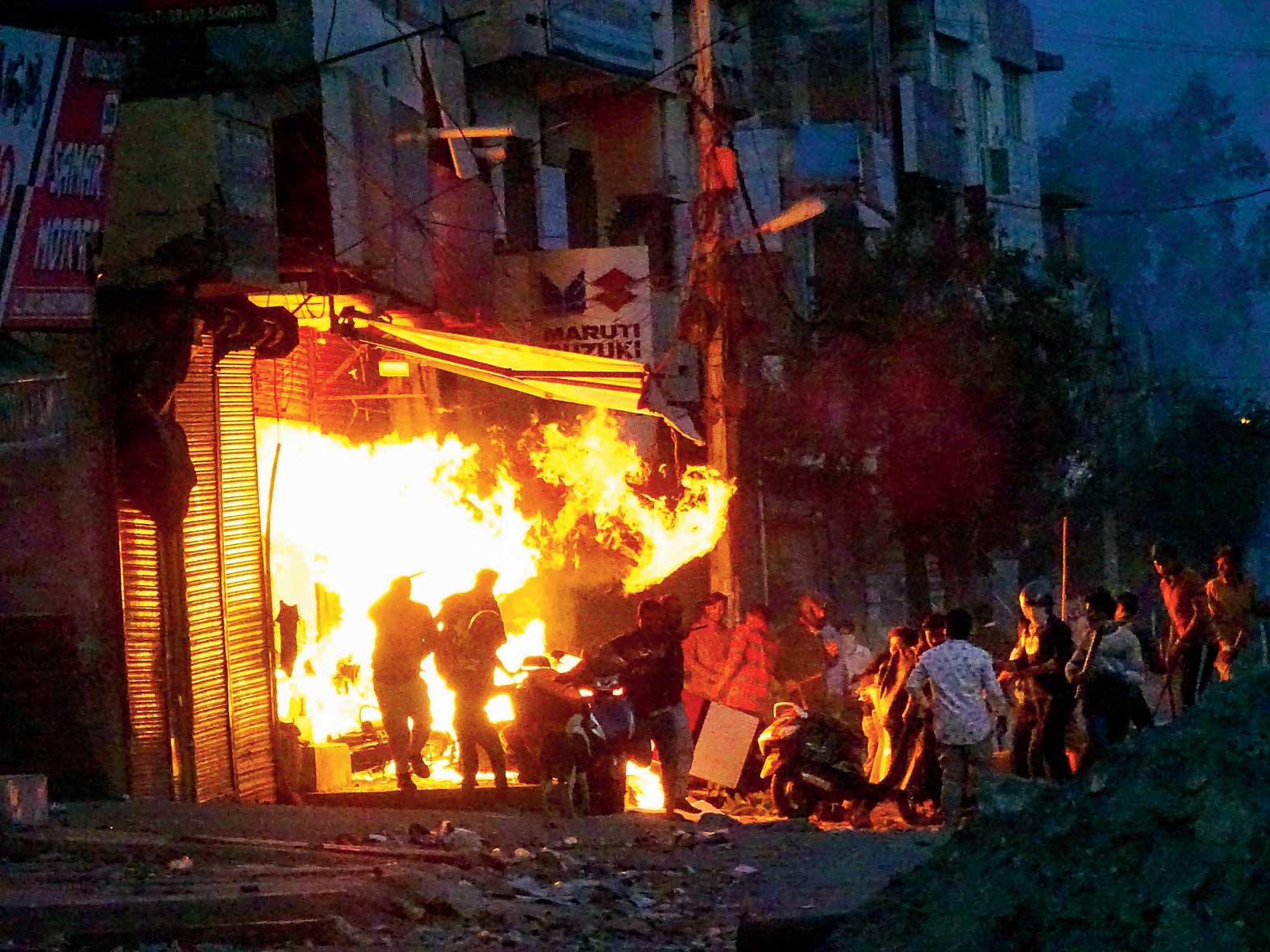 Rioters set ablaze a shop in northeast Delhi.
(PTI)
---
New Delhi
|
Published 09.03.20, 07:05 PM
|
---
The Congress on Monday blamed the Narendra Modi government for the Delhi riots and demanded a judicial inquiry to establish the truth, in addition to relief and rehabilitation work on a war footing.
A fact-finding committee constituted by Congress president Sonia Gandhi said there was ample evidence of elaborate planning, provocation and police inaction.
It said an investigation by a sitting or retired Supreme Court judge would prove how both the BJP government at the Centre and the Aam Aadmi Party government in Delhi had failed in their duty.
The committee demanded home minister Amit Shah's resignation, holding him primarily responsible for the violence.
"What we saw was dreadful. There are no words to describe the pain of the people. Polarisation in the name of religion is the fundamental principle of the BJP," Congress general secretary Mukul Wasnik, who headed the committee, told a news conference.
"The provocative statements of the BJP leaders and ministers instigated the violence. Instead of discharging his duty to intervene and prevent violence as home minister, Amit Shah was himself speaking irresponsibly, asking people to give electric shocks to Shaheen Bagh."
Wasnik added: "There were 690 FIRs filed in connection with the riots but not one against BJP leaders Anurag Thakur, Parvesh Verma or Kapil Mishra who instigated people. This creates the suspicion whether the Centre wanted to enforce peace. It's clear that Prime Minister Narendra Modi has once again failed observe rajdharma. Police too were silent spectators. We cannot trust the police to do a fair investigation. A judicial inquiry is a must."
The Congress's Delhi minder, Shaktisinh Gohil, who was a member of the fact-finding committee, said: "People don't want to fight; the riots were engineered. The BJP's motive is — Ram ka mare ya Rahim ka mare, apna vote bank badhe (Whether those belonging to Ram or Rahim die, our vote bank should swell)."
Gohil said the violence was so methodical that shops and houses of one community were selectively targeted.
He also attacked the AAP government, wondering why it had remained aloof when truckloads of stones and huge quantities of arms were being supplied. The MLAs did not try to contain violence, he said.
Tariq Anwar, another member of the committee, stressed on relief and rehabilitation while Sushmita Dev said the police had failed to act despite full knowledge of the violence and arson.
Responding to questions, Gohil said that had the police arrested Kapil Mishra for threatening to take the law into his own hands, there would have been no violence. The police allowed the situation to worsen, he said.
The party asked both the central and state governments to help the victims rebuild their lives with both short-term relief and long-term assistance, including interest-free loans for their businesses.