Government shifting migrant blame: Sitaram Yechury
The CPM leader also alleged that the Modi administration was using the pandemic to further its political agenda of polarisation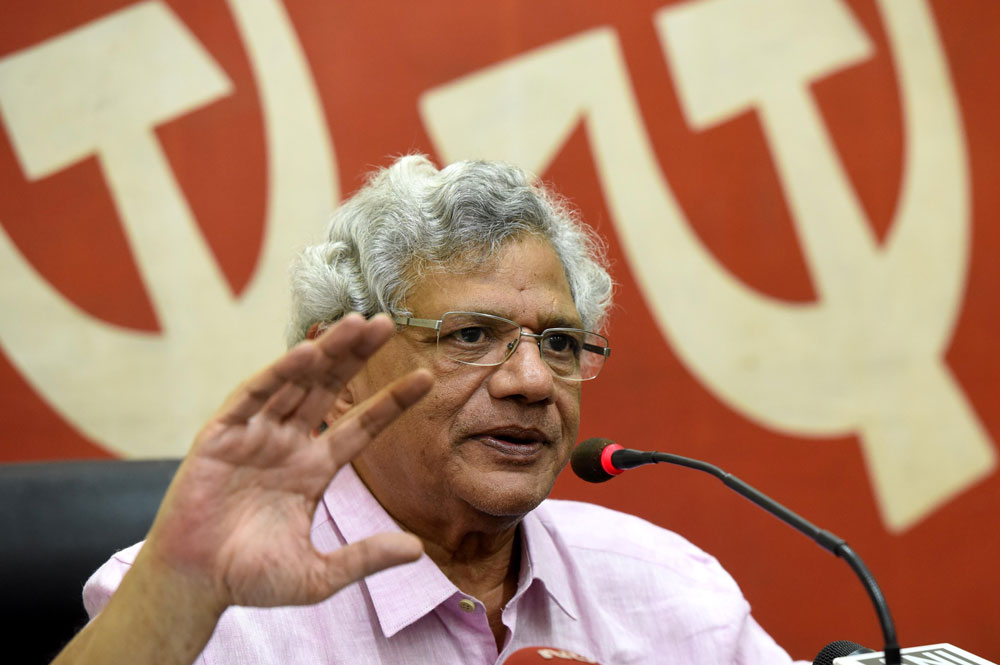 CPM general secretary Sitaram Yechury
File picture
---
New Delhi
|
Published 12.05.20, 10:16 PM
|
---
CPM general secretary Sitaram Yechury on Tuesday accused the Narendra Modi government of trying to pass the blame for the migrant crisis onto the state governments when it was the Centre's unilateral decision to impose a nationwide lockdown on just a four-hour notice that left the workers high and dry in the first place.
Briefing journalists, Yechury claimed that several chief ministers had pointed this out to the Prime Minister during Monday's videoconference, stating that they were not consulted before the lockdown was announced and now they were being made to bear the fallout of the unplanned move — particularly the humanitarian crisis faced by the migrant workers — with very little help from the Centre.
Yechury also alleged that the Modi government was using the pandemic to further its political agenda of polarisation, weakening the constitutional framework with over-centralisation and abolishing labour laws to allow corporates to exploit the toiling masses.
Leaders of eight political parties including the four Left parties will hold a protest — in keeping with physical distancing and other lockdown rules — on Wednesday at the CPM headquarters against the annulment of labour laws by several state governments.
Referring to the plight of the migrants, Yechury said they remained on the road despite the Modi government telling the Supreme Court on March 31 that not one had been left outside and everyone was being fed.
"Forty-two days later, they are still on the road; pauperised even further and struggling to get home while being threatened with job loss if they do not return to work," Yechury said.
He also iterated the CPM's demand for paying Rs 7,500 per month for three months to each of those who are not part of income tax slabs, besides immediate transfer of 10 kilos of food grains to every such person for the next six months.
On what efforts Opposition governments are making to rally together against the alleged over-centralisation, Yechury said the Kerala finance minister had convened a webinar with his counterparts and their basic concern was that the Modi government may impose a financial emergency in the name of the pandemic.
While Yechury did not want to be drawn into commenting on whether the lockdown should be extended, he did question its effectiveness, pointing to the fact that there were 566 cases and 10 deaths due to Covid-19 on the first day of the lockdown, while the numbers on the 49th day was 70,756 positive cases and 2,293 deaths.