Facilities aimed at patients with no or mild symptoms
Govt issues norms for Covid care centres at residential complexes
Move aimed at lightening burden on healthcare infrastructure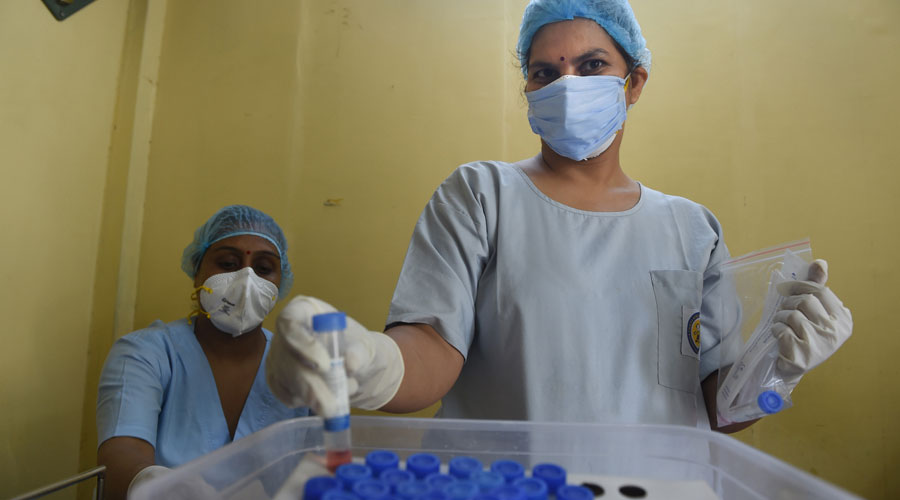 Health workers arrange samples for Covid-19 rapid antigen testing in New Delhi on Saturday.
PTI
---
New Delhi
|
Published 19.07.20, 03:42 AM
|
---
The Union health ministry has specified the equipment, material and human resources that urban gated residential complexes or residential societies will require to establish small care centres for Covid-19 patients with no symptoms or very mild symptoms.
Such Covid-19 care centres "may be more acceptable to residents and will help reduce the burden on existing facilities for managing suspect, pre-symptomatic, asymptomatic or very mild Covid-19 cases", the ministry has said.
The guidelines, released on Friday, come amid a continued growth of the epidemic, with declines in new cases in some locations offset by surges at others. India recorded 34,884 new cases on Saturday, raising the total number of lab-confirmed Covid-19 patients to 1,038,716, of whom 358,692 are under medical supervision, 653,751 have recovered and 26,273 have died.
The health ministry had earlier this year recommended home isolation for asymptomatic patients and patients with very mild symptoms, but only if their homes and household sizes lent themselves to appropriate isolation for them and the quarantine of other household members.
The new guidelines for care centres within residential societies could be used either by residents' welfare associations (RWAs) or by non-government organisations looking to establish such centres, the health ministry said.
The care centres are intended to be makeshift facilities in community halls or common utility areas, or within the premises of a residential complex, or in empty flats that are isolated from the rest of the occupied building.
Such facilities are not meant for the elderly, children aged below 10 years, pregnant or lactating women, or patients with underlying health disorders such as diabetes, cardiovascular diseases, high blood pressure or chronic respiratory disease.
A doctor residing within the gated complex or facilitated by the NGO would need to be available daily to examine the patients admitted to the care centres, the guidelines specify.
Among the equipment the ministry has specified for these care centres are oxygen cylinders, pulse oximeters, oxygen delivery tubes and face masks apart from the standard protective kits.
Residents in some housing societies and gated complexes in large cities like Mumbai and Delhi had for weeks discussed the option of procuring oxygen cylinders and setting up Covid-19 care centres.
But some doctors have cautioned that any such move would require adequate medical supervision.
"People can buy cylinders but they would need qualified healthcare workers to monitor the patients and refer them to hospitals if their symptoms deteriorate," said Shikha Panwar, a critical-care medicine specialist in Faridabad, Haryana, who is treating Covid-19 patients.
"Such residential-society-based care centres may lead to a false sense of security — we might miss the early stages of the illness where we can change the course through anti-viral medications such as remdesivir."
The RWAs or NGOs would need to designate a caregiver to provide care to the patients.
Both the doctor and the caregiver would need to undergo online training for Covid-19 management, infection prevention and control through a government-approved course.
The care centres should have a separate entry and exit. Among other requirements, the beds for patients would need to be separated by at least one metre from one another, and the areas for suspect cases and confirmed cases should be partitioned from each other.
Patients admitted to such care centres would need to be shifted to government-authorised Covid-19 hospitals, through an ambulance support service, if they show signs of serious illness.
Signs of serious illness include difficulty in breathing, a respiratory rate above 24 breaths per minute, oxygen saturation levels below 95 per cent, and pain or pressure in the chest, among other symptoms.
Doctors have also cautioned that the handling and isolation of infectious waste is a complex task and not easily done without appropriate training. "Home isolation might actually be better," Panwar said.