Godse remark unmasked BJP: Congress
India's soul had been bruised yet again, says Opposition party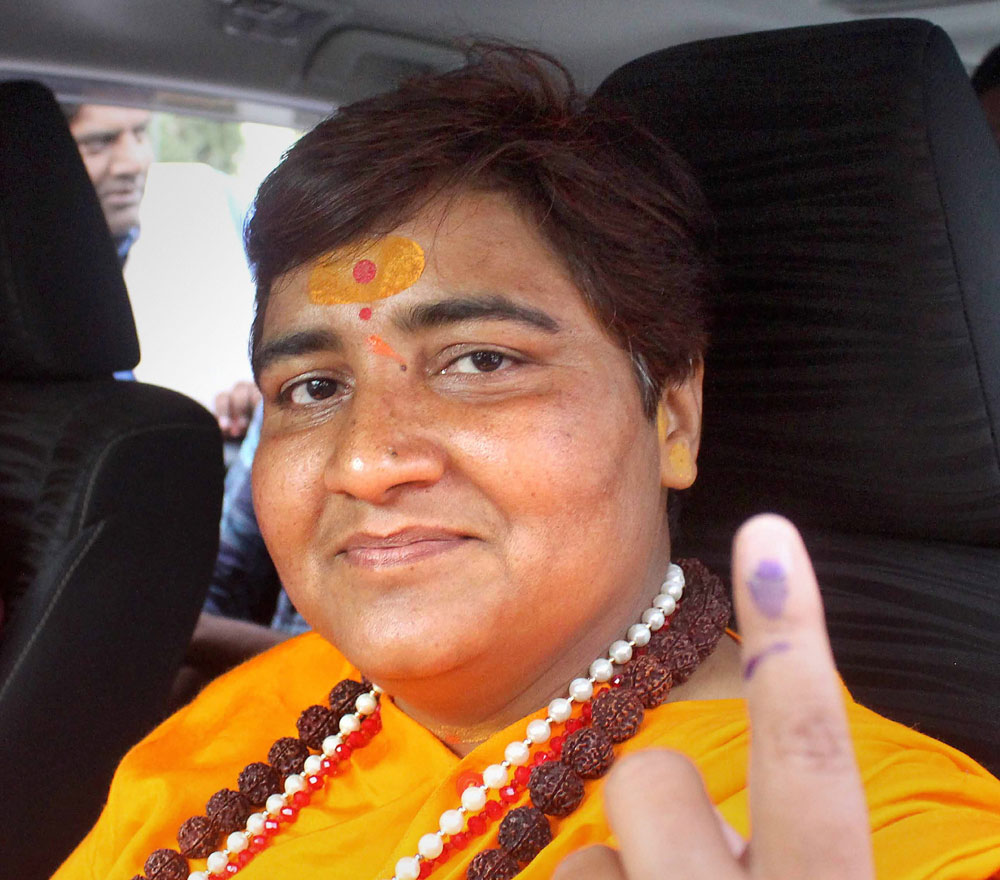 Pragya Singh Thakur after casting her vote in Bhopal on Sunday
Picture by PTI
---
New Delhi
|
Published 17.05.19, 02:01 AM
|
---
The Congress on Thursday said India's soul had been "bruised" yet again with the BJP's Pragya Singh Thakur hailing Nathuram Godse as a true patriot, a comment it asserted had exposed the hypocrisy of the party's leadership that pretends to respect Mahatma Gandhi.
"The real face of the BJP has been unmasked and India's soul bruised as Gandhi's assassin is hailed," Congress spokesperson Randeep Surjewala said, referring to Pragya's public assertion in Madhya Pradesh.
"The Mahatma's ideology is perpetually under attack from the RSS-BJP but they try to hide their true intentions. The truth came out today, once again."
A video clip showed Pragya, the BJP's candidate from the prestigious Bhopal seat, as saying on Thursday that "Godse was a patriot and will always remain so".
Surjewala reacted promptly, saying: "The favourite of Narendra Modi and Amit Shah is insulting Mahatma Gandhi. This is not the first time as several other BJP leaders have insulted the Mahatma and hailed Godse. Their perverse mindset keeps manifesting itself in different forms. This is linked to the RSS-BJP conspiracy to alter India's intrinsic culture of peace and harmony."
Surjewala said: "Pragya Thakur insulted martyr Hemant Karkare and said she had cursed his entire family. Instead of withdrawing Pragya's candidature and tendering a public apology, Modi defended her and portrayed her as a victim. This year only, a fringe outfit linked to the Sangh parivar re-enacted the assassination of the Mahatma in full public view. The BJP government of Uttar Pradesh chose not to take any action. BJP Lok Sabha MP Sakshi Maharaj described Godse as a patriot. He was once again fielded as a candidate. If Modi has an iota of shame, he should apologise to the nation."
Pragya, an accused in the 2008 Malegaon blast case now out on bail, had earlier said police officer Karkare, killed during the 26/11 terror attack on Mumbai, had tortured her after her arrest. "I told him he will be destroyed. A month later he was shot dead by terrorists."
The saffron-clad candidate, who uses the honorific "Sadhvi", later said she was taking her comment back as it was strengthening her rivals.
The Congress said the frequent insult of freedom fighters and martyrs, not only by minions but Modi too, had exposed the fake nationalism of the BJP.
Surjewala rejected a clarification by "junior spokesperson" G.V.L. Narasimha Rao, who distanced the BJP from the Godse remark. He said the silence of Modi and Shah told a different story and the nation would be satisfied only if they acted against Pragya and tendered an apology for insulting the Father of the Nation.