'Remembering a great thinker'
Culture ministry tweets praises for Gowalkar oh his birthday
Parallels have been drawn between some of the former RSS chief's views and those of Hitler's Nazis; a modern-day drive had been launched to airbrush such a past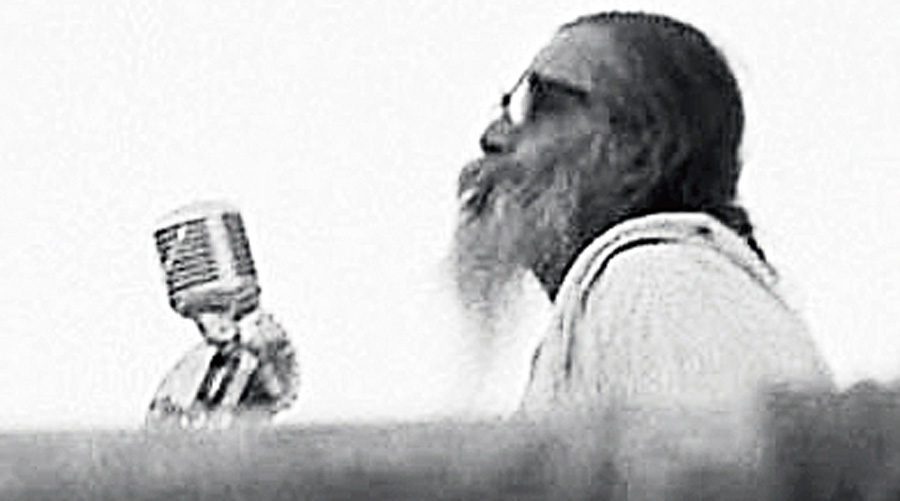 ---
New Delhi
|
Published 20.02.21, 02:28 AM
|
---
The worst-kept secret in India has been officially acknowledged: a source of inspiration and a guiding force now are the thoughts of M.S. Golwalkar, the second sarsanghachalak of the RSS.
Make no mistake: Given a choice, it will be so for "generations" to come.
"Remembering a great thinker, scholar, and remarkable leader #MSGolwalkar on his birth anniversary. His thoughts will remain a source of inspiration & continue to guide generations. @prahladspatel @secycultureGOI @PMOIndia @PIBCulture @pspoffice," the Union culture ministry tweeted on Friday, the birth anniversary of the erstwhile Sangh boss.
Former culture secretary Jawhar Sircar responded: "As former culture secretary, I hang my head in shame to see RSS chief Golwalkar being falsely praised by @MinOfCultureGoI. Golwalkar & RSS opposed Gandhi's Freedom Struggle. In his Bunch of Thoughts, Golwalkar opposed India's tricolour too. Sardar Patel jailed him, banned the RSS."
UK-based academic Priyamvada Gopal sought to draw the world's attention to the official handle lauding Golwalkar, who essentially spelt out the ideology of the RSS, the ideological parent of the ruling BJP.
"Dear world. India's **government** wishes us to celebrate a 'great thinker' who said 'To keep up the purity of the nation and its culture, Germany shocked the world by purging the country of Semitic races — the Jews. National pride at its highest has been manifested here'."
The Union ministry's tweet did not elaborate on which of Golwalkar's thoughts remained a source of inspiration. Parallels have been drawn between some of Golwalkar's views and those of Hitler's Nazis although a modern-day drive had been launched to airbrush such a past.
Some of Golwalkar's known "thoughts" follow:
Internal threats
Bunch of Thoughts — written in 1966 — has a section on "Internal Threats", which lists them as Muslims, Christians and communists. In contrast, he maintains that Hindus have no divided loyalties. "…Hindus are a hundred per cent national society here. To call them 'communal' and to place them at par with those people whose loyalties are divided and at times questionable is unjust and unwise," the book says.
Women
The book adds: "There is now a clamour for 'equality for women' and their 'emancipation from man's domination'! Reservation of seats in various positions of power is being claimed on the basis of their separate sex, thus adding one more 'ism'— 'sexism!' — to the array of casteism, communalism, linguism, etc."
Caste
The book says: "Castes there were in those ancient times too, continuing for thousands of years of our glorious national life. There is nowhere any instance of its having hampered the progress or disrupted the unity of society. It, in fact, served as a great bond of social cohesion."
Elsewhere, it says: "The other main feature that distinguished our society was the Varna-vyavastha (caste system). But today it is being dubbed 'casteism' and scoffed at. Our people have come to feel that the mere mention of Varna-vyavastha is something derogatory. They often mistake the social order implied in it for social discrimination.
"The feeling of inequality, of high and low, which has crept into the Varna system, is comparatively of recent origin. The perversion was given a further fillip by the scheming Britisher in line with his 'divide and rule' policy. But in its original form, the distinctions in that social order did not imply any discrimination such as big and small, high and low, among its constituents. On the other hand, the Gita tells us that the individual who does his assigned duties in life in a spirit of selfless service only worships God through such performance.…"
Asuras
The book says: "If one were to dispassionately observe the characteristics of the present-day so-called civilised modern societies, they appear to tally, almost word to word, with the attributes of the asuras as detailed in Bhagawad Gita!"
Unitary pitch
The Narendra Modi dispensation's preoccupation with having a unitary system is rooted in Golwalkar's writings. Golwalkar was in favour of a unitary state as opposed to the quasi-federal structure adopted by the framers of the Constitution.
The book says: "We are one country, one society, and one nation, with a community of life-values and secular aspirations and interests; and hence it is natural that the affairs of the nation are governed through a single state of the unitary type. The present federal system generates and feeds separatist feelings. In a way, it negates the truth of a single nationhood and is, therefore, divisive in nature. It must be remedied and the Constitution amended and cleaned so as to establish Unitary Form of Government."
On Friday, some social media users cited references from the We or Our Nationhood Defined, which Golwalkar penned in 1939 and which the RSS distanced itself from in 2006. We mentions Hitler. Bunch of Thoughts, written in the mid-1960s when few dared express open admiration for the routed Nazis, has no direct reference to Hitler.
Putting out a series of tweets on Golwalkar's quotes, CPIML politburo member Kavita Krishnan said: "RSS claims to disown Golwalkar's pro-Nazi 'We'. But his BoT (Bunch of Thoughts) isn't different in content, just more carefully worded. 'We' asked minorities to 'Merge in The Hindu race'. BoT asked them to 'merge themselves in the common national stream'...."