Gita Mehta's stand 'principled' but elections a constant feature
The writer is the sister of Odisha chief minister Naveen Patnaik, a possible post-election ally for BJP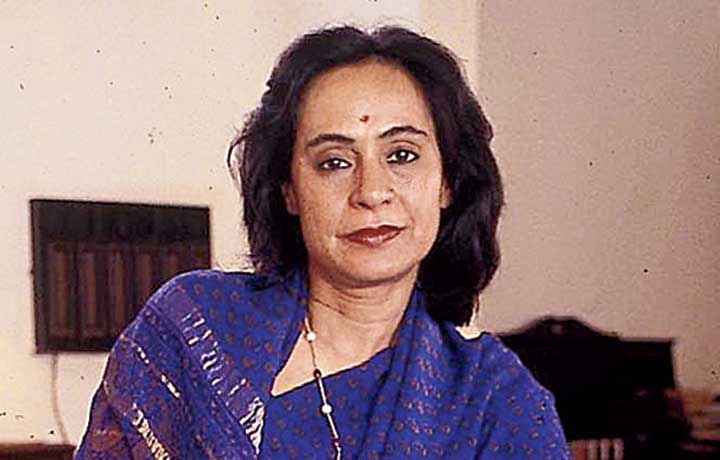 Gita Mehta.
Telegraph file picture
---
New Delhi
|
Published 27.01.19, 08:19 PM
|
---
Writer Gita Mehta has politely declined the Padma Shri awarded to her in an election year, saying its timing could be "misconstrued".
"I am deeply honoured that the government of India should think me worthy of a Padma Shri but with great regret I feel I must decline as there is a general election looming and the timing of the award might be misconstrued, causing embarrassment both to the government and myself, which I would much regret," the non-resident Indian said in a statement from New York on Saturday.
The following are excerpts from reactions to Mehta's decision:
Writers regard themselves as the moral conscience-keepers of a society, and there is a perception within the community that accepting a state award compromises with that. This tension between the state and the writer is healthy in a democracy, Ashok Vajpeyi, poet and former Union culture secretary, said on Sunday in response to a question from The Telegraph.
But he added: "It is true that the announcement came too close to the elections but that cannot be helped because the Padma awards are always announced on the eve of Republic Day. The writer perceives a political angle and she is well within her right to refuse it."
Vajpeyi pointed out that Mehta is not the first writer to do so. Neither is the refusal confined to a nominated made by the Modi government.
Krishna Sobti, the Hindi writer who passed away last week, refused to accept a Padma Bhushan in 2010. At that time, she had said: "As a writer, I have to keep a distance from the establishment." Historian Romila Thapar had in 2005 declined a Padma Bhushan, citing a decision she had taken over a decade ago not to accept any state award.
In both instances, it was a Congress-led UPA government's decision to nominate them.
Sudheendra Kulkarni, a socio-political activist who was part of Atal Bihari Vajpayee's PMO, said: "It is principled on the part of Mehta to reject the award, citing the reasons she has because it is quite evident from what has emerged that there were political considerations in several of the nominations. She certainly deserves recognition for her contribution to literature in the international arena."
Kulkarni said all governments had been guilty of using the awards to further their political agenda. "Which is why a Nanaji Deshmukh never got recognised for his contributions by successive Congress governments. The Padma awards need to be insulated from political and electoral considerations. Also, there should be a cut-off date for awarding someone posthumously or there will be no end to it."
Happymon Jacob, JNU professor and author, said: "Being a large democracy, India will constantly have elections of one kind or another and that is not a credible reason why someone should decline a major civilian award. However, going by some media reports regarding the context in which Ms Mehta declined the award, if indeed there are other political pressures at play, she may have done the right thing by declining the Padma award. In any case, whether or not to accept an award is the prerogative of the individual and it's silly to say that doing so in any way constitutes an insult to the country."