Geneva, catch a dropping hero
Minister VK Singh has a plan for doubting Indians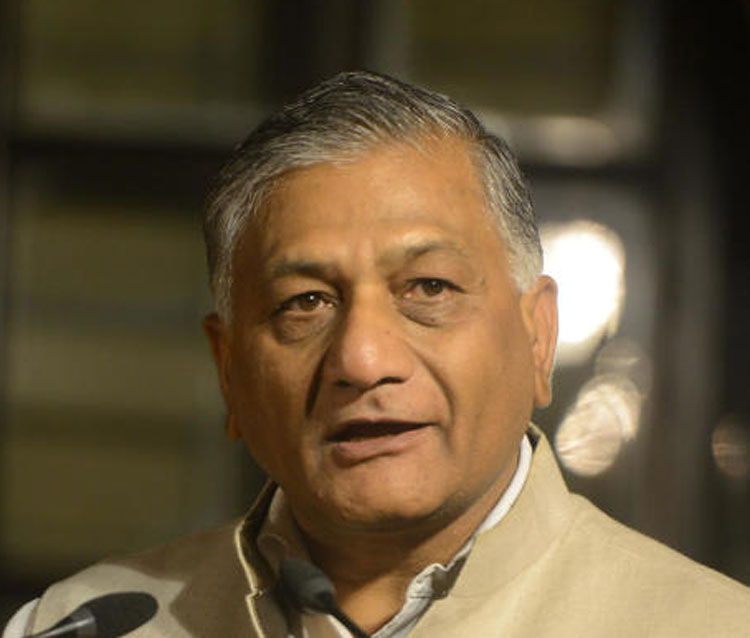 Junior foreign minister V.K. Singh
Telegraph file picture
---
New Delhi
|
Published 06.03.19, 09:42 PM
|
---
If the Geneva Conventions, which have found a spirited advocate in the Narendra Modi government after an Indian pilot was captured in Pakistan, want to factor in innovative ways in which humans can be treated during conflict, junior foreign minister V.K. Singh can be a resourceful source of ideas.
The minister said on Wednesday that those questioning the Balakot casualty figures should be tied to aircraft and "dropped so that they can count" the dead the next time air strikes are made on Pakistani territory.
The former army chief's comments revived memories of an army officer tying a Kashmiri youth to the bonnet of his jeep and driving him around, as a human shield and as a warning to stone-throwers, during an election two years ago. The Indian government had not cited the Geneva Conventions then.
"The next time India does something, I think the opponents who are raising questions should be tied at the bottom of the aircraft and taken along," Singh was quoted as saying by news agency ANI. "When the bombs are dropped they can see the target for themselves and after that they should be dropped so that they can count (the dead) and return."
Singh's comments come at a time the families of some of the CRPF personnel slain in the Pulwama attack have joined the Opposition in seeking proof of the impact of the February 26 air strikes.
"In our case (the Pulwama terror attack), we saw someone's hands, someone's limbs. We need to see the same from the other side," Ram Raksha, sister of Ram Vakeel, one of the 40 slain CRPF men, told NDTV.
Family members of CRPF jawan Pradeep Kumar, from Shamli in Uttar Pradesh, too have demanded evidence of the Balakot casualties.
The government has so far fended off Opposition politicians' queries by labelling them "anti-national" and "anti-military", but will find it difficult to use the same line with family members of the Pulwama victims.
Singh's statement came in response to a question about a tweet he had posted dismissing calls for an official Balakot death toll and comparing the alleged casualties to mosquitoes killed by a repellent.
"Last night at 3.30am there were too many mosquitoes, so I used HIT. Now, should I start counting how many mosquitoes got killed or should I go back to sleep?" he had tweeted in Hindi.
Speaking to the news agency, Singh termed the Opposition's questions "unfortunate".
"Bombs were exploded, buildings were hit… will people not be killed after an explosion of a 1,000kg bomb? If (people are) killed, then you make an estimate of (the) number of people killed. I don't know who wants to count it," he said.
Singh had on Tuesday defended BJP president Amit Shah's estimate of 250 deaths. "He (Shah) is saying 'ashanka' (an estimate); let us take it as an 'ashanka'," Singh had said.