#Ashanka: What happens in Balakot, stays in Balakot
A recap of the government's ever-changing versions on the airstrike casualties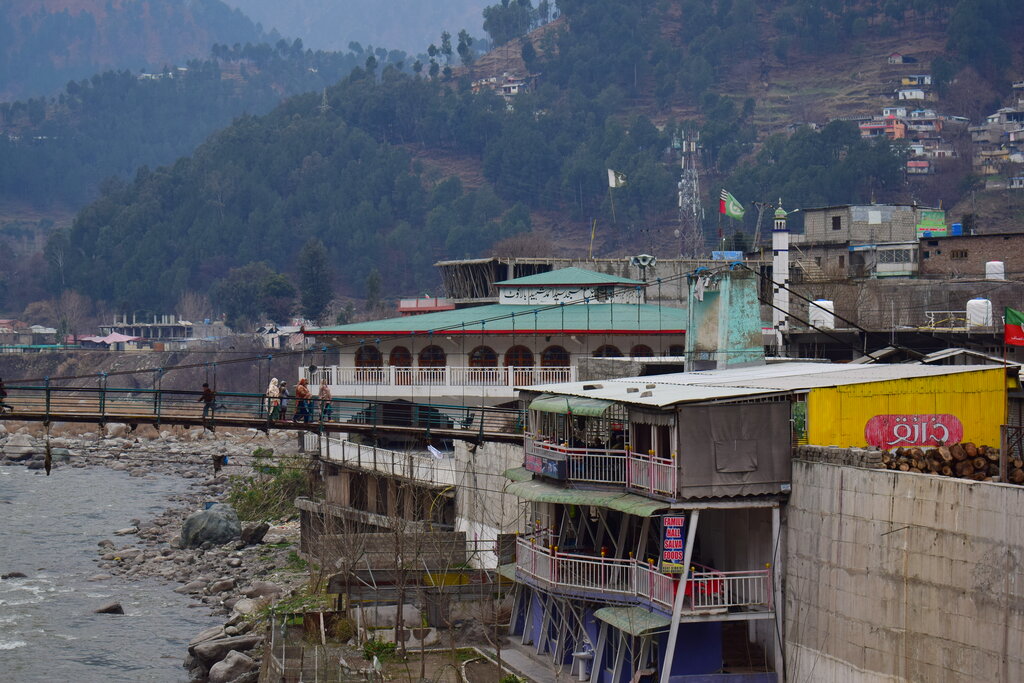 The town of Balakot, where the Indian Air Force carried out an airstrike that the government claims bombed out a Jaish-e-Mohammad camp and killed many terrorists and their leaders.
AP
---
New Delhi
|
Published 05.03.19, 04:38 PM
|
---
February 28
The first sign of reluctance to give out a figure on the Balakot casualties came from Air Vice-Marshal R.G.K. Kapoor at a tri-services press conference. "There is fairly credible evidence with us which proves that there was damage to the camps. We hit the intended targets and caused the damage that was intended. However, it will be premature to say what is the number of casualties we have been able to inflict on those camps and the number of deaths. Whatever we intended to destroy we have got the result." Kapoor was asked about the casualties at least twice during the news conference.
March 1
Union minister S.S. Ahluwalia delivered a shocker at a news conference when asked about the Balakot airstrike. "After the air strike, there was a rally by Modiji and he didn't say anything on the casualty figures. I want to ask if Modiji, or any government spokesperson, or our party president Amit Shah has given any figures?" He also said that the goovernment 'didn't want any human casualty". Ahluwalia later backtracked and said he would go with the foreign secretary's statement.
At the India Today Conclave, railway minister Piyush Goyal was told by a journalist that questions had arisen about the Balakot casualty claims. 'Are you convinced first?' Goyal asked him. 'Are you a part of this narrative that is trying to belittle our armed forces?' He did not give any death count, though.
March 3
At a rally in Ahmedabad, BJP president Amit Shah said that 'the Narendra Modi government conducted an airstrike and killed more than 250 terrorists'. Five days after the airstrike, Prime Minister Narendra Modi had not said a word on whether India had done any damage to terror camps in Pakistan or Pakistan-occupied Kashmir.
March 4
The question was again put to the air force, this time Air Chief Marshal B.S. Dhanoa at a news conference in Coimbatore. "The IAF is not in a position to clarify the numbers of casualties. The government will clarify that. We do not count human casualties; we count what targets we have hit or not. We hit our target." Some international media organisations have reported that one man was injured on the ground in Balakot and some trees were burnt.
March 5
Union minister V.K. Singh, a former army chief himself, tried to explain the casualty count given by Amit Shah the previous day. "It's an estimate. He (Amit Shah) is not saying it is a confirmed figure. He is also saying that lagbhag itne logon ke marne ki ashanka hai. So, let's take it as ashanka." In one sweep, Singh tried to pass off Shah's claim of 200 terrorist deaths as a matter of speculation.
Law minister Ravi Shankar Prasad was deployed to control the damage. He rubbished the questions raised by Congress leaders as 'conspiracy". "Not a single country in the whole world has sought any evidence to justify their strikes. What is the Congress doing? (They have) no trust in our army, no trust in our air force." He did not want to give the terrorist casualty count. "I'm not telling you how many people died or not on behalf of the government. Today's entire press (conference) is to expose Congress party's lies."
Defence minister Nirmala Sitharaman could not make up her mind on what the foreign secretary had said in his February 26 statement. "The foreign secretary gave a figure,' she said, then corrected herself. 'He didn't give a figure. He gave a statement. That is government of India's position."
In Dhubri, Assam, home minister Rajnath Singh claimed that 'India's respected and authentic NTRO surveillance system has said 300 mobile phones were active there when IAF jets dropped bombs'. The figure of 300 mobile phones in Balakot was mentioned by various media organisations on March 4. Some of the reports quoted an unnamed source in the National Technical Research Organisation. 
That the presence of 300 mobile phones means 300 terrorists in a Jaish camp is also in the realm of 'ashanka'.
भारत ने विकास का तो पाकिस्तान ने विनाश का रास्ता चुना है। हमारी सेना ने पाक अधिकृत कश्मीर में घुसकर 400 आतंकियों को समाप्त कर देश पर हुए आतंकी हमले का बदला लिया है। आज सुबह ही एक पाकिस्तानी विमान को भी मार गिराया है।

— Yogi Adityanath (@myogiadityanath) February 27, 2019
The big question that has repeatedly landed at the Narendra Modi government's door is this: What is the Balakot terrorist death count?
From February 26 till today, defence officers and ministers have been deployed. Some ministers skirted the question, others gave widely varying figures - 250 from Amit Shah, 400 from Yogi Adityanath. Minister V.K. Singh left it in the realm of 'ashanka (speculation)'. The government's position is that the airstrike was a pre-emptive attempt. The objective was to snuff out a Jaish-e-Mohammad terror camp.
February 26

Indian foreign secretary Vijay Gokhale, in the government's first official statement after the airstrike, said: "Large number of JeM terrorists, trainers, senior commanders were eliminated". This was at a news conference in New Delhi. Gokhale did not take questions.
The same day, Uttar Pradesh chief minister Yogi Adityanath said in Etah that 400 were killed to avenge the death of the 40 CRPF personnel who died in the Pulwama fidayeen attack.
February 27
Adityanath tweeted in Hindi, again saying that the airstrike killed 400 terrorists.
(Translation: India has chosen the path of progress, Pakistan has chosen the road to destruction. Our forces entered Pakistan-occupied Kashmir and killed 400 terrorists to avenge the terrorist attack. This morning, India also shot down a Pakistan plane)