Saibaba fast threat for books
Partially paralysed professor, serving a life sentence for links with Maoists, has demanded that he be allowed to receive medicines, letters, books and newspaper clippings from his family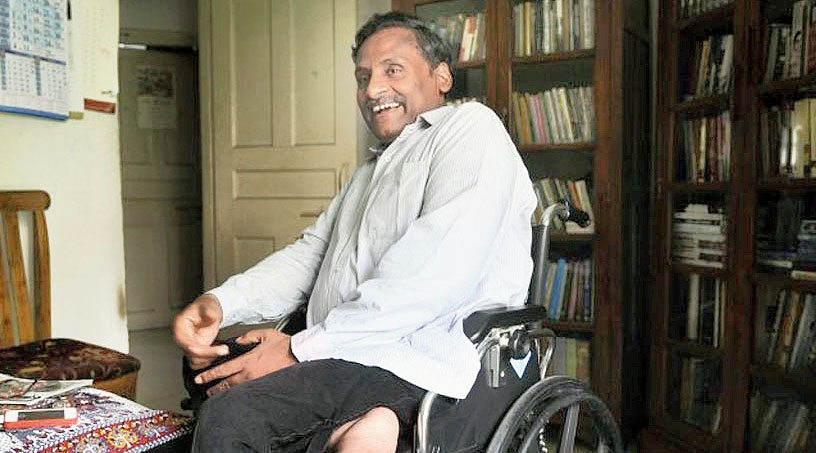 G.N. Saibaba
File picture
---
New Delhi
|
Published 17.10.20, 03:11 AM
|
---
G.N. Saibaba, the partially paralysed professor who is serving a life sentence in Nagpur prison for links with Maoists, has threatened to go on a hunger strike from October 21 if he is not allowed to receive letters, books and medicines.
In a letter to the head of Maharashtra's prisons, additional DGP Sunil Ramanand, Saibaba's wife A.S. Vasantha Kumari has written that the jailed professor had decided to go on a hunger strike to protest "the inhuman behaviour and unfair restrictions laid down by authorities".
Saibaba has demanded that he be allowed to receive medicines, letters, books and newspaper clippings from his family, and also permission to make phone calls to them once a week.
The 53-year-old professor, who taught English at Delhi University's Ram Lal Anand College until his arrest in 2014, is paralysed below his waist due to polio and his family says his arms are getting paralysed because of irregular medical treatment by jail authorities.
Vasantha Kumari has written in the letter to the additional DGP: "I have been informed that he is facing hardships and harassment in Nagpur Central Jail due to the inhuman behaviour and unfair restrictions laid down by authorities. He has taken a decision to go on hunger strike from 21st October 2020…."
Referring to the restrictions, she said: "All these books supplied to him are in English, some of them are poetry books and some of them are either novels or literature-based books that are not banned under the law of the land….
"As a policy the jail authorities stopped the purchase of newspapers by him in the jail due to the Covid-19 pandemic. So, some newspaper clippings and printouts sent by post are not given to him and are being held by the authorities along with the handwritten or typed personal letters addressed to him."
Calls have been restricted to one or two a month, she said.
Vasantha Kumari has added: "Sometimes all the medicines given by his advocates are not being given to him. He has multiple health problems and needs to take prescribed medicines every day to save his life."
Asked about the letter, Ramanand told The Telegraph: "I am not well and am bed-ridden. Will speak later."
The Committee for the Defence and Release of Dr G.N. Saibaba has said: "He has spent the last several years suffering grave physical ailments including the gradual paralysis of his functional limbs due to neglect and continuous denial of adequate treatment by the jail authorities…. Previously, even parole to attend his mother's funeral and last rites was denied (in August).
"He has spent the last several years in an anda cell (a secluded egg-shaped high-security room) reading and translating texts and writing poetry. Books and letters are crucial for the well-being of every prisoner and the denial of access to them is a violation of their rights. Despite the family and advocates sending books to Dr G.N. Saibaba over the last several months, books that are in English and freely available in the markets, they are being unduly confiscated and retained by the jail authorities without reason."