Future Laureate's India question
Maria Ressa of the Philippines and Dmitry Muratov of Russia will be awarded the Nobel Peace Prize for 'their courageous fight for freedom of expression'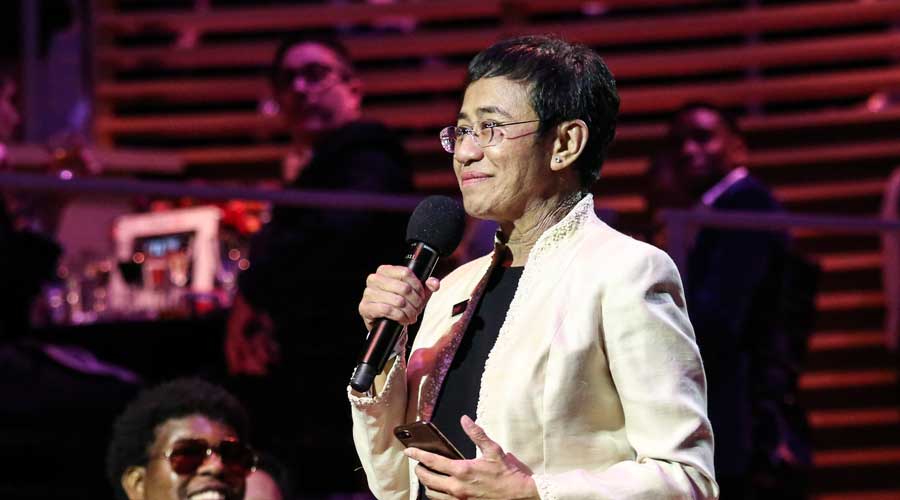 Maria Ressa speaks at the 2019 Time 100 Gala in New York on April 23, 2019.
NYTNS
---
Calcutta
|
Published 09.10.21, 02:00 AM
|
---
Maria Ressa asked me with the concern the hunted alone can convey: "Will Rana Ayyub be safe?"
I had run into Ressa, who shares this year's Nobel Peace Prize with another journalist, Dmitry Muratov, in the summer of 2018 in the corridor of the Estoril Congress Center in Portugal.
Two days earlier, Ressa, the co-founder of Rappler (a digital media platform for investigative journalism that had earned the wrath of the Philippines President Rodrigo Duterte), had been conferred the Golden Pen of Freedom Award.
The corridor of the convention centre, less than 200 metres from the Palacio Estoril Hotel where some of the scenes of the sixth James Bond movie, On Her Majesty's Secret Service, were filmed, was teeming with journalists and media executives who were attending the 70th World News Media Conference, organised by the World Association of Newspapers and News Publishers (WAN-IFRA).
Ressa, who had received multiple rounds of standing ovation during her acceptance speech in which she had also mentioned India and the threats from trolls, was being mobbed by many journalists.
I, too, introduced myself to Ressa and when she realised that I am from India, she told me that someone had sent her a link to the report on the award ceremony I had filed for The Telegraph.
It was then that she asked me about Ayyub, the Mumbai-based journalist relentlessly targeted by Right-wing trolls and sections of the establishment.
A few weeks earlier, Ayyub had written in The New York Times how she and many of her colleagues were slut-shamed and threatened with rape on social media for being critical of Hindu nationalist politics and the government.
Ressa herself has been the target of a psychological barrage laced with death and rape threats by countless real and fake social media users — she called it the "shark tank" — because of the journalism her digital platform is pursuing. Several cases have been filed against her; she was arrested in 2019 and convicted in 2020. The appeal is pending.
When Ressa asked me whether Ayyub would be safe, I did not know what to say. Since then, the harassment Ayyub has faced has increased manifold.
On Friday, soon after the Nobel Peace Prize was announced, Ayyub told Sankarshan Thakur of The Telegraph: "Maria Ressa is not just one of the bravest journalists in the world who has taken on the might of the Duterte regime but is also an ally, friend for journalists who are trying to hold the line.
"She is a friend who I have turned to for advice, hope, empathy on days the going gets tough for me in India. As a journalist facing multiple cases, this Nobel Peace Prize for Maria is a shot in the arm for me and her colleagues across the world. Like her, I have faced the most debilitating, sexualised, online and offline harassment. This Nobel is not just for Maria but for every unsung journalist speaking the unpopular truth."
At the award ceremony in Estoril, Ressa, who headed the CNN bureau in Manila and was its lead investigative reporter in Asia before co-founding the game-changing Rappler (a portmanteau of "rap" for discussion and "ripples" for making waves), was midway through her speech when India cropped up.
"According to Freedom House (a watchdog), in at least 30 of 65 countries it studied, cheap armies on social media are rolling back democracy globally. In India, South Africa, Mexico, it happens on Twitter; other countries, on WhatsApp. Social media platforms are now choice tools for authoritarian rule."
Ressa sounded the alarm on the exponential power of trolls backed by those wielding power. "When a lie is repeated 10 times, truth has a chance to catch up... but when it's repeated a million times, it becomes the truth, especially when it is backed by online state-sponsored hate exploiting the fracture lines of society," she said.
Ressa had concluded her spirited acceptance speech by playing a video clip that showed a cross-section of journalists replying to questions on the threats and intimidation they face in the Philippines while discharging their professional responsibilities. Some of the questions and answers follow:
Have you ever been harassed because of your work?
Jason Felipe Villamor Gutierrez, foreign correspondent: Yes.
Have you been threatened online?
Inday Espina-Varona, journalist: Oh, yes.
Have you been called biased?
J.C. Gotinga, foreign correspondent: Yes.
Have you been called stupid?
Ed Lingao, broadcast journalist: Yes, plenty of times. By idiots.
Have you been accused of corruption?
Ezra Acayan, freelance photojournalist: Yes.
Have you been called fake news?
Lingao: Oh, yes. They always say I am fake news. Anything that is critical is fake. Right?
Have you been accused of being an imperialist spy?
Gotinga: Yes.
Have you ever been accused of being a communist operative?
Espina-Varona: Yes.
Have you ever been threatened with rape?
Pia Ranada, multimedia journalist: Yes.
What will stop you from reporting?
Gutierrez: Nothing.
Espina-Varona: Nothing.
Ranada: Nothing.
Lingao: Death?
Acayan: Dude, you have to kill me.
Three years ago, I had begun the report for The Telegraph by listing the questions and answers. Then I had written: "If there was a lump in many a throat, there was a knot in the gut too. One country was among those spotted more than once inside a vicious online propaganda machine that was described as a 'shark tank': India."
At the conference in 2018, Michael Golden, the then president of WAN-IFRA and the vice-chairman of the board of The New York Times Company, spoke of Gauri Lankesh, who had been shot dead a year earlier in Bangalore.
Ressa requested all the Filipino journalists in the audience to stand up and be recognised for "trying to do our jobs".
Ressa thanked WAN-IFRA "for having our backs" and told the spellbound audience that her team back home was staying up at 1am to witness the moment.
"My heart breaks when I look at what our young reporters and staff have to live with — and the courage they show in the face of brute force and impunity... the respect they continue to show authorities, the nightmares they fight at night, the mission that lives inside them," she said.
"My name is Maria Ressa. We are Rappler, and we will hold the line."