Frown greets Twitter request for later date to meet House panel
The micro-blogging site has expressed a willingness to work with the Lok Sabha secretariat to find 'mutually agreeable dates'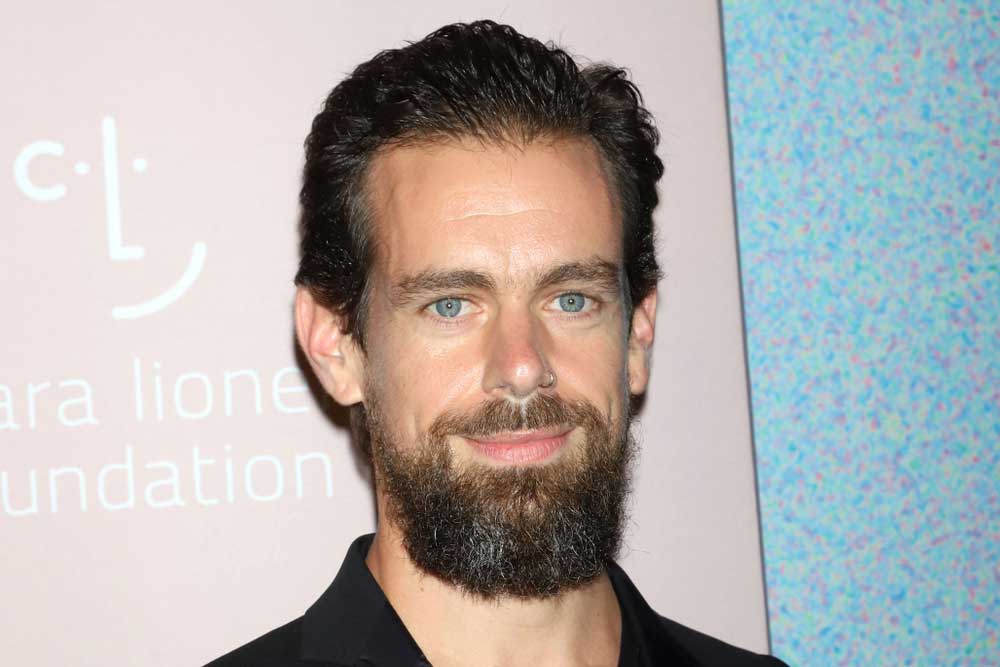 A case had been filed against Jack Dorsey (in picture) in a Rajasthan court after he had posed with a poster against Brahminical patriarchy during a recent visit to India.
(Shutterstock)
---
New Delhi
|
Published 09.02.19, 09:40 PM
|
---
Twitter has cited short notice to inform the parliamentary panel on information technology that top executives, including its CEO Jack Dorsey, would not be able to appear before it on Monday.
But the micro-blogging site has expressed a willingness to work with the Lok Sabha secretariat to find "mutually agreeable dates".
The response does not seem to have gone down well with the chairman of the standing committee on information technology, Anurag Thakur. He was quoted by the news agency ANI as saying "we've taken a serious note of Twitter's reply. We'll discuss that on Monday and take further action".
Last Monday, Thakur, a BJP MP, had announced over the micro-blogging site that representatives of the ministry of electronics and information technology and Twitter had been asked to appear before it on February 11 to hear their views on "safeguarding citizens' rights on social/online news media platforms".
This decision to summon Twitter was seen by many as a response to complaints from Right-wing groups that the micro-blogging site was biased against them and shutting down their handles. This had been denied by Twitter, which said its employees do not make enforcement calls on the platform.
A case had been filed against Dorsey in a Rajasthan court after he had posed with a poster against Brahminical patriarchy during a recent visit to India.
Not certain about the details on the exact date when Twitter was given the notice, panel member Binoy Vishwam told The Telegraph that if the CEO had not been given notice well in advance, there was no point in cornering him.
Vishwam, a CPI MP, wondered why only Twitter was being called, and why not platforms like Facebook and WhatsApp. "Why is the government in such a haste to tame only Twitter? What is the political agenda behind it?"
A Twitter spokesperson told this newspaper that it appreciated the committee's focus on the issues of user safety and user rights.
"We understand the committee's interest in these issues and the importance of hearing from multiple stakeholders regarding the implications for users of social media in India. We have indicated that we are willing to participate in such a broad hearing process."
Stating that the notice for the hearing was short, Twitter said it had informed the committee that it would not be possible for senior officials from Twitter to travel from the US to appear on Monday.
Apart from expressing willingness to work with the secretariat on a mutually acceptable date, the spokesperson said: "We have also offered representatives from Twitter India to come and answer questions on Monday."
Twitter has pointed out that Dorsey and other senior executives had visited India recently. "It is an important market for Twitter and we value the growing interest in Twitter in India." During the visit, Dorsey had called on Prime Minister Narendra Modi.
Towards the fag end of that visit, Dorsey had run into rough weather for holding on to a poster saying "Smash Brahminical Patriarchy" during a group photo with participants of an interactive session attended by women journalists, activists and writers.
It had triggered a virtual "caste war" with those from the privileged sections up in arms over what they saw as Dorsey's endorsement of the poster, drawing an apology from Twitter. This apology, in turn, upset the socially disadvantaged sections and those fighting casteism as they saw it as a cave-in by Twitter.
Subsequently, a case was filed in the Rajasthan court against Dorsey for allegedly defaming the Brahmin community. In December, the high court stayed his arrest but refused to quash the FIR against him. This is likely to have weighed on Twitter while considering the response to the standing committee.
As word got out that Twitter's top executives would not be attending Monday's parliamentary panel meeting, many from the Right-wing ecosystem described it as a "snub to Parliament". But the Twitter spokesperson said: "We not only have deep respect for India's parliamentary process, but we are also committed to serving the people who use Twitter in the Indian market."