From Kashi to Kedar, divine intervention
God told Modi what Opposition is saying: Son, you speak a lot, now do something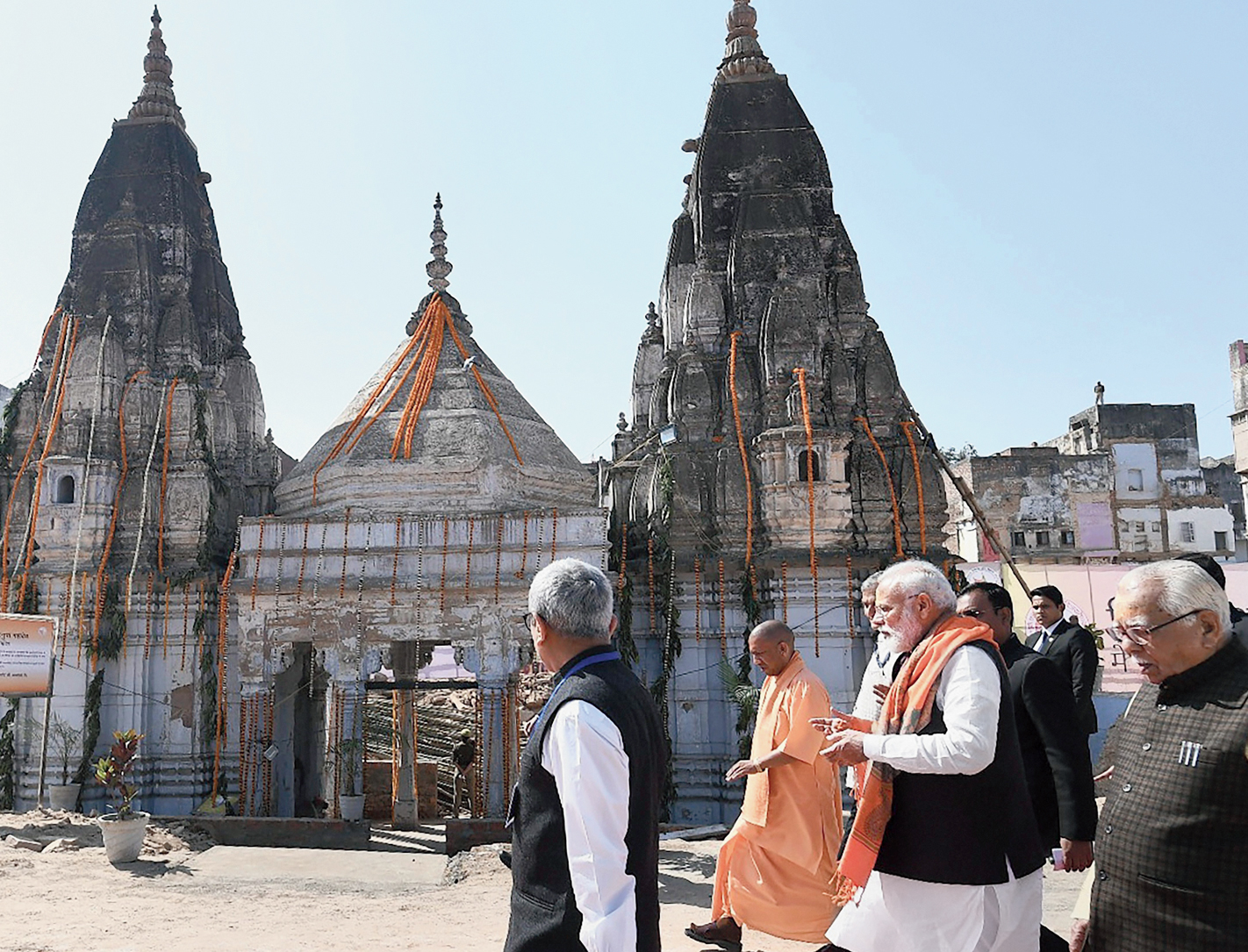 Prime Minister Narendra Modi at the Kashi Vishwanath Temple in Varanasi on Friday.
(PTI)
---
Lucknow
|
Published 08.03.19, 09:55 PM
|
---
Prime Minister Narendra Modi on Friday sought to confirm his bhakts' fond belief that he is God's chosen one but added a detail the Opposition might not want to contest.
He described an imaginary encounter with Shiva who sends him on an assignment with the message: "Bete, batein bahut karte ho; aao idhar, kar ke dikhao (Son, you speak a lot; come here and prove yourself by doing something)."
The job Shiva had given him, the Prime Minister said, was to redevelop a temple that some accuse a Mughal emperor of having vandalised. He meant the Kashi Vishwanath Temple in Modi's parliamentary constituency of Varanasi, not the one associated with Ayodhya.
As he laid the foundation stone for the Kashi Vishwanath Corridor, a central scheme to renovate the shrine and beautify its neighbourhood, Modi said that God had chosen him to finish what Queen Ahilyabai Holkar of Malwa had started two centuries ago.
"The Almighty had perhaps preordained me to do this work after 215-250 years (of Ahilyabai). When I was here in 2014 to contest the election, a voice from within told me I hadn't come on my own but had been brought here. Today I think I was summoned (by God) for this project," Modi, forehead smeared with sandal paste, told a public meeting.
The Sangh-BJP claims that Mughal emperor Aurangzeb had got a portion of the temple demolished in 1669 to have the Gyanvapi Mosque built over a well where a Shivalinga had been kept.
Some historians believe that Aurangzeb was infuriated when the Maharani of Kutch was dishonoured inside the temple and ordered its demolition. Ahilyabai refurbished the temple between 1777 and 1780.
Radical Hindu groups have threatened the Gyanvapi Mosque with the same fate as Ayodhya's Babri Masjid, demolished by kar sevaks on December 6, 1992.
A portion of the Gyanvapi Mosque's boundary wall was pulled down last year on the direction of BJP chief minister Yogi Adityanath as part of the temple corridor project.
Modi didn't mention Aurangzeb but said: "Enemies targeted this place many times in the past. It got its present shape when Ahilyabai started the renovation. She also played a key role in the redevelopment of the Somnath Temple (in Gujarat)."
He added: "Ahaliyabai was a devotee of Shiva…. But 215-250 years passed (after her and) nobody cared for Bhole Baba (Shiva). They (the BJP's political opponents) cared only about themselves."
The Prime Minister said he had for a long time wanted to do something for the temple.
"Even when I was not in politics, whenever I came here — and I came several times — I felt I should do something here. I don't know, perhaps Bhole Baba thought, 'Son, you speak a lot; come here and show what you can do'," he said.
"Call it an order from Bhole Baba, or his blessings, that today marks the beginning of the realisation of that dream."
He added: "I was shocked when we started removing some of the buildings around the temple and found there were more than 40 temples that had been captured (by local people). Some of them had converted these into kitchens…. Pilgrims will be surprised to know the sort of things some people had done here, and (previous) governments remained silent for 70 years."
Modi dubbed the day's event "a festival of the liberation of Kashi Vishwanath Dham", which he said was feeling "suffocated" because of the lack of space around it.
He claimed the corridor project would have been completed had the previous Samajwadi Party government helped him. "While I'm laying the foundation stone today, I would have been unveiling it (the corridor) had the previous government cooperated with me," he said.
Samajwadi politicians said the project had started in 2016 with the cooperation of the Akhilesh Yadav government but Modi had blocked the funds after a few months.
Modi also visited Kanpur and launched several development schemes. He inaugurated the extension of the Lucknow Metro from there through remote control.