Fisticuffs at Congress meet over Bihar Assembly elections
Leaders pushed, shoved and attacked each other, a few hurled chairs towards the dais and expletives filled the air at the state party headquarters in Patna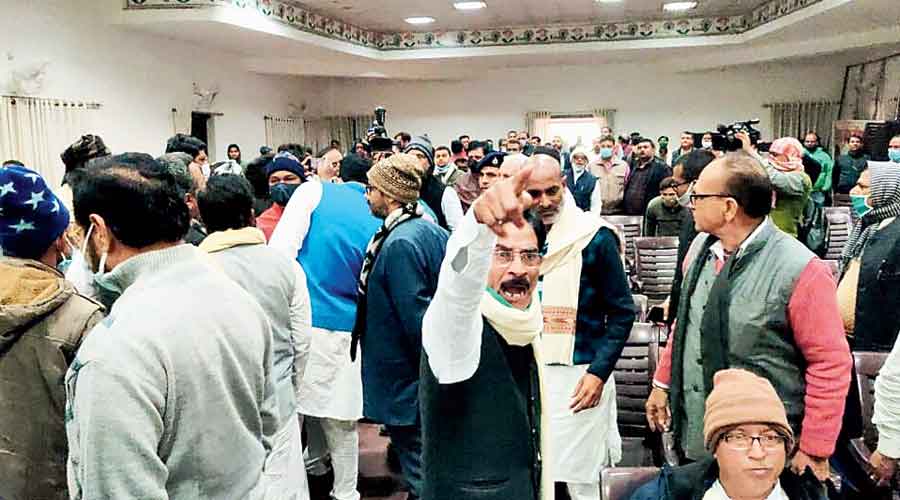 The choas during the meeting on Tuesday
Sanjay Choudhary
---
Patna
|
Published 13.01.21, 01:15 AM
|
---
The new All India Congress Committee Bihar in-charge's first meeting with the state unit degenerated into an ugly fight on Tuesday over last year's Assembly elections in which the party had fared poorly.
As leaders brawled at Sadaquat Ashram, the state party headquarters in Patna, in the presence of AICC Bihar in-charge Bhakta Charan Das, someone pushed Congress farmers' cell leader Raj Kumar Sharma alias Raju Singh off the 4ft-high dais. A few people kicked him while some others rushed to his rescue.
The Congressmen pushed, shoved and attacked each other. A few hurled chairs towards the dais and expletives filled the air. Leaders appealed to the people to stay calm, but it fell on deaf ears.
Security personnel and bodyguards rushed in to protect the legislators present at the meeting. Das, who had come to enthuse new life into the party that won only 19 of the 70 seats it contested, remained a spectator.
Several other senior leaders, including Bihar Pradesh Congress Committee president Madan Mohan Jha, Congress Legislature Party leader Ajit Sharma and MLC Prem Chandra Mishra were also present at the meeting.
Since Das's arrival in Bihar on Monday, he has been flooded with complaints from Congressmen about alleged nepotism in the distribution of tickets for the elections and the "sale" of tickets.
At the meeting on Tuesday it took over an hour to restore peace. Yet, a few Congress leaders could be seen roaming around the meeting venue with hockey sticks a few hours later while Das was holding a media meet.
Asked about the fight, Das said: "These things are common in Bihar. I have seen many such things in my life. However, I did not run away. I stood steadfast and managed to make everybody sit down."
"Some people do not do any work (for the party), but just talk and want to take credit. This won't do. We are not going to tolerate indiscipline. People will have to abide by the decisions of the party and its ethics. Those who don't will be expelled," Das added.
He suggested that those who created the ruckus at the meeting were not associated with the party.
"Our party organisation is definitely in a weak situation here. We will make it stronger. This is a challenge before us," Das said.
A senior Congress leader later told this newspaper: "There is pent-up frustration in the organisation over the way tickets were distributed during the Assembly elections and the poor results. There is a belief that tickets were sold by senior leaders. Moreover, there is general anger over the way the party is being managed in Bihar."