Fire engulfs Kanpur hospital, 150 shifted
There was a strong rumour that at least two patients died in the flames but officials claimed they were already in critical condition and died of other reasons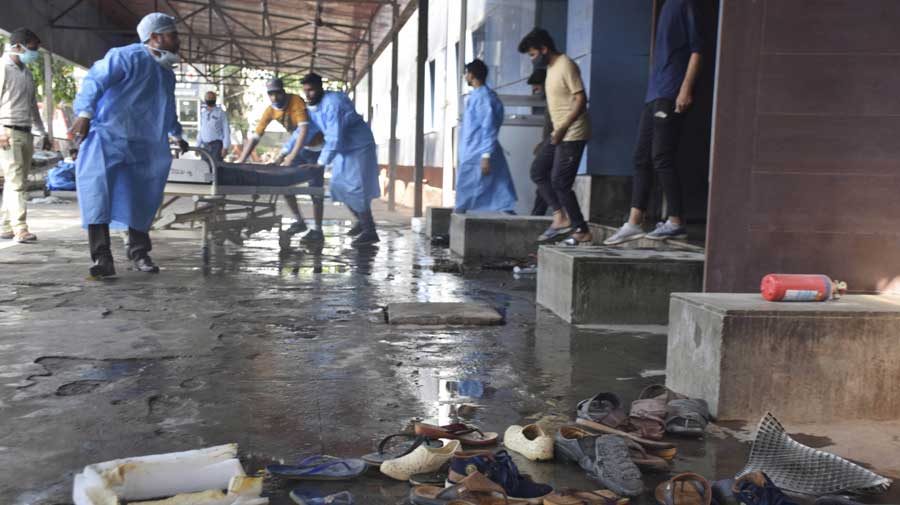 A bed is shifted in a hall after a fire broke out in the LPS Institute of Cardiology in Kanpur on Sunday. There were around 150 patients in the hospital, including 10 in the ICU, at the time.
PTI
---
Lucknow
|
Published 29.03.21, 01:17 AM
|
---
A massive fire broke out at the LPS Institute of Cardiology and Cardiac Surgery in Kanpur city on Sunday, forcing the administration to shift all 150 patients to other hospitals.
There was a strong rumour that at least two patients died in the fire but the officials claimed they were already in critical condition and died of other reasons.
There were around 150 patients in the hospital, including 10 in the ICU, at the time.
Raj Shekhar, commissioner of Kanpur division, said the fire didn't claim any life in the hospital.
"One of the patients had died of some ailment at 6:30am while the other, who was on pacemaker, died at 9.20am. The majority of patients have been shifted to Lala Lajpat Rai Hospital in the city," the officer said.
However, eyewitnesses were quoted as saying to the media that there was smoke all over and the two patients might have died of suffocation before the hospital staff broke the glass panes of the ICU and emergency ward.
They said it took the fire brigade two hours to control the fire, which broke out at 8am.
Vinay Krishna, director of the hospital, said, "It appears that the fire broke out in the store room on the ground floor because of short circuit and eventually spread to the other areas. We have shifted all the patients to other hospitals."
Chief minister Yogi Adityanath said he had asked the officers and hospital administrations across the state to review the safety measures and upgrade them to prevent the repetition of such incidents.
The deceased have been identified as Tek Chand, 65, from Hamirpur and Imam Ali, 60, from Kanpur.
"He (Chand) was on a ventilator. The doctors asked us to take him out of the ICU as it was filled with smoke. He died when we brought him out," a relative of Chand said.
Ali had a pacemaker on.
It was not clear how many have sustained injuries.
A press statement from the information and publicity department of the government said: "Uttar Pradesh chief minister Yogi Adityanath ji taking immediate cognisance of the fire incident in Kanpur's Cardiology Institute has instructed the district administration to provide prompt and proper treatment to all the injured.
"The chief minister has constituted a high-level inquiry committee under the chairmanship of principal secretary, medical education, to investigate the causes of the incident. DG fire service and commissioner Kanpur division will be members of this committee."
The statement added that the chief minister had instructed that the fire-fighting arrangements of all the hospitals should be investigated by running a campaign without delay so that similar accidents could be avoided in future.