Fax stranger than fiction: J&K governor Satya Pal Malik claims he did not get fax as it was a holiday
Former chief minister Mehbooba Mufti had faxed a letter to the governor's office staking claim to form a government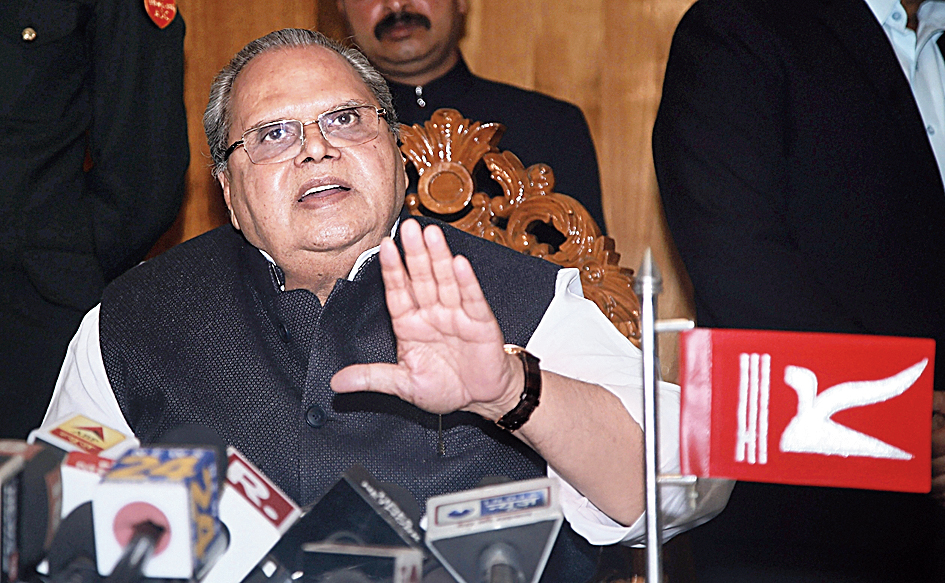 Satya Pal Malik addresses the media in Jammu on Thursday.
PTI
---
Srinagar
|
Published 22.11.18, 10:56 PM
|
---
Governor Satya Pal Malik on Thursday blamed a state holiday for not receiving Mehbooba Mufti's fax staking claim to form the government, but to many sceptics the explanation seemed like a case of the fax being stranger than fiction.

Former chief minister Mehbooba Mufti had on Wednesday faxed a letter to Malik's office declaring a joint bid by her People's Democratic Party and the National Conference, aided by the Congress, to form the government in the state, which is under governor's rule.
But hours later Malik, without acknowledging receipt of the fax, ordered dissolution of the Assembly, where the three parties hold 56 of the 87 seats.
On Thursday, Malik claimed he had missed Mehbooba's faxed letter because there was nobody in his office to receive it as Wednesday was a holiday in the state on the occasion of Id-e-Milad.
"Fax is not an issue. There was Id and both (Mehbooba and National Conference leader Omar Abdullah) are devout Muslims. They should know that offices remain closed (on holidays)," Malik told reporters in Jammu.
"I did not have a cook, let alone a fax operator. There was no system," he added. "They could have sent people in the morning (or a message or representative the) day before yesterday."
But Omar, a former chief minister, asked that if this was so, who had typed the letter that announced the dissolution of the Assembly?
"Pardon me, I have also served as the chief minister and there were holidays. My house was never empty and the staff did its work," he told reporters in Srinagar.
Many others too found the governor's account of the "fax" of the matter unconvincing. "Oh. But the office magically opened… to send a recommendation to Centre for dissolving the Assembly and then for notifying its dissolution. Badhiya hai (Lovely)," a tweeter posted, echoing Omar.
Omar said that many things had in the past interfered with democracy but this was the first time a fax machine had "strangulated democracy".
"This is a strange fax machine that works and stops as per different directions. It does not receive the letter (staking) claim for government formation but the letter ordering dissolution of the Assembly is sent through it," he said.
"It's like the traffic (regulators) in Srinagar who allow one-way traffic on the roads. This is also a one-way fax — there is no incoming fax but only outgoing fax."
Mehbooba tweeted: "In today's age of technology, it is very strange that the fax machine at HE (his excellency) Governor's residence didn't receive our fax but swiftly issued one regarding the Assembly dissolution."
Omar and Mehbooba engaged in meme banter on Twitter, posting videos of fax machines. Omar's post included a Graphics Interchange Format (gif) of a fax machine printing papers that fall straight into a shredder. "Raj Bhavan Jammu fax machine at work," the caption read.
Mehbooba posted a picture of a skeleton and wrote: "Meanwhile, those awaiting a response."
Many cracked jokes on social media, some suggesting they should pool money to buy the governor a new fax machine.