Co-accused in Nodeep Kaur case
Torture-like wounds on held Dalit activist
Shiv Kumar, 24, president of the Mazdoor Adhikar Sanghatan was picked up from near Singhu border near Delhi on January 16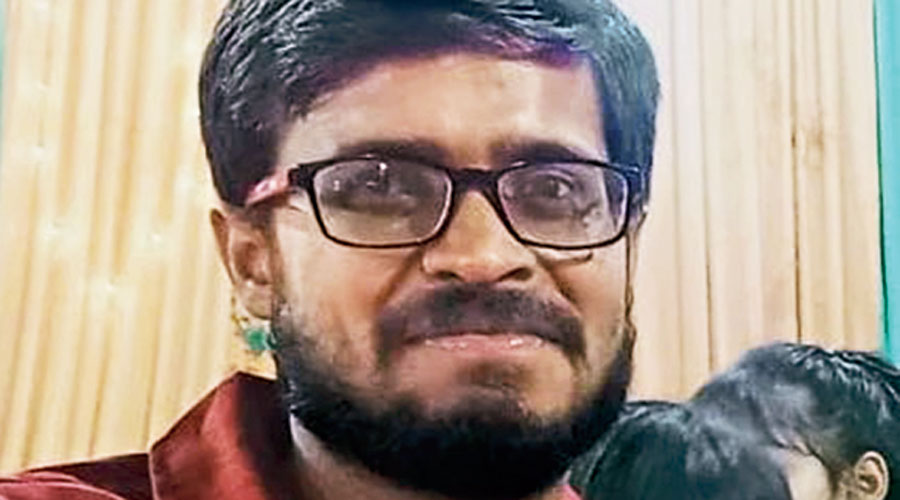 File picture of Shiv Kumar
---
New Delhi
|
Published 26.02.21, 03:43 AM
|
---
A medical report of an arrested trade unionist whose organisation is part of the farmers' movement mentions two fractures on his hand and foot and broken nail beds on his toe caused by a "blunt object".
The injuries are consistent with details in a harrowing account Shiv Kumar, 24, president of the Mazdoor Adhikar Sanghatan, has shared with doctors.
The medical report conducted on February 20 has concluded that the injuries were more than two weeks old. This would suggest that Kumar would have suffered the injuries before February 6.
Kumar is in a jail in Haryana since February 2. His testimony to the medical board alleges torture at the hands of police after he was picked up from near the farmers' protest site at the Singhu border near Delhi on January 16.
Haryana police claim he was arrested on January 23 for a clash with the police at the Kundli Industrial Area on January 12. This is the same case for which Nodeep Kaur, 23, another trade unionist, has been picked up. She has also alleged torture. A BJP-led government is in power in Haryana.
Kaur's case had drawn wider attention after American activist Meenakshi "Meena" Harris, niece of US Vice-President Kamala Harris, tweeted earlier this month about the arrest.
Kaur was agitating against erratic wage payment in the Kundli industrial cluster. Both Kumar, who hails from Haryana's Sonipat, and Kaur, from Punjab's Muktsar, are from landless Dalit families. They face charges of attempt to murder, extortion and other offences.
The high court in Chandigarh had ordered a medical exam of Kumar after his father Rajbir moved the court for a probe into his son's case by an "independent agency". Rajbir said he suspected that his son had been tortured and this was not recorded properly by doctors in Sonipat.
The medical examination was conducted by a five-member medical board at the Government Medical College and Hospital, Chandigarh.
The report notes that Kumar has eight injuries, including fractures on the left and right foot. "All the injuries on the person of the patient are more than 2 weeks old and were caused by blunt object/ weapon…. Psychiatric evaluation is suggestive of post-traumatic disorder like symptoms," says the report.
"Right foot swelling present and tender to touch…. Swelling and tenderness on left foot. Nail beds of right 2nd and 3rd toe are broken and underlying skin is reddish in colour and showing healing changes. Left big toe shows blackish discolouration. Nails of left thumb and index finger show bluish black discoloration with tenderness," the report said.
Justice Avneesh Jhingan has sought Kumar's previous medical report and scheduled the next hearing for March 16. Kaur's bail plea, as well as a suo motu case on her "illegal detention", would be heard by the high court on Friday.
Harinder Bains, one of the lawyers assisting Kumar and Kaur, told The Telegraph on Thursday: "We learnt from one of his friends that he was taken to Sonipat's civil hospital this morning where a plaster was put and first aid given, after which he was taken back to the jail. We are speaking to the client (Rajbir) about filing a bail plea for Shiv Kumar in the district court. Kaur has got bail in two cases, and tomorrow bail for the third case will be heard."
Sonipat SP J.S. Randhawa did not respond to questions texted and calls made by this newspaper to him.
(Advisory for readers: the following paragraphs have graphic and disturbing details.)
Kumar's testimony recorded by the medical board says: "On 16th, Jan. 2021, the patient was at Kisan Andolan at KFC. Near Kundli, he was picked up by the C.I (criminal investigation) Staff between 2:30 and 3:00 pm. There were about seven people and he was taken to old kacheri, Sonepat, where the C.I staff assaulted him. They tied both his feet, lay him on the ground, and hit him on the soles. His 2nd, 3rd and 5th toe nails of the right foot were torn and the nail of big toe of left foot became blue.
"They also hit him on the buttocks with flat sticks, then they tied his hands and stretched his legs. He was made to lie on the ground with both legs straight and a metal pipe was placed on his thigh and rolled over the thighs by two people. They also hit him on both hands and palms and also on the back of his head. He was not allowed to sleep for three days, the C.I staff took his statement and asked him to give names and when he could not do so, they tied him to a chair and poured water on his head."
Kumar's testimony says: "They presented him to the court on 24th Jan and took 10 days' remand….
"He was mentally and physically abused in the police remand and they also poured hot water on his feet and any blisters that formed were burst by them."
The psychiatric evaluation of Kumar says: "He appeared sad and distressed with occasional crying spells. He expressed preoccupation with his current situation, reported predominant anxiety symptoms, flashbacks of brutality meted out to him, nightmares, feelings of loneliness, uncertainty about future and sleep disturbances."