Farmer protest: Song-dance ban at Tikri border
Speakers addressing the protesters alleged a 'conspiracy' to paint them as violent, 'non-serious' or paid agitators, and stressed the need to stay vigilant and defeat these efforts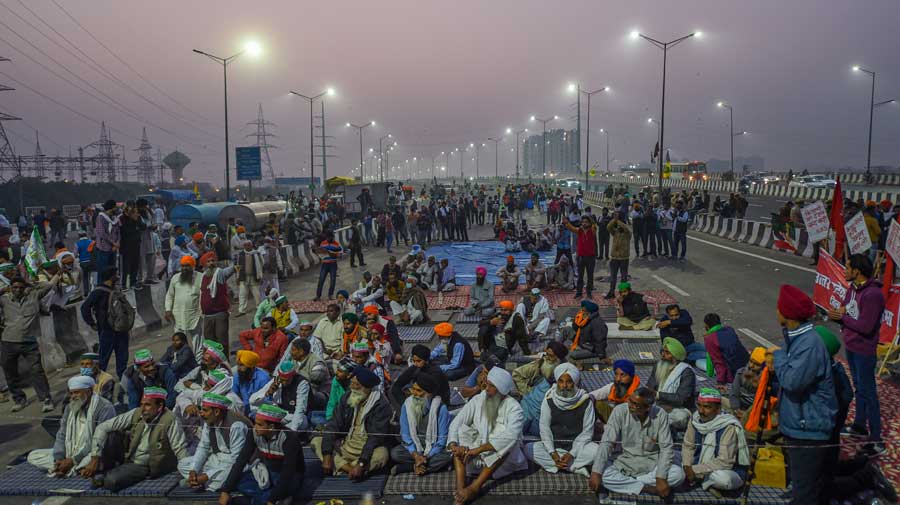 ---
|
Lucknow
|
Published 06.12.20, 02:47 AM
---
Anyone found singing, dancing or drinking at the farmer protest sites will be identified as an intruder sent to defame the agitation and handed over to the police, farmer leaders said on Saturday.
Speaker after speaker who addressed the farmers gathered at the Tikri border between Ghaziabad and Delhi alleged a "conspiracy" to paint the protesters as violent, "non-serious" or paid agitators, and stressed the need to stay vigilant and defeat these efforts.
"There is no place for entertainment here. We are gathered here to fight a long battle against the anti-farmer central government," Hari Krishna, a farmer leader from Baghpat, Uttar Pradesh, said.
"Those who are dancing, singing, drinking or playing recorded music from their tractors are not part of the protests. They need to leave the place immediately or we will hand them over to the police."
Hari Krishna said those who wanted to sing bhajans or gurbanis could do so while sitting at one place, but nobody would be allowed to create a racket.
"We are aware that some anti-farmer people and groups are trying to prove that the protesters against the new farm laws are not farmers," said Kirat Singh, who had come from a village in Haryana.
"They want to prove that we are non-serious and antisocial. But we know their tricks and want to send a clear message to those conspirators that we will defeat them."
Haryana chief minister Manohar Lal Khattar had alleged that "unwanted eleme nts" had joined the protesters.