Modi hails the new farm laws that cultivators are fighting
Farmers say the new laws take away the safety of a minimum support price and leave them at the mercy of big companies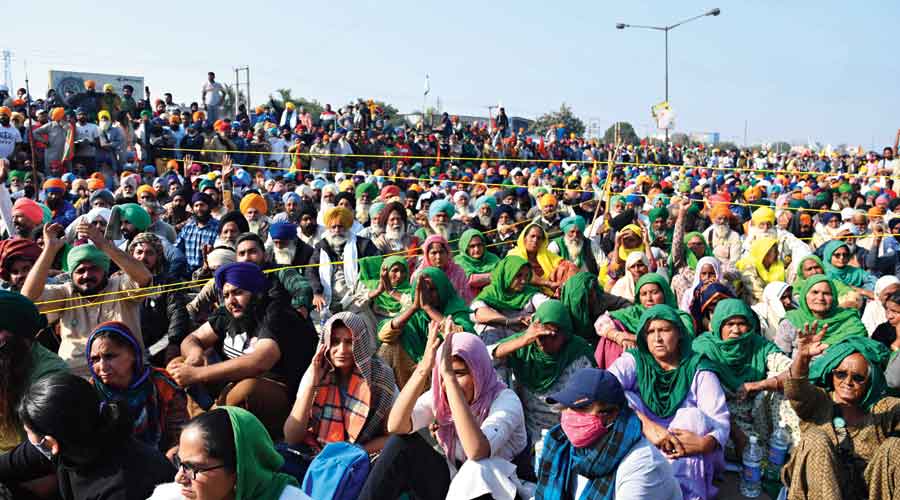 Farmers protest at the Singhu border on Sunday during their Delhi Chalo march against the farm laws
Prem Singh
---
New Delhi
|
Published 30.11.20, 01:57 AM
|
---
Prime Minister Narendra Modi on Sunday hailed the new farm laws as a game-changer for farmers while making no mention of the farmers' protest that has reached Delhi.
Thousands of farmers from Punjab, Haryana, Uttar Pradesh and Madhya Pradesh have marched to Delhi, braving barricades, barbed wire, water cannons and tear gas in BJP-ruled Haryana, to protest against the new laws.
Their tenacity has forced the Centre to blink and agree to let them enter Delhi provided they all gather at the Nirankari Samagam Ground in Burari.
Modi, however, ignored the massive protest as he delivered his monthly radio address to the nation, Mann ki Baat, on Sunday morning.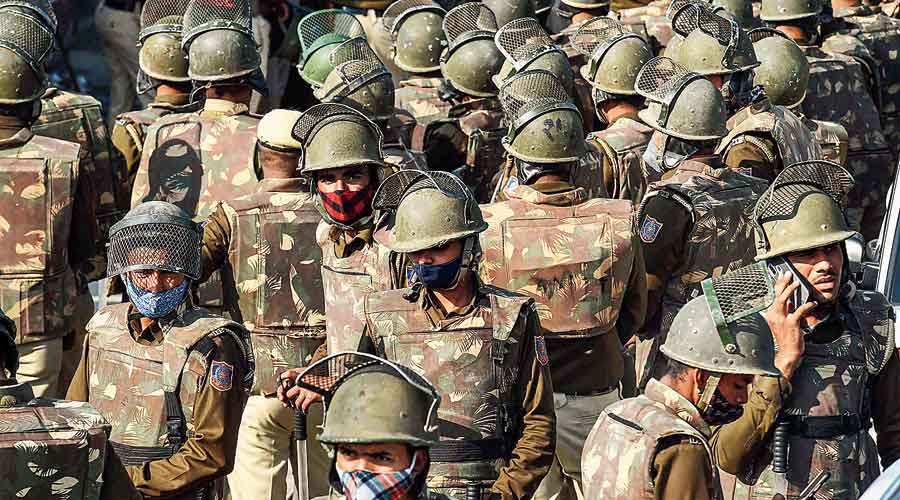 On Saturday, Union home minister Amit Shah had offered the farmers a meeting earlier than the scheduled December 3 talks if they moved from the highways at Delhi's borders to the Samagam Ground, but the Prime Minister made no such appeal.
As he had done in the past, Modi claimed the new laws had liberated farmers and opened up new possibilities for them.
"My dear countrymen, new dimensions are being added to agriculture. The agricultural reforms in the past few days have also opened up new doors of possibilities for our farmers," the Prime Minister said, according to the government's English translation of his Hindi speech.
The farmers say the new laws take away the safety of a minimum support price and leave them at the mercy of big companies.
Modi claimed the provisions in the new laws represented longstanding demands by the farmers that his government had now met.
"Every political party, at some point or the other, made the promise" but none apart from his government had fulfilled it, he said.
Modi said farmers were already enjoying the benefits of the new laws. He said a farmer in Maharashtra had used a provision in the new laws to get a trader to pay his dues.
While not even acknowledging a protest led by Sikh farmers, the Prime Minister showered praises on the Sikh community in the context of Guru Nanak Jayanti, which is on Monday.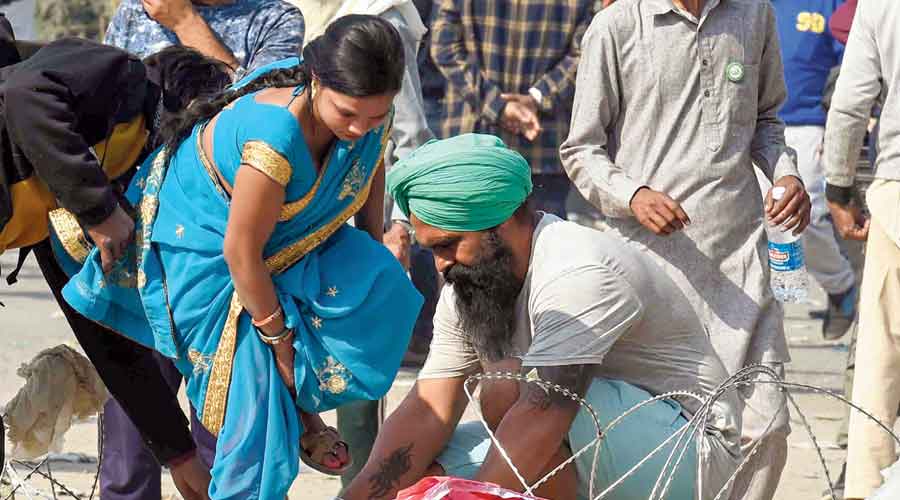 He recalled how he had got the Lakhpat Gurdwara in Kutch, Gujarat, restored after it was damaged in the 2001 earthquake.
"Not only was the renovation done, its glory and grandeur were restored too. All of us were bestowed with ample blessings of Guru Sahib," he said.
Modi also mentioned the opening of the Kartarpur Sahib Corridor, a visa-free corridor from the Indian border to the Gurdwara Darbar Sahib in Pakistan, which happened on his watch.
"The opening of the Kartarpur Sahib Corridor in November last year was historic. I shall cherish this lifelong in my heart," he said.
He praised the Sikh community for feeding people during the Covid-19 lockdown.