Exclusive Interview: Right from his latest album to the motivation in the music industry, guitarist V Play Music reveals it all!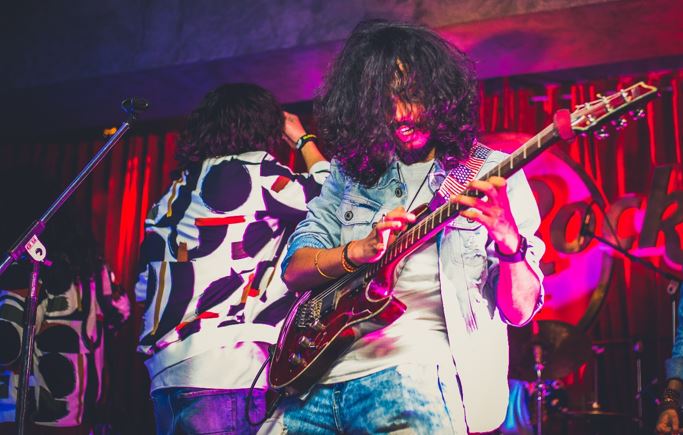 ---
Published 22.11.21, 10:00 AM
|
---
*Your Name* - V Play Music
*Name of latest release* - Guitar on Vocals
*Release date of Album* - 17/04/2021
*Tell us about your Album* - okay so 'Guitar on Vocals' as name suggests I had that thought in my mind that you don't always need 'Vocals' to appreciate music and dance to it, i always wanted to make some kind of music that even without vocals a common man can relate to and dance on it. it should fulfill requirements of the vocals by any other instrument. since i play guitar so i decided to proceed that way. So I came up with 'Guitar on Vocals'.
*What's the genre* - it's mostly hard rock, soul rock, alternative rock thing but each song represents different feel and emotion, like one song is kind of pop but blended with latin beats on drums and it sounds like pop rock, two tracks are heavy thrashy metal and some are very alternative souly rock vibe. you'll have all type of songs, happy, emotional, positive, and metal as well.
*When did you become a musician* - started learning guitar in early 2013 and since then i'm playing, I started working professionally as devotional programs guitar player in 2014, did that for straight two years while building my sources and contacts with musicians in delhi, i was also learning side by side from Delhi School of Music. Did grade 4 from rock school and since then i'm working professionally as i got connected to SANKRAMAN (Delhi Based Band), I did an audition for badhshah's live band setup with sankraman and got selected there in 2016. right now playing for Badshah and Aastha Gill as their official guitar player.
*How long did it take to record the Album* - It was always in my mind to make my own music since i started playing guitar but 'work' always got me occupied. as when one comes from a middle class family he/she has to take care of the finances and balance the creativity with the money aspect. so the first track of the album 'Whispering Cloud' is also the first song i wrote in 2018 and then in this lockdown i finally got time to sit and complete the whole album. Took me quite a while but thanks to this lockdown I was able to focus better and competed the album in some couple of months.
*Tell us a fun story about the album* - okay so 'Guitar on Vocals' as the name suggests i had that thought in my mind that you don't always need 'Vocals' to appreciate music and dance to it, i always wanted to make music as even without vocals a common man can relate to it. Like I said as it should fulfill the requirements of the vocals by any other instrument, just because I play guitar so I swap vocals with guitars and came up with the idea and name 'Guitar on Vocals'. all the songs have Intro, Pre Chorus, Chorus, Verse and so on as of course the usual pop songs are written.
*How old are you* - Im 25 Right now 18/Sep/1995
*Where are you born and where are you based now* - Born and raised in Delhi, used to live in east delhi near Nirman Vihar, right now living near Dwarka.
*Who made the album artwork* - I Made by Myself.
*Influences* - Highly influenced by Andy James first of all, then John Petrucci, Jack Thammarat,  Charlie Parra Del Riego , Chris Buck, Yngwie Malmsteen etc.
*Favorite quote* - "Who Needs Vocals When You Can Make Your Guitar Sing" by V Play Music (My Own)
*Where and how did you record the Album* - Recorded At my home studio all done by myself by searching online taking some online sessions for mix and mastering and of course a lot of practice.
*Youtube or Spotify ?* - YouTube for covers, Spotify for Originals. or only YouTube if i have to choose one.
*Say your 5 favorite words* - Positivity, Bright, Love, Happy, Guitar.
*Define your story in one word* - Hustler.
 *Favorite instrument*  - Electric Guitar of course!!
*5 things you cannot do without* - Music, Positive Energies, Love, Imagination, Suffering.
*What is your morning routine* - Don't Really have a routine, usually i work at night and i love working at nights as well, so in the morning i'm usually sleeping. When I wake up I do obvious things like a normal guy and wait for the night to come in contrast and then i start working. and yah things that i complete at night, i make sure i listen to that in the morning and judge if its good or not. That's the only thing I do in terms of music in day light. Judging things and Making points to complete my project at night.
*When do you start your day and music* - My music starts at night and my nights are my days, cz that's the time i choose to feel like working.
*Favorite food * - Paneer Butter Masala or any paneer related dish.
*Favorite color* - RED.
*If you would like to collaborate with someone Indian and foreign* - Definitely Nishidh Hedge from India and Andy James From UK.