Economics and sport leave Mamata 'overjoyed'
A Trinamul source said she was looking to organise a 'grand felicitation event each' for both Banerjee and Ganguly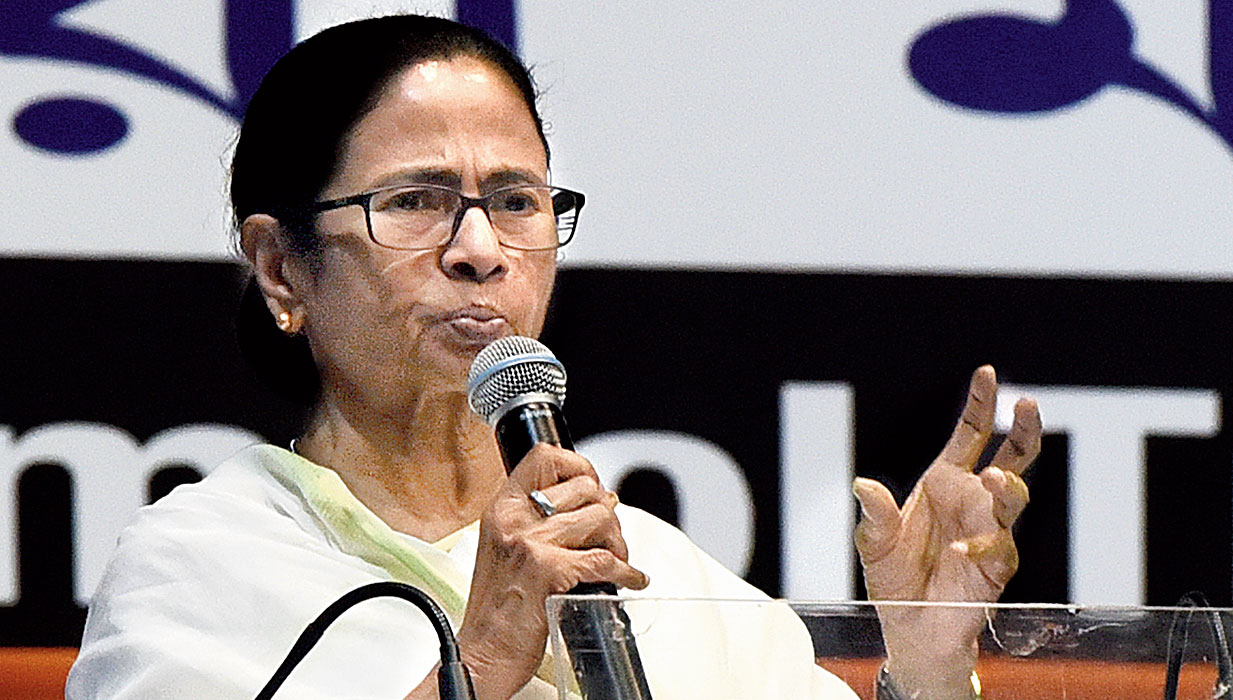 ---
|
Calcutta
|
Published 15.10.19, 01:10 AM
---
Chief minister Mamata Banerjee on Monday reacted with jubilation over the two developments that brought cheer to people from Bengal all over the world, taking to the social media to congratulate Abhijit Vinayak Banerjee and Sourav Ganguly.
The chief minister hailed the news of Banerjee being named one of the three winners of the Nobel Prize in economics this year and that of the ascent of Ganguly to the helm of the Board of Control for Cricket in India (BCCI).
"All days are special. Some days are more special than others. I'm feeling overjoyed today. The Pujos were a grand celebration of Bengali spirit. Celebrations continued today with two pieces of great news from two vastly different disciplines: sports & economics," she posted on Facebook.
"Sourav Ganguly had done India proud as Captain, an accomplished batsman and team leader. He began his new innings and was unanimously elected as the President of BCCI," she added. "Hours later, the Sveriges Riksbank Prize in Economic Sciences in Memory of Alfred Nobel awarded the Nobel Prize in Economics to Dr Abhijit Vinayak Banerjee. He is an alumnus of South Point High School, and Presidency College #Kolkata. Also, congratulations to his wife Esther Duflo for sharing the honours."
The achievements of the two sons of Bengal were hailed by people from the state from across the world on the social media.
Sources close to Mamata said she was "truly ecstatic" when she learned of the developments and wanted to reach out to both.
A Trinamul source dismissed speculation on whether Mamata was displeased with Ganguly's ascent to the BCCI presidency with direct help from BJP chief Amit Shah.
The Trinamul Congress chief in the evening sent sweets and a bouquet of flowers each to Banerjee's Saptaparni residence on Ballygunge Circular Road and to Ganguly's Biren Roy Road East residence in Behala.
She was among the first notable Twitterati to congratulate them.
"Heartiest congratulations to @SGanguly99 for being unanimously elected @BCCI President. Wish you all the best for your term. You have made India and #Bangla proud. We were proud of your tenure as CAB President. Looking forward to a great new innings," she had tweeted.
"Hearty congratulations to Abhijit Banerjee, alumnus of South Point School & Presidency College Kolkata, for winning the Nobel Prize in Economics. Another Bengali has done the nation proud. We are overjoyed. Joy Hind. Joy Bangla," she tweeted.
A source in Trinamul said the chief minister was looking to organise a "grand felicitation event each" for both Banerjee and Ganguly.