Dressing-down on marshals
Several retired army officers condemned the uniform as 'illegal' and a 'security hazard'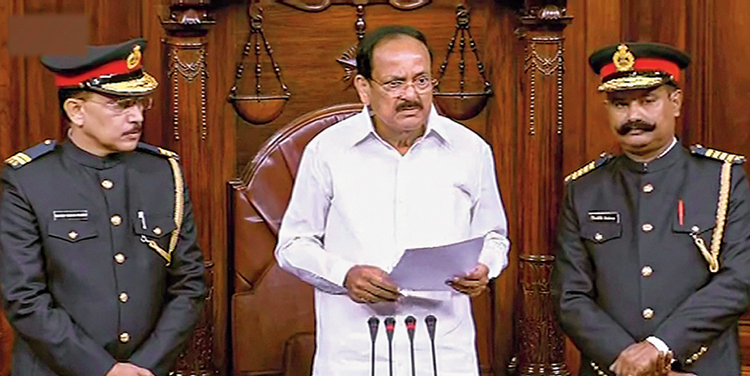 ---
---
Rajya Sabha Chairperson M. Venkaiah Naidu on Tuesday directed his secretariat to "revisit" the new, military-like uniform designed for the House marshals after several retired army officers condemned it as "illegal" and a "security hazard".
"I have a small observation to make that the secretariat of the Rajya Sabha, after considering various suggestions, has come out with a new dress code for the marshals," Naidu told the House.
"But we have received some observations by some political as well as some well-meaning people. So, I have decided to ask the secretariat to revisit the same, and then take a conclusive decision."
On Monday, Naidu had refused to allow Congress member Jairam Ramesh to broach the subject of the marshals' new attire and defended the changes to their uniform.
"That's to be decided by the concerned…. The concerned have decided…. Don't worry, it had been done earlier also," Naidu had said on Monday.
Among the retired generals unhappy at the marshals' new uniform resembling the military's is former army chief Ved Prakash Malik.
"Copying and wearing military uniforms by non-military personnel is illegal and a security hazard. I hope Vice-President (Naidu) secretariat and (defence minister) Rajnath Singh ji will take early action," Malik has tweeted.
Lt Gen. Vinod Bhatia too has posted a tweet seeking "corrective action" on the marshals' new uniform.
"Hope the government takes corrective action and abide(s) by legal provisions and orders on the subject. Unfortunately it has become fashionable to dress like the armed forces," Bhatia said.
Lt Col Ardhendu Pal dripped sarcasm: "Sir, it won't be too long before armed forces would have to review… (their) dress code in order to look differently from security guards."
The marshals stand on both sides of the House Chairman to assist him. They used to wear a bandhgala and a turban. On Monday, they were seen in a navy blue uniform and a cap that resembles military headgear.