Dr Suborno Bose is Times Visionary Leader of the Year
IIHM signs historic MoU with Marriott India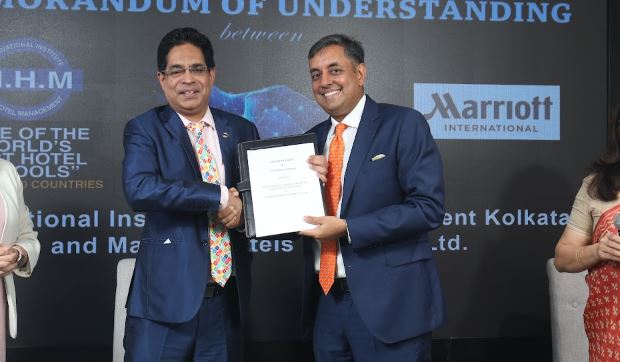 ---
Published 23.07.22, 01:16 PM
|
---
Acknowledging and applauding his pioneering vision of giving a new meaning to hospitality education and training, Dr Suborno Bose, Founder Chairman and Chief Mentor of the International Institute of Hotel Management (IIHM) was awarded the Times Men of the Year Award as Times Visionary Leader.
This prestigious award added another feather to his cap.
Prof David Foskett, MBE, hospitality educator and Chairman of the International Hospitality Council (IHC), London, said on the occasion, "The award has come at a very important juncture when the historic marriage between the largest and prestigious hotel group in the world, Marriott Group and IIHM, has just taken place. This initiative will create wider opportunities for IIHM students across the world."
The MoU was signed by Dr Suborno Bose and Gaurav Singh, Market Vice President, East India and Bangladesh and Sri Lanka.
Singh said, "Marriott and IIHM have done many things together and this MoU will further celebrate this partnership and bridge the gap between academia and industry and create future talent in the hospitality industry. The MoU will help to add value to the system and uplift the education levels of students and eventually we hope that a large part of them join the Marriott family."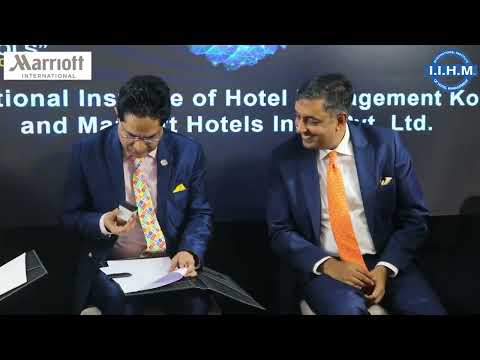 Placements 
Students are confidently placed in various industries and sectors. IIHM is known for its placements and exposure opportunities, be it an internship or securing a job after graduation. IIHM has the highest number of student placement records. 
Distinguished Alumni
Several of IIHM alumni have made the institute proud as they can now be found working in managerial positions with prestigious hotel brands in India, the UK, the Middle East, Singapore, Maldives, the USA, Australia, and others. The Global Alumni Connect programme is a strong testament to providing exemplary icons in front of students who aspire to become successful hospitality professionals. 
Awards and Accolades
The institute has several feathers in its cap in the form of awards and recognitions. The institute has bagged several prestigious awards including the Best Education Brand Award from Economic Times from 2017 to 2021 consecutively. IIHM was also awarded as one among the World's Greatest Brands & Leaders 2015-16 by URS International and also received the Best Institute in Hospitality Education 2017 Award by Assocham. 
Hands-on training
IIHM has the added advantage of having a hotel and a resort attached to two of its campuses, in Kolkata and Goa. The attached fully functional74 room business hotel, Indismart, ensures on-job training right from the first year. Students get this wonderful opportunity to hone their skills and learn every detail of practical hospitality management during their course. The resort in Goa is also a tourists' paradise, nestled on a hill in the heart of Goa. 
Expert International Faculty
IIHM boasts of some of the best faculty who are experts in their field of work and who often agree to visit the IIHM campuses in India to conduct masterclasses among students. Led by Prof David Foskett, IIHM has an exhaustive list of guest faculty visiting from across the world. Experts like Chef Enzo Oliveri from Italy, Chef John Wood from the UK, Magdala Caussimon from France and many others have visited IIHM. 
Real-time experience through Educational Tours
Besides the regular events that take place at the campuses intended to give practical knowledge to students, IIHM also conducts all-expense paid educational tours for students every year. Educational tours like the Tea Tour, Wine Tour, Scotch Tour and Culinary Tour are rare opportunities that are available to IIHM students alone. IIHM is the only college in the world that takes deserving students from its campuses, completely free of cost to experience places like the vineyards of Italy, Spain and France to learn all about the making of wines. 
Industry-ready students
IIHM's career-ready curriculum is tailor-made to serve the ever-changing hospitality industry. Subjects like Management and Digital Marketing among others, equip students with knowledge and understanding of what to expect when they walk into the world of career. The hospitality sector is dedicated to customer or guest satisfaction and students at IIHM are taught how to win hearts with not just their pleasant nature and behaviour, but also with their preparedness to handle any situation diligently.
The Young Chef Olympiad (YCO)
The world's biggest culinary extravaganza, the Young Chef Olympiad (YCO) is organised by IIHM. Starting in 2015, YCO has successfully completed seven seasons. YCO is one of the most popular Culinary Competitions for young culinary talent. YCO sees the participation of more than 50 top global culinary schools. Through the YCO, IIHMcelebrates brotherhood and camaraderie among nations and the youth of the world. FIIHM
The IIHM College of Distinguished Fellows is another unique and significant contribution to the hospitality education sector where industry experts have been made Fellows of the college. The fellows are stalwarts in their field of work and can easily guide and provide essential knowledge to students in terms of providing essential insights from the industry. There are 220 Fellows (FIIHM) out of which 150 of them are top hospitality executives from around the world. They are the real pillars of IIHM and are stakeholders of the IIHM legacy.
Encouraging Entrepreneurship
IIHM teaches students to take on the world not just as hospitality professionals, but also as an entrepreneur. IIHM launched SAHAS, a proactive entrepreneurship cell, to encourage students and guide them to become entrepreneurs. This is especially beneficial to students who want to venture into entrepreneurship and will need the initial support. 
IIHM Global Centre for Tourism and Hospitality Research
With the aim to encourage research and development in the field of tourism and hospitality, IIHM started the IIHM Global Centre for Tourism and Hospitality Research in 2021. The centre was officially inaugurated by Zurab Pololikashvili, the Secretary-General of UNWTO.  
MoU with Metro Railway Calcutta
Calcutta's iconic Park Street Metro Station has been renamed as IIHMPark Street Metro. This is a truly iconic arrangement as the leading global hospitality institute tied up to the brand with the heart of global hospitality and cuisines in Eastern India, Park Street.
This is a sponsored article and has been published in association with IIHM