BHU vice-chancellor attends iftar on campus, students protest
He must promise not to attend iftars in future: ABVP member Subodh Kumar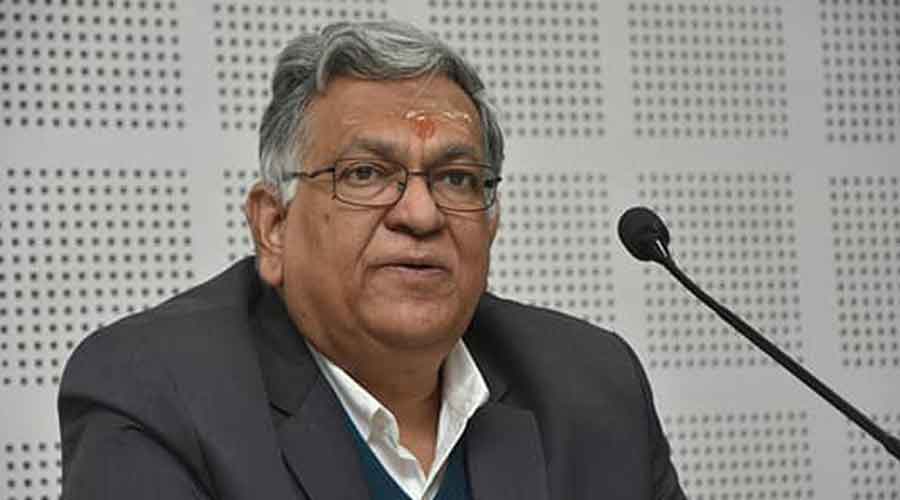 Sudhir Kumar Jain.
File photo
---
Lucknow
|
Published 30.04.22, 04:07 AM
|
---
Banaras Hindu University vice-chancellor Sudhir Kumar Jain was on Thursday forced to listen to warnings from ABVP members, who had surrounded his campus quarters, not to attend iftar gatherings in future.
The sloganeering members of the RSS student arm also opposed the hosting of iftar events on the campus. On Friday, they burnt effigies of the VC.
Jain, who assumed office in January, had on Wednesday attended an iftar gathering organised by teachers and students from both the Hindu and Muslim communities at Mahila Mahavidyalay, a women's college on the university campus.
Jain had interacted with students and teachers there and asked them to prepare a list of their problems so he could solve them, sources said. BHU rector V.K. Shukla and registrar A.K. Singh too were present.
"It was wrong on Jain's part to attend the iftar gathering. He must promise not to attend iftars in future," ABVP member Subodh Kumar said at the gates of Jain's quarters on Thursday evening.
University PRO Rajesh Singh said: "Iftar is an old tradition at the Mahila Mahavidyalay and the VCs have always attended it. It was discontinued during the (peak of the) pandemic but was resumed this year."
A senior BHU professor, asking not to be quoted, said: "Those who want to control the VC's life are antisocial elements."
He referred to posters that had appeared on the campus earlier this week, ostensibly put up by Leftists, expressing anti-Brahmin sentiments and declaring that Kashmir is a prelude to what would happen across India.
"These were put up with the sole aim of maligning the image of liberal people and organisations here," he said.
The posters carried the name of the Bhagat Singh Chhatra Morcha, a Left-leaning student organisation, which has disowned them.
Morcha secretary Anupam Kumar said: "We have given it in writing to the university that some people misused our name to create problems on the campus."
BHU chief proctor B.C. Kapri said: "Some people  are trying to vitiate the atmosphere in the university but we have identified them and will take action against then."
Subodh, the ABVP member, spelled out what kind of VC his organisation prefers.
"When Girish Chandra Tripathi was the VC, he had started a tradition of distributing fruits on the occasion of Navratri," he said.
Tripathi, RSS member and former ABVP leader, had been appointed VC in 2014. In 2017, he was accused of victim-shaming after a woman student alleged molestation, prompting an agitation that ended with the police baton-charging students.
The public outcry that followed forced the government to ask Tripathi to go on indefinite leave. His three-year tenure was not renewed.